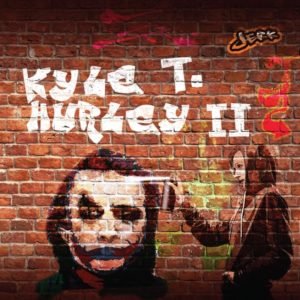 London-based Kyle T. Hurley is a country blues artist, and then some. He's not so big on the festival circuit, yet. Instead, he's established himself as a first-rate, barroom performer. Hurley also has a twist. His music is genre-bending at its finest. Mixing established country blues with original rock 'n roll, modern rock, and even grunge, he's carving a niche for himself.
Born near Philadelphia, PA, Hurley spent years in the club circuits of San Francisco and Los Angeles. He also spent some time in Nashville but ended up in the UK. For how long is anyone's guess. In his own words, Hurley says, "I'm a hard travelin' troubadour an' blow with the dust—then gone wit the wind."
His self-released, sophomore album, KTH II dropped on April 25th. Recorded in London, and finished at the famed Abbey Road Studios, Hurley has followed up his 2014 debut with more genre-blurring genius.
Kicking off with a delightful cover of "Pride & Joy," the opening licks are unmistakable. The familiar Texas shuffle beat is comfortable. Then, about 30 seconds in, something changes. Suddenly, Hurley's voice jumps into the song, and we weren't so comfortable anymore. Now, we were astonished. A clean, powerful tenor combining the sound of a 1930s bluegrass singer with that of the late Layne Staley had us sitting bolt upright. And that, as they say, was just the beginning.
"In the Dog House," is a cool double-shuffle, with ripping guitars. Hurley's voice is lower on this one and has more gravel. It's a blues-rock hard-charger with flourishes of 70s funk. We couldn't help but think this is what H.B. Reese must have felt like when he first combined chocolate and peanut butter.
There are nods to many genres and artists throughout KTH II. "Be-Bop-A-Lua," takes its cues from the Gene Vincent classic, with some serious Tom Petty influences. It's a lot like mashing "Be-Bop-A-Lula," with "Runnin' Down a Dream." During a nice jam after the second chorus, Hurley and company give shout outs to some pretty influential artists, including Vincent, Bill Haley, Willie Dixon, and Muddy Waters. The song is actually about his daughter, hence the title change.
Hurley's band is made up of drummer Alessandro Cinelli, bassist Enzo Strano, and Davide Mazzantini on the second guitar. Special guest guitarist, Robin Banerjee, who was Amy Winehouse's guitarist, adds some of his trademark jazz flavors to the mix. Another combination that needs to be heard to be believed.
There are several stand-out tracks on KTH II, and the majority of them have these interesting cross-genre sounds. "Completely Clarissa's Crimes," has the feel of Nirvana, playing, unplugged, in Nashville. Ironically enough, the song is about addiction and the perils of big city living. "House of the Setting Sun," has a natural southern anthem feel. This one could just as easily be performed by Lynyrd Skynyrd at The Fox Theatre, as in a London pub. "Shot!," is an all out Indie rocker, reminiscent of The Strokes.
Our personal favorite on this one surprised even us. "The Last Long Ride," by title, first conjured images of those country classics talking about long, black Cadillacs transporting loved ones. Nope. It goes back further than that. It's actually a country song, about a cowboy. Or, it could be a well-written saga based on Hurley's own life as a troubadour. "Southern troops he fought for, he watched the Yankees die / A civil man in civil war, asking himself why / Worn out from the battle lines, he went absent without leave / Traveling like the blowin' dust, protecting peace in the valley." Sound familiar?
Kyle T. Hurley refuses to be pigeon-holed. While a bevy of artists is combining blues with rock, jazz, or soul, he's combining it with genres we never thought of. We're darn sure glad someone did. KTH II cleansed our palettes, and our palates, making us think about other possible musical mergers. Pick it up, put it in, push play, and it'll do the same for you.
Artist: Kyle T. Hurley
Title: KTH II
Label: Self-released
Release Date: April 25th, 2017
Tracks: 10
Running Time: 42:35