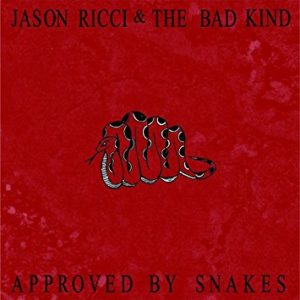 In the hands of the right artist, an instrument is transformed into so much more. Sinatra's voice moved and spoke for generations. Muddy Waters plugged in his guitar and transformed the way music was performed and considered, taking it from small rooms to the world's farthest corners. Jimmy Page showed us that the guitar could indeed be used as a weapon, reinventing the past, and moving the musical voice of generations into the future.
As we listen to the new Jason Ricci album, Approved By Snakes, this idea again becomes apparent. Sure, some might try and compare Ricci to other harp players like Junior Wells, Little Walter [Jacobs], Big Walter [Horton], Kim Wilson, or even Charlie Musselwhite, but honestly, that's unfair. Ricci approaches the harp in a unique way, making his innermost voice heard. His playing lifts us up, makes us move, slams us against the wall and says, "What's up?," and most importantly, it makes us feel. But, we digress…
Approved By Snakes, out on Ellersoul Records, contains 11 dynamite tracks with a running time of just over 76 minutes, and it left us wanting more. The production by Martin Gary and Ronnie Owens lifts the music up while not interfering, and the mix by Ben Lorio, John Lisi, and Ricci himself is perfect, allowing the music to stand up and be heard in a true voice. Sound quality is excellent as well.
We thoroughly enjoyed this album, from top to bottom. The band is exceedingly talented, and they shine throughout. Adam Baumol caresses the skins, Andy Kurz strokes the bass, John Lisi shows us a lot of love with his guitar, and Sammy Hothckiss serves up solid guitar as well. These fellows are absolutely kickin'!
Again, we played this album over and over, and couldn't get enough. We did have our favorites though. "My True Love Is A Dope Whore" is the finest song about the fallout and struggles of heroin addiction since Lou Reed's heart-rending "Heroin" on his Rock 'n' Roll Animal live album. It's a very telling perspective, delivered as a gritty, honest, and convincing narrative. "Something Just Arrived" reminded us of the tough urban '70s soul, with a pulse, and Ricci's harp took us back to the days when Mick Jagger's harp injected a menacing tone to the music of the Rolling Stones.
Other cuts that we especially relished include "Broken Toy," with its delicious self-loathing in the Iggy Pop vein, "I Got Cleaned Up," with its slow and playful, joyous funky zydeco flavor, and "I'm Too Strong For You," which to our ears, is great punkish funk. "Disconnect" took us back to the great sound of The Paul Butterfield Blues Band's masterful East West album.
This album is as real as life can get; trust us, you will want a copy for your very own.
Approved by Snakes – Jason Ricci & The Bad Kind
Tracks:    11
Running Time:    76:14
Label:    Ellersoul Records