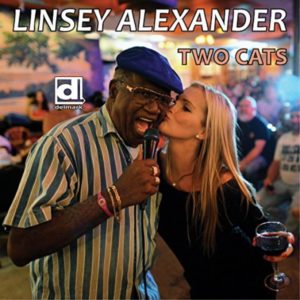 There has long been debate on the birth place of the blues. Mississippi is a prime candidate, while others point to Memphis. Most agree that the "Golden Age" of electric blues had its epicenter in Chicago. Delmark artist, Linsey "Hoochie Man" Alexander has seen them all, and his latest release, Two Cats, is a prime example.
Born in Holly Springs, Mississippi in 1942, he moved to Memphis at the age of 12. All along the way, the influences of blues, soul, R&B, and rock 'n' roll accompanied him. At the age of 17, he pawned his first guitar, bought a bus ticket, and followed a girl to Chicago. He performed at several South Side clubs, exposing himself to the soulful artists of that area for about 8 years. Alexander was convinced to play in some of the bigger, and more popular, North Side clubs, where he's remained for over two decades.
Two Cats is the Hoochie Man's third release on the Delmark label, and his 7th overall. For this fantastic album, Alexander picked an magnificent assemblage of talent. It starts with Anthony Palmer (Bobby, and Otis Rush; Jimmy Burns; Joanna Connor) on rhythm guitar. Roosevelt "Mad Hatter" Purifoy masterfully handles the keys, and E.G. McDaniel has the bass on lock. Bryant Parker is the clock throughout most of the record, and the amazing Chicago horns of Kenny Anderson (trumpet and horn arrangement), Hank Ford (tenor sax), and Norman Palm (trombone) leave their trademark brass all over the record. Alexander, himself, supplies vocals,  and lead guitar. He also wrote all the songs, and co-produced Two Cats with Steve Wagner.
The album opens with the triumphant Chicago Horns on "I'm Not Your Problem." At age 74, Alexander's voice is still completely strong, and his guitar skills haven't waned a lick, as his extended axe solo on this one proves.
Three of the songs on Two Cats were previously released independently by Alexander, and come across both powerful and humorous today. "Where Did You Take Your Clothes Off Last Night," "How Could You Do Me Like You Done Me," and "Reefer and Blow," all exhibit his wry, and witty lyrics. "Where," and "How" both feature Alexander's long-time harpoon man, Paul Hanover, as does "Why I Sing the Blues." Hanover is one of the most talented, and most under-appreciated harmonica players in the game. He's been at it for over 40 years, and his chops are absolutely capital.
Breezy Rodio takes second guitar on the title track, as well as "Comb Over Blues." The drums on both these tracks are commanded by James Wilson. "Two Cats," is a modern take on the sexual innuendo songs the blues have been famous for since the 1920s. Double entendres fill the song, becoming more and more candid as the verses progress. There's no doubt as to what Alexander is referring. He's been a ladies man all his life, and he's not slowing down now. "Comb Over Blues," is a relevant, up-to-the-minute jab at the current resident of the White House. Alexander has taken his disdain and turned it into a lively shuffle, all the while warning the listener with a laundry list of newsworthy events that he "can't believe are in the news."
Another topical title is "Facebook Woman." This one is an eight minute slow drag filled with piercing guitar licks and lonely lamentations. Still, Alexander's humor comes straight at us, and Purifoy adds some incredible piano work.
"User," dives headlong into the funk category. The horn section is tight as a stretched rubber band, but through all the funkiness, Alexander's guitar solo is the star. "I'm in Love With a Woman," showcases the horn section again, as well as the lyrical story of being in love with a woman, who has a woman of her own. That would make anyone sing the blues.
One of our favorite tracks on Two Cats is "That Ain't Right." Also a bit funky, the horn section absolutely shines. It may also have to do with Alexander's use of others' lyrics to make his point. The famous interlude from "How Blue Can You Get," is worked in nicely. "Kiss Revisited," is a soulful selection, featuring some nice, guest rap by J. Parker. We're seeing more and more hip-hop artists appear on blues recordings, and if done well, as "Kiss Revisited" is, we find them a welcome addition.
Many times, we can gauge the excellence of a record by the musicianship. Other times, it's the attention grabbing lyrics. But there's one sure fire test. How does it listen? In other words, did it hold our notice? Two Cats passes on all three counts with flying colors. Linsey Alexander is a riotous lyricist, a powerful singer, and uber-talented guitarist. The selection of musicians for this offering is spot on. Although 15 tracks, and over an hour in length, we wondered where the time went, before pushing play again. It's that good.
Artist: Linsey Alexander
Title: Two Cats
Label: Delmark
Release Date: May 19th, 2017
Running Time: 1:07:07