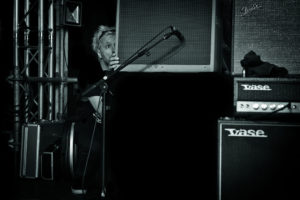 It's been eight long years since the release of Jason Ricci's last CD, Done With the Devil, recorded with his critically-acclaimed band, New Blood. That release launched worldwide recognition of Ricci's music, garnering 2010 Blues Music Award nominations for rock blues album of the year and harmonica player of the year. But even though he took home the coveted award for his innovative harp playing, Ricci's personal demons soon caused the destruction of his band, of his career, and very nearly of himself.
After 12 years of sobriety, he started using hard drugs again, ran afoul of the law in Indiana, and spent time in jail, rehabilitation, and mental institutions. Waking up in an emergency room on August 26, 2013, not knowing where he had been for two weeks and nearly in kidney failure, served as a literal wake-up call.
With the May release of Approved by Snakes, Ricci's genre-rattling CD recorded with his new band, The Bad Kind, composed of veterans of the New Orleans music scene, the Mooncat's star is again in its ascendancy. He is four years sober, freshly married to the effervescent Kaitlin Dibble, an artist in her own right who contributes vocals to three songs on the record.
American Blues Scene welcomed the opportunity to catch up with Ricci and discuss his new music and band, which consists of John Lisi and Sam Hotchkiss on guitar, Andy Kurz on bass, and Adam Baumoi on drums. Since all of Ricci's original songs are autobiographical in nature, it is inevitable that the conversation also references his personal struggles and reemergence from dark times.
Stacy Jeffress for American Blues Scene:
The first song is "My True Love is a Dope Whore." It seems autobiographical, is it?
Jason Ricci:
Uh huh, of course. It's the only way I write. I don't write songs about other people.
It has some interesting concepts in there – selling yourself for drugs, your wanting to kill a drug pusher?
Yeah, those are all in there. They're not very loosely veiled.
Does the fact that this song is first mean something?
The record company wanted to start with "I'm Too Strong For You," because it's kind of funny, and it's light. I didn't want to do that. I'd rather just get it out of the way from the get go. Let's address what this record is really about. If anyone doesn't like it, they can just stop listening now.
You posted a fairly lengthy Facebook thing about flack you'd received for some of the content on this CD. Some in the comments guessed this was a marketing ploy to draw attention to it. I suspect that beyond just marketing, you had received negative feedback from people in the industry?
Yeah, exactly. I understand that some fans are not going to like what I do. By making that post, I was hoping to draw attention to the overwhelming amount of support I'd receive from that post so that the same people could see exactly how much money they're losing, and not just by not booking me but by having that attitude. That's the attitude of the prehistoric and not the attitude of the younger generation, and by younger I mean 40, even 45, 50.

Most people are fairly tolerant of cuss words and adult themes and issues like mental health and bisexuality. They see it on TV; they run into at work. I just want them to see that there are not a lot of blues artists that get that much positive attention. I was hoping they would see that, like maybe we should re-think how we're marketing blues music.
So we go from the autobiographical opening song to "Something Just Arrived."
It's an Andy Kurz and Sammy Hotchkiss tune. It's very New Orleans funk. It's a great cocaine song. I think it's one of best cocaine songs I've ever heard.
It seems a little bit like you and the other folks in the band are trading off songs. The next one is "Demon Lover" which sounds a lot like a Jason Ricci song.
Yeah, that's mine. The real demon lover in the song is the heroin and the crack, not the girl. Anyone who's ever been an addict knows, nothing comes in front of the drugs. The girl is not the demon lover. That's the one that's gonna take more than she gives eventually.
After the 12 years of sobriety and the cycling back into the drugs stuff again, I would guess there's a fair amount of shame involved?
You know, I didn't feel bad at all. I was happy for the first time in 12 years when I was doing drugs again, at least at first. I'd been living for all the wrong reasons when I was sober. I don't even want to say I was sober because I was getting high on having the perfect body, on having a successful career. I didn't have any real friends because all of my friends were made up of people I could make money off of or who could benefit me in some other way in the future. I didn't have any close family or friends.

The value of what it means having someone love and care for you. And not just in a romantic sense, but having friends and family in general. Those are things I learned about in jail. I bought into that whole American dream thing, and then when I got it, all I ever wanted was more of it, and I wasn't satisfied with it.

That's how everything in my life that I decide is good comes out. So I just stopped deciding what's good for me. I let something else decide that. What's good for me is to be of service in some way to other people.
How do you do that?
That includes taking some time off sometimes, even if the money is a little tight. Spending more time with Kate. Going to those meetings that people like me go to, and seeing if there's anybody else that's struggling so I have an opportunity to help somebody. So I can turn all of this horrible rotten stuff I did into some kind of an experience that somebody just walking in can identify with. I was a person just like they are now, and it is possible to stop using.
When we talked in 2012, it was all about, you were done with the devil, but was the devil done with you? Apparently, it wasn't.
I don't think I was ever done with the devil. I still don't think I am. I don't think anybody is.
We've talked before about some of the things you've mentioned today – not focusing on your relationships, your cats, your home, and then losing people and losing important relationships.
Music is a drug, and so is a career. These things give us a sense of validation that triggers endorphins in the brain. Chemically our bodies treat it like a drug. I was still doing the same shit without actually doing the drug. I still have to do that – it's like having a pet tiger you have to walk. Sometimes he's going to turn on you, but you've got to walk him.
So how do you manage that now? The high from the endorphins versus maintaining relationships such as with Kate?
I just keep my priorities straight. Even if I feel like, 'I want to work hard, and the record's about to drop, and it's time to get busy and screw everybody else,' I've got to do this. When I sit down to do the calendar, I keep in mind what's right. I bounce it off a lot of people in my life and a lot of people who don't have anything to do with music.

I have a booking agent named Tina Terry who genuinely cares about my well-being, which is pretty intelligent because she'll have me longer. She's always cautious. If she's booking a tour and it gets too long, and she sees I'm going to be out for weeks, she'll bring it up. 'is this ok with Kate? Is this ok with you? Do you think you'll be able to go to enough meetings?' That's someone who genuinely cares for me, not somebody who wants to make money off me. I keep myself surrounded by people who know me better than me.
With "I'm Too Strong For You" I get a big kick out of that, especially when you do the thing, 'What kind of cake you like?' Tell me about that song.
The song is just a joke. It's all sarcastic. I had this drummer that I played with once; he sang a song on my first album. When I came back to him for my second album, I said that his song was everybody's favorite, and he said, 'I was afraid that might happen.' We feel that way sometimes when we get put down three slots on a festival roster. We'll be singing that song at the end of that night when we've outsold every other band in CDs. When the festival owner came up and says, 'I had no idea you were going to win over the crowd like that,' and we're like, 'I was afraid that might happen.' It's just a joke; it's making fun of ourselves.

The 'What kind of cake you like?' thing – that comes from a prank call that my buddy used to get on the same day every month. This woman would call him up and ask him, 'What kind of cake you like?' I don't know how it made it into the song; it just did.
"Broken Toy" – what made you decide to have that on another recording?
It's taken eight years and two different bands playing it for that song to mature. I wanted to play the more mature version of it. It's everybody's favorite song, so people are naturally going to ask if it's on the record. I wanted to be able to say it's on the record.
Then it morphs into "I Fink U Freaky." I wish that song had its own groove so I could go straight to it. The harmonica sound, I was trying to think what I could call it – death metal blues or something?
Techno or Electronica.
I don't have the technical words to describe whatever it is you're doing with the harmonica, but it's really cool.
It's just a bunch of guitar pedals. You plug them in and step on them. I use a lot of that kind of stuff.
ABS: Guitar pedals with a harmonica?
Yeah. I also build and make pedals just for the harmonica, and I have two of my own signature pedals for the Lone Wolf Blues Company. I actually help build and design pedals for guitar players, too. A significant portion of my income now comes from that work which enables me to spend more time at home. I also work for Blue Moon Harmonicas helping to design, test, and promote harmonicas made by them.
You've diversified.
Yeah, that's the whole name of the game for me these days. Anything I can do to make money at home.
That's great now that you've embarked on this new marriage.
Yeah. And it's stable. It makes me make better decisions musically. I'm not just taking gigs because I need the money. Generally, when I accept an offer for a gig, it's because it's a place I want to play, or it's a venue where the band will sound particularly good. I say 'no' a lot these days.
One track I also like is "Listen Here" where you introduce the band members, then they each do a little soloing so the listeners can get to know The Bad Kind. Evil Andy, he's quite a character. Tell me about him.
He's a real rocker, and he has a real love for '80s music and the old theatrical hair band kind of things. That comes across in his stage presence which is wonderful. In the past with New Blood, I was the only one that was standing out there and rocking and hanging off the edge of the stage and wearing crazy clothes. It's nice to have a whole band doing that. They understand what I'm singing about. They're not just playing songs that are an arrangement of chords and notes and arpeggios and scales. They really understand what the message is that I'm trying to communicate.
The other guitar player, Sammy Hotchkiss. Is he a staple in the New Orleans music scene?
He was in two important bands here in New Orleans, Smilin' Myron and Juice. He wasn't just in them; he was a founding member of them. He's a staple here in New Orleans, so we're very lucky to have him here in the band with us. He's one of the most unique-sounding guitar players in the world. New Orleans knows that.
One of the really fun songs is "My Mom's Gonna Yell at You" – when you get to heaven, never mess with a Jersey momma's son. She's going to buy you a beer and then she's going to yell at you. Is he from Jersey?
Yeah, and he's very proud. A lot of people who live here in New Orleans pretend that they're from here. That's one thing about John; he embraces where he was born and how he was raised. I love that about him.
Tell me about Kaitlin. She is a singer and an artist in her own right.
I'm actually taking three months off a year to manage and promote her. I'm really excited just to be in her life. She's an incredibly poetic, colorful, funny, attentive, nurturing, interesting, and independent little force all of her own every day. Every big thing she does has a tremendous impact on my life. I'm definitely in love.
"Got Cleaned Up," I think John sings on that one. It certainly fits the theme of the record.
It's funny because it's similar to, 'You told me to go to rehab, and I said no, no, no.' It's an anthem about why you shouldn't get cleaned up if you listen to the lyrics closely, it's a song about how awful sobriety is. It's not about getting cleaned up at all. It's about staying fucked up.
"Terrors of Nightlife" – I couldn't make heads or tails out of the lyrics. What is that song about?
I think it's about the balance of good and evil.
How do they get balanced?
It doesn't matter if they do or not. What comes with nightlife is good things and what comes with nightlife is bad things, too. It's that line we all walk. In the beginning, drugs used to do a lot for me, and in the end, they just did a lot to me. It kind of changes. It's a spiritual song to me. Dax Riggs wrote it.
And "515"?
It's about demonic possession and man's need to be God himself.  That's only what it's about numerically. It's really about the courtship that takes place between somebody and a demon. There is a courtship that happens prior to possession or infestation or attachment or any of those other terms that people use. There's a point there where somebody makes a decision to engage that force. At the same time, there's a temptation there that's offered by the demonic.
In the past, you've alluded to the fact that you've been impacted, affected, visited by forces good and bad. Some you can't even talk about, at least you didn't at the time. There used to be a lot of pentagrams on your cover art. Is the demonic still something that is an element in your life?
Yeah.
Is it a metaphorical thing for drugs or something? Or is it a literal thing?
For me, it's literal. I bank on the idea that people will think it's metaphorical. Honestly, it's a literal thing for me. Being a diagnosed bipolar person that's been institutionalized with multiple suicide attempts and a history of drug addiction and incarceration, what kind of depth and weight does my opinion on anything like that matter? I mean, I'm crazy, right?