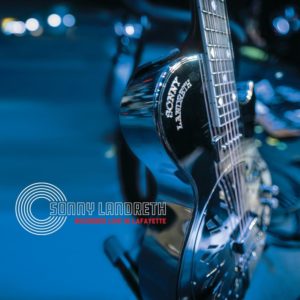 The "King of Slydeco" Sonny Landreth, has been on the road, and entertaining folks for nearly five decades. Starting out as the only white member of Clifton Chenier's Red Hot Louisiana Band, Landreth went on to become a member of John Hiatt's band, and as one of John Mayall's Bluesbreakers. His solo career began with his first album release, Blues Attack, back in 1981. Since that time, he's released 16 more albums and recorded with the likes of Johnny Winter, Eric Clapton, and Gov't Mule, to name just a few.
He's a BMA winner, a Grammy nominee, and his shows are something special. Half acoustic, half electric, and all mind-blowing, he thrills crowds the world over. His newest offering, Recorded Live in Lafayette, hits the streets on Friday, June 30th. We had the chance to talk with Sonny about the album.
JD Nash for American Blues Scene:
I guess the first thing is, double albums aren't as mainstream as they once were. What made you decide to put out a double release?
Sonny Landreth:
I never really thought about it in those terms since I'm so used to flying below the radar that it doesn't really matter. But really, it sort of evolved into that because I couldn't make up my mind if I wanted to do an all acoustic album, which I've been wanting to do for quite a while or record an electric set capturing my trio and I. I also wanted to have a couple of guests. Two, in particular, Steve Conn and Sam Broussard. We go way, way back. Then I also wanted it to be a retrospective, where the songs cover the different periods of my career. So, we ended up doing all of that. As we transitioned into the recording nights, we quickly realized there was enough material to do all of the above.
So this is truly like being at a live Sonny Landreth event?
We had the same concept as the performances we were doing. We come out doing an acoustic set, take a short break, then come back out doing the electric stuff. The acoustic thing has its own requirements. We just set up in front of our back line, which is already in place for the electric. I also felt that the change in dynamics was real effective. We could cover a broader range of material in a cooler, more interesting way. People who are fans, or at least familiar with the material can enjoy the different treatment of the songs. For people who have never heard my music or our band, it would be a good introduction.

The other thing too, is I go way back to vinyl myself. I mean, that's what I grew up with. I was always drawn to certain albums because of design or the package. Double albums in particular. So I'm really happy that we did both the 2-disc CD set and also a double vinyl album. We mastered separately for both of those, so that's pretty exciting for me too.
What specifically about the packing of those older albums were you drawn to?
You know, the artwork is really brought to bear. For example, Megan Barra has done all of my albums. She's incredible. Grammy-nominated and the whole bit. The artwork reflects the music and is much more a part of the statement or part of the concept I should say. I think it enriches the experience for the listeners too. There's nothing quite like it. The art and the music go hand in hand to me.
Have fans been asking for you to make a recording of your hits in an acoustic version?
I've gotten a bit of both. I've had people ask me, 'Will you ever do an acoustic album?' I've also had people ask me about a project doing different songs. Our live gigs are quite a bit like that. We play different songs from different albums. That kind of opened the door. This just seemed like a great time to do both.
Why in Lafayette?
There is a really great performance art style theater and music venue in downtown Lafayette. The proximity was perfect, with my engineer living just a few blocks away from there. I had him, all our gear, and this theater which enabled us, logistically, to record across three consecutive different nights. That also gave us the opportunity to get the best material, and a shot at finding the moments that captured the magic. It just made a lot of sense in terms of production.
Lafayette is your home as well, right?
Yeah, it is. I was born in Mississippi, but my family moved to Lafayette when I was seven. I live right in between Lafayette and Breaux Bridge. Slap dab in the middle.
So you had the advantage of a hometown crowd.
Oh yeah, it was great. We also had a lot of folks from all over who came out, but it's always great to play at home. That home crowd advantage is a beautiful thing. It was interesting because each night, progressively, people got more and more into it. It was pretty much sold out every night, but by the third night, people were really ready for it. Of course, that night was closer to the weekend and that always helps.
On this double release, one album is all acoustic, and one is all electric, correct?
Right. Two different sets. It's quite a bit of material. In terms of the actual time, it runs 90 plus minutes. Someone told me, 'I didn't really think about the length of the songs. It never felt overwhelming.' You have to keep it interesting. It could end up being over indulging if you don't have different changes, transitions, and fills. You gotta come up with a lot. I feel pretty good about that. I don't think it meanders. Be that as it may, it's basically two albums in one.
But that's pretty much how you do your live show.
Exactly. It's just more extensive because we spread it out in regards to the acoustic material. With those, I thought it would be a great opportunity to re-examine, and explore some of the older songs, and do them in a different way. Anybody who writes songs will tell you, you're sitting around with an acoustic guitar, and that's how the song starts. In some respects, that's the heart and soul of it. It's always cool to go back and strip it down to the essentials. It can be more effective that way. A good example is "Creole Angel." The way we played it back when we were doing it in the 90s, was as an electric band, and it had a lot more wallop. Even "Bound by the Blues," speaks better. In that song, there is so much going on lyrically, that I think it gets across more. That way, when you switch gears and amp it up, it has even more effect.
Are there any songs on the album that are performed both ways?
No, we didn't do that. Well, actually I think we did an acoustic version of "Soul Salvation," but decided to keep the electric version. And I wasn't surprised. I feel like that song has more going for it performed by a full ensemble. But, Steve Conn played accordion on it, so it kind of had elements of both.
With three recorded nights, you had a good opportunity to pick the very best performances.
As it turns out, and it's not a big surprise, the closer we got to the end, the better they became. We played on Tuesday, Wednesday, and Thursday nights, and most of the stuff came from Thursday. There was some great stuff that happened the night before though. I don't know if we used anything from the first night. We went in Monday, set up, sound checked and all that. That was the only time we rehearsed with Steve and Sam. In a way, I think that was better because it is way more spontaneous. Even the order of the solos was different every night. We didn't have any plan. But that's cool because it leaves the door open to a lot more spontaneity and interaction with the crowd, and that makes it more special.
So the crowds got more into it the closer to the weekend you got?
Oh yeah. What is it about the weekend? Everybody's getting off work, and they're just ready. Another thing was really cool. My friend, Larry Droppa, is the president of API, who make the greatest consoles ever. I called him when we were piecing all our gear together. We were shy of a few things, and he always said, 'If you need anything, call me.' So I called him and asked if maybe he could loan us a few mic trees, EQs, compressors and stuff. He said, 'I'll do you one better. How about if I send you my console that U2 just got done recording their live album on?' Incredible. He shipped it down. My engineer literally had a studio, sealed off, out in the hallway. That was quite the adventure. We didn't write over Edge's name on the masking tape that you put down on the faders. I figured it would be good mojo for us.
You've been quoted as saying if you ever had a theme song, it would probably be "Key to the Highway." When was the first time that song left a mark on you?
Well, the first time I heard it was on some old blues albums. The first time it really stuck was Little Walter's version. Then later, of course, the big one was Derek and the Dominos. We have been playing that song in bands for a long time. I go way back with that song. I ended up recording it on one of my early albums called Blues Attack. It's funny how some of these songs stay with you and inspire you when you're first learning to play. It's a very personal and intimate relationship. I realized that on my last album, which was a tribute to heroes, and how the blues connects all of us. No matter where you're from, or what language you speak, blues is the universal language. That song though is like coming home.
So it was important to include on Recorded Live in Lafayette?
It's thematic as well with Steve and Sam sitting in on this record. Sam and I go back. I'd go over to his parents' house, and he'd show me a guitar riff, then I'd show him one. It was like coming back to the neighborhood. Sam still lives literally five minutes away in the neighborhood we grew up in. I think a great song like "Key to the Highway" is so important and speaks to me so much. It has resonated with me over so many decades really, of being on the road. Well, I started on the road when I was 20 years old, and I'm 66 now. It's been quite a haul.
It dawned on me, the way this album is presented, it could be nominated for BMAs in several categories.
Oh man, I have no idea. I can't even think like that. Maybe I'm just too close to the forest to see the trees. It's great to get nominated, go out to the ceremony and all. You get to see a bunch of great people, and reconnect with old friends, and so forth. But I mean really. Look at all the people who never get nominated that are just incredible. I tend to not think about it. It's great if it happens, but I care a lot more about whether my music touches people's lives in such a way that it does something, in a good way, for them. And for us, to be out there playing these songs is a real privilege.