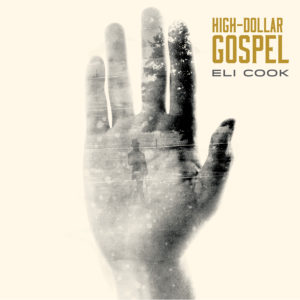 At 18, Eli Cook was opening for B.B. King. He learned the guitar growing up in Virginia and by 15 he was playing professionally. Over the course of his musical journey he has shared a stage with greats such as Robin Trower, Gary Clark Jr., Johnny Winter, and Shemekia Copeland.
For those who don't believe sparse, simple music, delivered honestly and boldly can be powerful, we would beg to differ. As evidence of our strongly held belief, we offer High Dollar Gospel by Eli Cook. The 11 tracks performed here are powerful given their lean, mean, gritty demeanor.
High Dollar Gospel is produced by Eli Cook, and engineered, recorded, and mixed by Zach Samel. The recording and mix deliver clear and robust sound that bursts forth and demands consideration. Personnel are Peter Spaar on upright bass, Nathan Brown on drums, and Eli Cook on all the string instruments excluding the upright bass.
For an acoustic album, the music here is pretty stout. Cook's deep-throated, gravelly vocals are an instrument themselves, adding to the beguiling allure of the performances. We are reminded of how Howlin' Wolf would change the entire tenor of a song once his vocal began.
This album swept over us like the wind carrying rain clouds. Once the rains begin, they are strong and bountiful, giving the nourishment the earth below needs to bloom and blossom. So too does Cook command us to awaken and participate in this encounter. There is no passive listening here.
The musicianship here is remarkable. High Dollar Gospel is solid all the way through, and as usual, we did have some favorites. The opener, "Trouble Maker," begins with picking that grows into a wall of sound. What make this so striking is that there are surprisingly few instruments in attendance. The picking and slide on "The Devil Finds Work" brought a knowing smile to our face as it just hit that sweet spot we all have. Cook's rendering of Muddy Waters' "Can't Lose What You Never Had" is slow and deep, and his Dan McCafferty evoking vocal shook us to our core.
Other high points are "Mother's Prayer," with its almost distant vocal and minimal accompaniment, "44 Blues," again with the scant accompaniment of guitar and the barest of percussion, and the tasteful playing on the album's closer, "If Not For You."
For those who enjoy music that is dynamic, vibrant, and persuasive, High Dollar Gospel is just the ticket. Folks should get their copy as soon as it drops on August 18th. Don't wait; don't hesitate. Do it!
High Dollar Gospel by Eli Cook
Tracks:  11
Label:  C.R.8 Records
Running Time:  47 minutes