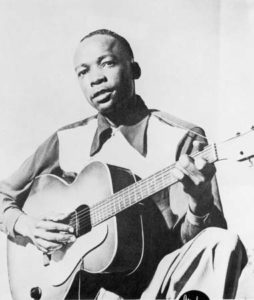 The entire world is celebrating what would be the 100th birthday of John Lee Hooker. Known as the Boogie Man, the Hook, and the King of the Boogie, he was a true blues superstar. His influence reached into nearly every genre of music, and is still felt today. In honor of his centennial we offer ten thing you may not know about the king of cool. He once said, "Nobody know John Lee Hooker. They know as much about my cat as they know about me." We'll give it a shot anyway.
1. An itinerant bluesman, Tony Hollins, gave Hooker his first guitar, an old Silvertone. Hooker's father, a strict preacher, did not approve of Hollins, nor his like for John Lee's sister, Alice. Hollins gave the guitar to John, to keep him occupied, so that he could spend time with Alice. The plan worked, and Reverend Hooker allowed John to keep the instrument, but it was never allowed in the house. Later on, Hooker's step-father, Will Moore (who played with the likes of Charley Patton and Son House), taught the young man the foot-stomping, boogie blues. The first song that John Lee learned was a Patton tune, "The Peavine Special." Moore also gave Hooker his next guitar, a mail-order Stella to replace the battered Silvertone.
2. It was another blues great, T-Bone Walker, who gave Hooker his first electric guitar, an Epiphone. "I was already established but not electrified. I still have that old Epiphone that T-Bone laid on me back in Detroit… Playin' music, I really got into it big when I hit Detroit," he said. "A lot of work was goin' on… wartime, World War II and the factories were goin' and every city was boomin'. Detroit was boomin'."
3. Hooker did not like headlining shows. He preferred the middle spot on any multi-act bill. The reason being, it afforded him a quicker getaway. Not that he tried to avoid fans, but rather he enjoyed his bed. Sometimes the ride was lengthy between the venue and the hotel, and the faster he could get "home," the better.
I know why the best blues artists come from Mississippi. Because it's the worst state. You have the blues alright if you're down in Mississippi. – JLH
4. The Hook didn't just disapprove of rehearsals, he would rather they didn't exist at all. His long time guitarist, Mike Osborn, would rehearse the band without Hooker being present. It was almost always the same show, and the thought was that anyone who couldn't play Hooker's music spontaneously, shouldn't be playing at all.
5. In 1980, Hooker appeared in the film, The Blues Brothers. His character name was "Street Slim," and he, and a band made up of Walter Horton, Pinetop Perkins, Willie "Big Eyes" Smith, Luther "Guitar Jr." Johnson, and Calvin "Fuzz" Jones were shown performing his song, "Boom Boom," in front of the Soul Food Cafe on Maxwell Street. Although it is his only acting credit, his music has been used in dozens of movies and television shows, including G.I. Jane, Angel Heart, The Waterboy, True Blood, and American Horror Story. Hooker has been a "musical spokesman" in several commercials. His image, and/or music have helped sell Budweiser, Lee Jeans, Schweppes, Pepsi, Foster's Lager, and the Australian Football League.
6. His first hit, "Boogie Chillen'," sold nearly a million copies upon its release in 1948. Hooker recorded 15 other versions of the song, including the titles "Boogie Chillun," "Boogie Chillen," "Boogie Chillen No. 2," and "Boogie Chillen 2" between that original recording and 2001. His song, "Boom Boom," first recorded in 1961, was re-recorded 13 times, between then and 1997.
7. An icon in style, Hooker rarely, if ever, performed without looking his absolute best. He was known for his sharkskin suits, which he loved for both their stylishness and durability. Traditional sharkskin suits were made popular by members of the Rat Pack in the 1960s. If they were good enough for Frank, Dean, and Sammy, they were good enough for The Hook. His famous Homburg hats, formerly worn by folks like President Dwight D. Eisenhower, and Winston Churchill, were always in place in later years.
8. There once was a gritty bar in San Francsico called Jack's Tavern. It originally opened in 1933, and moved to 1601 Fillmore in 1988. Soon afterward, Alexander Andreas got a job as a bartender there. Hooker would come in almost every weekend for the live music. Andreas became somewhat of a groupie, attending his gigs, and carrying his guitars. Andreas eventually bought Jack's and wanted to make Hooker a partner. Even though John Lee was very interested, his business manager thought it a bad idea. Andreas, instead, renamed the bar The Boom Boom Room, after Hooker's hit song. They used his likeness, kept a reserved booth for him, and gave him all the perks of ownership, with none of the problems. Hooker attended opening night, with other well-known artists including Joe Louis Walker, and Robert Cray.
9. Hooker was never far from others in the music scene, and greeted them warmly. Many times, he recorded with other artists, a popular trend today, on either his albums, or on theirs. Some of these greatest duets include "I'm In the Mood," with Bonnie Raitt, "The Healer," with Carlos Santana, "Baby Lee," with Robert Cray, "Serves Me Right To Suffer / Syndicator," with Van Morrison, and the album, Hooker 'N Heat. Hooker 'N Heat was recorded by John Lee and the band, Canned Heat, in 1971. It was the last album to feature Alan "Blind Owl" Wilson before his death, and was Hooker's first album to chart. 1991 brought the album, Mr. Lucky, that had a myriad of guest artists. That list included not only Raitt, Santana, Cray, and Morrison, but also Albert Collins, Ry Cooder, John Hammond, Jr., Johnnie Johnson, Deacon Jones, Booker T. Jones, Nick Lowe, Keith Richards, Larry Taylor, Johnny Winter, and many more.
When I die, they'll bury the blues with me. But the blues will never die. – JLH
10. Hooker died on June 21st, 2001. It was the same day that actor Caroll O'Connor died. O'Connor is best known for his bigoted character, Archie Bunker in All in the Family, and the racially progressive Bill Gillespie in In the Heat of the Night. Although Hooker received a star on the Hollywood Walk of Fame in 1997, and O'Connor in 2000, they are, coincidentally, side by side.