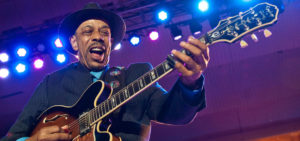 He's played with Willie Dixon's band, the Chicago Blues All Stars, Muddy Waters, Magic Slim & The Teardrops. He has recorded with, opened for, and/or jammed with the likes of Gary Clark Jr., John Lee Hooker, Chuck Berry, The Rolling Stones, Junior Wells, and B.B. King.
John Primer has seen the Chicago blues mature and grow through several generations of masters now. In addition to playing with the artists mentioned, he also played the now mythical and vanished haunts such as Theresa's Lounge, The Checkerboard Lounge, Maxwell Street and many others. These days he is a hard working bluesman still touring, playing clubs, and festivals as well.
Primer shared some of his experience, wisdom, and perspective with us regarding the learning to play the blues, finding his own voice in the blues, his hope that the younger players will preserve and carry the blues forward, each in their own voice.
Barry Kerzner for American Blues Scene:
Since you are playing the Paramount Music Festival Centennial Celebration, I thought maybe you would want to say a few words about some of the artists on that label and how they were an influence on you?
John Primer:
Actually, I can't recall the artists that were on that label.
Charlie Patton…
Charlie Patton; all those guys — I'm not so familiar with them. I know of them, and I know their music, but I did know they had that label for them back then. I'm sure – I know the name(s) – I'm sure I saw them. My grandmother had some 78 records; I think they were on 78 records. Yeah.

I was a little kid, so I'd get up in the chair and I'd wind up that Graphophone and I was playing John Lee Hooker.
They had a diverse crew including Skip James, Henry Townsend, The Mississippi Sheiks…
Yes, I know all those guys.
Who influenced you when you were first coming up, learning and growing in the blues?
When I was growing up, I listened to a lot of old stuff. Charley Chin and Bobby McCree. The first thing that caught me ear was Jimmie Lee [Robinson] stuff, Muddy Waters, Lightnin' Hopkins; I wanted to play like Lightnin' Hopkins and Muddy Waters.

Muddy, he took the cake of all of 'em. He was my number one.
Yeah, it's pretty hard to grow tired of Muddy Waters.
You know, it's so simple what he's playing, for him, but it was hard for others to do. He's been my idol, since I was a kid since I learned how to play guitar.
That was something that he used to say, and I'm sure that you are well aware of this: "My blues are so simple, but so few people can play it right."
It's really simple, but it's hard. I could listen and learn the song after the third or fourth time I played the record; it's just something I did.
You had mentors, and you had people that you learned their styles, but eventually, you wanted to have your own voice on the guitar, no?
My own, yes. My own style, play like me; I play what I feel. I learned what old guitar players played; I learned what they played. I learned my feeling, the way they played. It was my feeling, the way I play it. Ain't no such thing as blues changing. Blues'll be around 'till the end of the world. All blues have the same notes. You just improvise a little different. It's all the same. There ain't no changing, no kinda way at all: blues.
So blues is blues, and you play it how you feel it?
I learned all the notes the guys played. Then, I did it my way. I learned all that stuff. I'd sit up all night, 'till my mom make me go to bed. Soul music too now; I was learning all that. I didn't have a hard time learning.
You were blessed with a good ear then?
Yeah.
You were there for "The Golden" age so-to-speak. You were there for the Maxwell Street era. You had Homesick James and Buster Benton and… Everywhere you turned, literally on every corner, there was a great guitar player. That must have been wonderful for you.
Yeah. It was there for me. I was there when it was happening. I was around when it all was happening, laying the foundation for me and the generation yet to come beyond me. That foundation should be carried on forever and ever; never leave the sound of the blues for people to get.

Music now, these days, it's whole different way they play it, the generation coming up these days. They playing their own feeling and I like what they do. I like what they do and how they play it, you know? It will be around.
We're hoping. You know, Buddy Guy is always saying that the blues just don't get the respect and radio play it deserves.
That's right. That's right. It does not; definitely! Not just one night [on the radio]. Thank God for WXRT, Chicago. They have that Blues thing every Monday night. I think there's another station that comes on late, like 5 o'clock or something; I'm not sure they still have it. We need blues 24 – round and round.
You probably don't spend a lot of time on the computer, but you are aware that there are internet blues stations per se?
Yeah. You know, that's good. I know about that stuff, I can play it on my phone. I know how to; I do all that.
With artists in your age group, it seems as though there are two extremes: There are the those that are comfortable with it and do it, and then there are others that just don't want to do it at all.
What I do, I acknowledge it; I keep all the music going. I'm a blues fan, in my heart and soul. I love soul music just as well as I do blues. I just love the blues; I love it.
Speaking of love for the blues, you are one of the fortunate generation to play Maxwell Street, Theresa's [Lounge], and The [original] Checkerboard [Lounge] that are gone now.
No – they don't exist anymore. They've got clubs now, but, they're not the blues clubs. You know, you've got to play Top Ten, soul music, stuff like that.
And of course you remember Biddy Mulligan's?
Oh sure; I was there.
So what are you up to these days? Are you working on a new album? What's on tap for you?
I'm working on a new album, and I'm getting all the songs together. I'm touring around, and most of the time, I'm working.
Is there anything that you would like to say to the up-and-coming generation of blues fans?
Keep on studying the blues; don't lose it. It's something that you'll love to learn, cause the older you get, the more you'll learn about it. You'll meet a girl or your wife or somebody, and they'll break your heart, and that's blues. You're living the blues then. You start playing music, and you gonna feel it.

That's what you feel, what's happening, when you play it. So, you got to be strong, and don't give up. It might be frustrating sometimes, but blues is the number one music in the world. The blues is keeping that feeling happy; it makes you feel good. It's not old man music, it's music for love, for everybody; bring everybody together.

So, all the young generation if they're playing, play the blues. Play your rock 'n' roll, jazz or whatever you want to, but don't forget: Blues is blues. There's no other way to play it but play it. Keep it going. Don't give up.
Would you care to say a few words about Byther Smith, Phil Guy, or Melvin Taylor?
Melvin was a young kid when I met him – six years old. He was learning how to play – we were all hanging around together in the neighbor hood. Melvin's a great guy. There's a guy that can play any type of music; blues, jazz, whatever. So, he's one of the guy's that knows how to keep it going, traditional blues going, or anything else you hear him play. Thank God for him for that.

Byther Smith, he's an old, original blues player. When I heard him, he never changed his style. He played like B.B. King with that voice he had. He's one of the greatest picking guitar players that I've met, and he's a great guy. He's a legend – all them guys are legends.

Phil Guy is the one who first got me to go to Canada. He's a wonderful guy that could play most anything. A soul – blues man, Howlin' Wolf, anybody; he could play it. Direct. Like closer to the original. Miss him; he was a good teaching guy. He should be down in the Hall of Fame somewhere. He died young.
A lot of the younger fans, people under 40, don't know or appreciate how great Phil Guy was. He was fantastic! His funk guitar lines were unbelievable. Is there anybody coming up now that you are impressed with?
Yeah. I'm really impressed with Toronzo Cannon. He's coming out with good blues and stuff like that. Mike Wheeler – great blues man. He can play most anything. Most of these young guys are really good. Don't forget Vance Kelly; he plays blues too.
And Guy King?
Guy King is wonderful – acoustic guitar, and with his band. He knows blues. He plays that old stuff. He plays like an old man. He can play it all.

I'm grateful to all the young musicians that are coming up, playing music, and trying to keep hope alive for the blues.