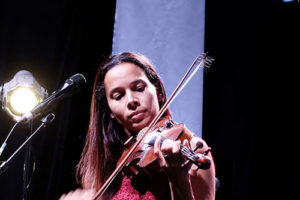 Singer/songwriter Rhiannon Giddens was scared that the producers of the CMT TV show Nashville would turn her character into "a magical Negro." "I was very interested by how they handled the story line. I hear the idea of a white singer coming into a black church and being bowled over by the music is not new, but I really like what they did."
The show is an adult soap opera about the not-so-private lives of pop country artists peppered with performances. Rhiannon plays a black gospel singer who saves the life of one of the lead characters after a plane crash. That character, a devious diva named Juliet Barnes, decides she wants to record a gospel album with Rhiannon's choir, and things go downhill from there.
"I was scared in the beginning, but making her a real person and not an answer to all Juliet's issues I thought was realistic. People were just depressed and acted like normal people in the plot line. I thought they struck a pretty cool balance."
The former lead singer and banjo player in the Carolina Chocolate Drops, Rhiannon went solo in 2013 and today has two exquisite solo albums Tomorrow Is My Turn (2015) and Freedom Highway (2017). She is one of the most intense, outspoken, and talented solo performers currently on tour with a six-piece band that performs a two-plus hour set of music that's a musical history lesson on the role African Americans have played in the American songbook. She's as passionate about the contributions that great and often unsung black artists have made in the American songbook as folk blues pioneer Odetta or jazz soul singer Nina Simone – and just as talented.
An Oberlin College graduate with an encyclopedic knowledge of the history of the American power brokers' suppression of black musicians, she points out that for every 98 mentions of a black fiddler in historical writings from the 18th century, there are mentions of only two white fiddlers. Not only did African American slaves dominate early string band music, but they also introduced the akonring (the African word for banjo). Even more interesting is her observation that early 20th century "race record" producers pushed African Americans into recording blues for an urban black market at the expense of documenting the equally popular "hillbilly" sounds of the rural black culture.
Rhiannon contends that American history has been rewritten to diminish the role of not just African Americans, but all cultures that don't demonstrate the superiority of the traditional "WASP" power base. The history of the white power structure in American society dehumanizing indigenous populations in order to subjugate them and take their land includes the British treatment of the Gales who were called "potato n*****s," American Indians being dehumanized as white settlers stole their land, and Irish and Italian immigrants in the U.S. who were demeaned as lower class.
"Being a black American is part of the American identity," she explains. "And nothing says that better than music. When you look at the banjo which is an African instrument created in the Caribbean and brought up through the south, it was first played for plantation dances. These black musicians were taught European dance music so they could play for the cotillions and balls because back then being a musician was the same thing as being a servant.
"The first country record was a fiddle record, but the generation before that generation half of the string bands were black string bands. Then, they started being denied. They couldn't go to the fiddle conventions. They were starting to be segregated at the recording booths. The blacks are like, 'If you're not going to take my dance tunes, I'd better learn some blues.'"
On her two solo LPs, Rhiannon covers everything from Patsy Cline's "Faded Love" to Richard Farina's "Birmingham Sunday," from Pop Staples' "Freedom Highway" to Elizabeth Cotton's "Shake Sugaree."  Her originals include "At The Purchaser's Option" from the point of view of a slave: "You can take my body, you can take my bones/You can take my blood but not my soul." Or "Better Get It Right This Time" about cops quick with a gun: "Told to reach for ya papers they think you strapped with a pistol."