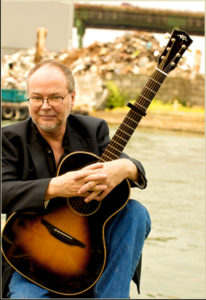 BREAKING – Co-founder of the group Steely Dan Walter Becker has died. Becker was 67 years old. Becker's webpage announced his death but gave no additional information.
Becker was born in Queens, New York City. He graduated from Stuyvesant High School in Manhattan in 1967. Although he is known mostly for his guitar playing, he began on the saxophone, and he also played bass.
He would meet Steely Dan co-founder Donald Fagen while the two were at Bard College. After playing in a number of different groups, in 1971 they moved to California and formed the foundation of Steely Dan. The band was rounded out by guitarists Denny Dias, Jeff "Skunk" Baxter, and Jim Hodder. Becker was playing bass.
After touring and honing their sound for three years, in 1974 the band became a studio oriented unit issuing Can't Buy a Thrill in 1972, Countdown to Ecstasy in 1973, and Pretzel Logic in 1974, which is the first record that finds Becker playing guitar. Katy Lied followed in 1975, The Royal Scam in 1976, and Aja in 1977. Guacho was released in 1980.
Following a series of personal, legal, and spiritual setbacks, after the release of Gaucho, Steely Dan broke up and Fagen and Becker would not work together again until 1986 when they worked together on Rosie Vela's Zazu album. They toured again as Steely Dan following the release of the box set Citizen Steely Dan in 1994 and they released a live CD, Alive In America in 1995.
They released Two Against Nature in 2000, which was their first in 20 years. Steely Dan was inducted into the Rock and Roll Hall of Fame in 2001, and in 2003, they released Everything Must Go. In 2008 Steely Dan played the Montreal Jazz Festival and Becker released his second solo album, Circus Monkey.
In addition to being inducted in the Rock and Roll Hall of Fame, Fagen and Becker received Honorary Doctor of Music degrees from the Berklee College of Music. In 2008 Becker was inducted into the the Long Island Music Hall of Fame.
Nominated for 10 Grammy Awards, the group won four including Album of the Year for Two Against Nature.
Watch this space for more details as they become available.