On Tuesday, October 10th, at 5:30 PM, the Turnrow Book Co, at 304 Howard Street in Greenwood, Mississippi will come alive as guest speaker Adam Gussow talks about his new book, Beyond the Crossroads: The Devil and the Blues Tradition.
Blues has been referred to as "the devil's music" for generations now, and that will continue for generations yet to come. After all, everyone knows the legend of how Robert Johnson, the premiere bluesman of the twentieth century sold his soul to the devil at the crossroads at the midnight hour.
In his book Beyond the Crossroads: The Devil and the Blues Tradition, Gussow examines the role(s) the devil has played in the myths and traditions of the blues since its earliest days. To do this he works from original transcriptions of more than 125 recordings released during the past ninety years. He finds the many roles that the devil has played including troublemaker, thief, instigator, home-wrecker, and more. Gussow looks at the lives and music of those we now consider musical giants including Robert Johnson, Bessie Smith, Skip James, Big Bill Broonzy, John Lee Hooker, Peetie Wheatstraw and more.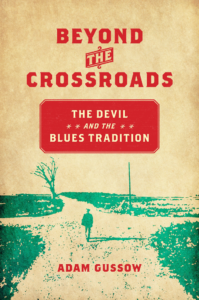 The devil figured in all the relationships that black musicians would be involved in whether working, most likely for whites, and in social settings, with blacks. He was often used as a substitute for those that blacks wanted to talk about because actually talking about whites could get a person dead very quickly in the Jim Crow South.
Something interesting that Gussow uncovered in his studies was that there actually was no crossroads when Robert Johnson supposedly sold his soul there.
Intrigued? Gussow will speak to these and other fascinating aspects of his book during his appearance.
Don't miss this opportunity for a new understanding of blues traditions and history.
Turnrow Book Co
304 Howard Street, Greenwood, MS
October 10th – 5:30 PM