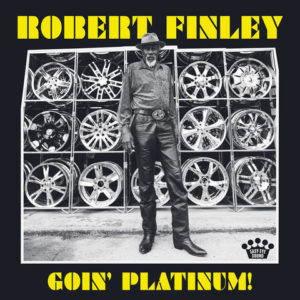 Dan Auerbach, of Black Keys fame, is no stranger to the music scene. Having won multiple GRAMMY® Awards as both an artist and producer, he launched his own record label, Easy Eye Sound, in May of this year. The label's first release was Auerbach's own, Waiting On a Song. Like every good label owner, he's always on the lookout for promising talent to sign. That first opportunity came when he received a video of Robert Finley busking on the street.
Finley is the quintessential Louisiana bluesman. Now 63 years of age, and legally blind, he was writing songs at the age of 10, and began teaching himself guitar a year later. In the 1970s he spent time in the Army, first as a helicopter technician, but then as guitarist and bandleader for the Army Band in Europe. After his discharge, Finley went back to busking, subsidizing his work as a carpenter.
When Auerbach first heard Finley on the video recording, he was intrigued, inviting the elder singer to accompany him on a musical score entitled Murder Ballads. Once in the studio to make that recording, Finley's natural talent and charisma bowled Auerbach over. "Robert is one of the greatest singers I've ever heard in my life," Auerbach says. "He has that magnetic hugeness about his voice and just knows where to put it in the pocket, always."
To set the stage for what would become Goin' Platinum!, Dan gathered a "Murderer's Row" of incredible session musicians. The band is made up of Auerbach, drummer Gene Chrisman (Elvis, Aretha, Dusty Springfield), keyboardist Bobby Woods (JJ Cale, Bobby Womack), the Preservation Hall horns, and iconic guitarist, Duane Eddy. The songs included were written by Auerbach, along with artists that include John Prine, Nick Lowe, Pat McLaughlin, and others. All of this veteran talent mustered in Nashville with Finley as the anchor.
From the moment we hit play, we knew we were invited to a very cool party. "Get It While You Can," came blasting through the speakers. This isn't blues, it's downright soul, set to an almost bluegrass vibe. We can hear the mileage in Finley's voice, but his gravelly bark is the biggest part of the charm. The musicians are tighter than a clam with lockjaw, providing a stellar platform.
We didn't have to wait long for the next serving. "Medicine Woman," the first released single from Goin' Platinum!, is both stirring and haunting. Finley's vocals are emotional, and we could feel the desperation in his delivery.
From there it was on to "If You Forget My Love," with its early R&B sound reminiscent of the great Motown music of some 50 years ago. The background singers and fuzzy bass line are perfect additions to this timeless sound.
"Three Jumpers," took us more into the realm of blues, with a fresh take on the 12-bar format, while "Honey, Let Me Stay the Night," has the energy those earliest British invaders brought to our shores.
The surprises kept coming with the predominantly acoustic "You Don't Have To Do Right." A foot-tapping, hand-clapping, good time from the get go, we could hear this one on any given Louisiana front porch. That is, if they rolled out a boogie-woogie piano to join in.
Shifting, sans clutch, things take a darker turn on "Complications." It's the kind of pleading one does when one's mojo is out of whack. The combination of bottom end horns, and crying guitar in the midway break is downright spooky. Combine that with Finley's imploring vocals, and you're sure to get the shivers. We did.
"Real Love is Like Hard Time," has a remarkable sound. Imagine combining Gospel with funk, being sung by a man who has been there and done that. That will start to give you the idea. Finley is a first-rate, first take soul man on this one.
One the most lyrically unique tracks is "Empty Arms." Blending vocals from powerful shouts to barely audible whispers, Finley captures the feel of life on the road. "Sleeping through the alarm, down at the Empty Arms."
Closing out the ten original tracks is "Holy Wine." From the title alone, we expected a full on Gospel song. Imagine our surprise when this soft, loving tune comes dripping out of the speakers with Finley's voice taking on a near perfect falsetto. Whoa! Where did that come from? To say we were blown away is putting it mildly.
Goin' Platinum! is Finley's soul from Louisiana, smothered in Nashville, and sprinkled with the combined magic of some all-time great artists. It is his second career album release, but sure to go number one. If you don't pick up this record, get thee to a church, because there's something wrong with your spirit.
We want to know what you think. Take a listen to "Medicine Woman" below, or, after buying the album, comment below with your thoughts. Robert and Dan will surely be checking back to get your input.
Artist: Robert Finley
Title: Goin' Platinum!
Label: Easy Eye Sound/Distributed by Nonesuch Records
Release Date: December 8th, 2017
Running Time: 31:41