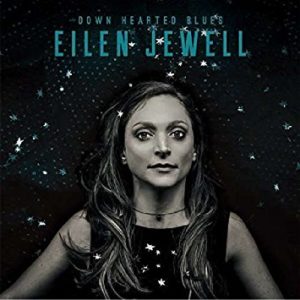 There is a thin line between honoring a style or movement of music, and simply imitating or reproducing it. If you are going to be bold and put an entirely new spin on a classic, something that is an utter departure, it has to be authentic, convincing, and absolute. If you desire to stay as close to the original while performing in your own artistic voice, it has to be close enough to the original to be recognized and different enough to be appreciated as unique. Quite the conundrum indeed, akin to walking a tightrope.
Celebrated Americana and "folk" artist Eilen Jewell has chosen to walk that tightrope on her newest work, Down Hearted Blues, out on the Signature Sounds label. The album is filled to the brim with 12 enthusiastic performances, rewarding listeners with just about 38 minutes of retro rockabilly, country swing, and Texas dance hall versions of some fascinating musical selections.
Besides Jewell on vocals and guitar, her band consists of virtuoso Jerry Miller on lead guitars, husband Jason Beek's on drums, and Shawn Supra's on bass. Additionally, Steve Fulton joins in on piano and Pat Storey colors with the banjo. Together, these musicians are positively scintillating in their artfully understated playing, which is subtle, compelling, and offers a surprising amount of depth.
Jewell says of this album, "We really love to uncover the past. It's almost like digging for buried treasure. For me, that's where music is at. I like all kinds of music as long as there's the word 'early' in front of it." Some of the song choices here might surprise folks; then again, maybe not.
Taken as a whole, Down Hearted Blues is handy in that it is equally at home on a rainy afternoon, or at a friendly house party.
The shimmy and shake of Charles Sheffield's "It's Your Voodoo Working" grab us straight away, and we like it. We like it a lot! That's followed by a stunning interpretation of Lonnie Johnson's "Another Night To Cry" that's just sexy as hell, and here Jewell's vocal brought back memories of a young Sue Foley. Then there's the jump blues dust-up of Willie Dixon's "You'll Be Mine." The title track, written by Alberta Hunter and Lovie Auston, was recorded by Hunter in 1922 and Bessie Smith sold 2 million copies of her 1923 recording. Jewell's performance evokes the beautiful vocals of Cass Elliot.
Other standout performances here include the quintessential drama of Albert Washington and His Kings' "You Gonna Miss Me." Here, it snatches you up and instantly, you are lost in its sway as Miller drives you on with his guitar, and Curtis Stigers serenades you with his sax. We are in love with the swinging dance hall boppin' madness of Willie Dixon's "Crazy Mixed Up World," recorded by Little Walter back in the day. "You Know My Love," also a Dixon composition recorded by none other than Otis Rush, is absurdly electrifying, and unrelentingly spine-tingling. The album closes with Moonshine Kate's "The Poor Girl's Story," performed here in a delectable Grand Ole Opry vein that hits home.
Down Hearted Blues belongs on everyone's shelf. It successfully blends elements of rockabilly, country, Americana, and folk serving up 12 superbly crafted, immensely enjoyable blues selections. Everyone will find themselves playing this album again and again.
Down Hearted Blues By Eilen Jewell
Tracks:            12
Label:              Signature Sounds
Run Time:        38:00
Feel free to let us know what you thought in the comments section below.