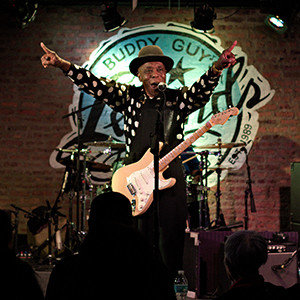 Alright blues fans: Y'all know that every January Buddy Guy holds court at his Legends club with a series of 16 concerts throughout the month. People travel from all four corners of the globe to be at these shows. Buddy Guy. Up close. Unrestrained. In his house. L-I-V-E!
These shows are definitely bucket list, once-in-a-lifetime experiences that are treasured by those fortunate enough to be there. This upcoming January promises to be no different. The 81 year old guitar icon will perform with a number of established artists as well as up and comers. Bobby Rush, Eric Gales, John Primer, Dave Herrero, and Toronzo Cannon are just some of the amazing performers scheduled to celebrate the blues with Guy.
Tickets for Buddy Guy's annual 2018 residency go on sale HERE at 10am CST on Saturday, October 28th 
Make your plans early. Buy your tickets early because they DO sell out quickly!
January 2018 Schedule  
Thurs Jan 4 – BUDDY GUY w/ Bobby Rush, sponsored by PCa Blue
Fri Jan 5 – BUDDY GUY w/ Eddy Clearwater
Sat Jan 6 – BUDDY GUY w/ Lil Ed
Sun Jan 7 – BUDDY GUY w/ John Primer
Thurs Jan 11 – BUDDY GUY w/ Toronzo Cannon
Fri Jan 12 – BUDDY GUY w/ Linsey Alexander
Sat Jan 13 – BUDDY GUY w/ Jimmy Burns
Sun Jan 14 – BUDDY GUY w/ Dave Herrero
Thurs Jan 18 – BUDDY GUY w/ Southern Avenue
Fri Jan 19 – BUDDY GUY w/ Bigg Otis
Sat Jan 20 – BUDDY GUY w/ Quinn Sullivan
Sun Jan 21 – BUDDY GUY w/ Zakk Debono
Thurs Jan 25 – BUDDY GUY w/ Eric Gales
Fri Jan 26 – BUDDY GUY w/ Demetria Taylor
Sat Jan 27 – BUDDY GUY w/ NuBlu Band ft Carlise Guy
Sun Jan 28 – BUDDY GUY w/ Mojo Daddy
*Opening bands subject to change.
ALL openers and SELECT Buddy Guy shows will be streamed LIVE at BUDDYGUY.TV