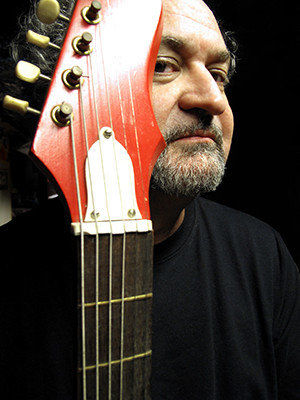 Tinsley Ellis is no stranger to the music industry. Not only has he survived a lifetime in this highly competitive jungle, but he's thrived, gaining the the respect of his peers and building a devoted fanbase.
Born in Georgia and raised in Florida, developed his love of the blues by way of the British Invasion bands, and seeing B.B. King perform. As time went on, he gained a reputation and an exceptional player and a very capable vocalist. He eventually signed with Alligator Records in 1988 and they issued Georgia Blue, his first solo album.
Over the course of his career he's released 16 solo albums on a variety of labels including Capricorn Records, Telarc Records, and his own label, Heartfixer Music. He has shared the stage with Warren Haynes, Stevie Ray Vaughan, Otis Rush, Son Seals, Buddy Guy, and numerous others.
He recently came home to Alligator Records and will be releasing his newest album, Winning Hand in January of 2018.
American Blues Scene was pleased to spend time with Ellis recently as he spoke about his new album, Alligator Records, the path to what he calls his "blues-rock," the music industry and more.
Barry Kerzner for American Blues Scene:
You just played the Daytona Blues Festival…
Tinsley Ellis:
I sure did. I did Daytona, Tallahassee,  Jacksonville, Boca Raton, and I'm a Floridian myself.
Wish I could've made Daytona, but just couldn't this year.
Toronzo Cannon, in my opinion, stole the show. He stole the show. He's on his way up.
He is amazing! And, very humble too.
I know. It's all happening so fast for him. One minute you are driving the bus; the next minute you're headlining blues festivals all over the world.
I don't think he has a long way to go to retirement with them either. He's doing well.
There is no pension for blues artists, but there is a pension for Chicago bus drivers, so he gets those benefits when he retires.
Yes. As you know, at least once a week Facebook or some other social media outlet is trumpeting a benefit for this artist or that artist for whatever reason. Mostly, they are sick and have little or no insurance.
Yeah. I don't have any pension plan, so I think I'll just work from the cradle to the grave.
Some folks say that if you love what you do, you'll never work a day in your life.
That's right! It's a blessing. I do love it, although the travel, and you know, all that driving. I think the worst part of my job is checking into hotels. It's never right.
The first time I heard you I was in the military and I bought your 1989 album Fanning The Flames on cassette. I wore out three copies of that tape! I've been a fan ever since.
That was a big album. It had a song called "Pawn Broker." Radio stations all over the country… we had a hit song with that.
You went back to Alligator…
Yes, Very nice!
Bruce [Iglauer] and company do a great job with their people, so I'm sure you are pleased with that.
I'm very pleased. You know, I bounced around from label to label for thirty-five, almost forty years now, and when it comes to record labels for an act like me, there's Alligator Records, and then there's all the rest. And I found that out the hard way. I even had my own label for a while; I still have it, but I just don't record on it right now. That has allowed me to see things form the record company's point of view.
Even when you work with a label and you're producing the album, sourcing the players, working the budget and arranging the studio time, etc., somehow, when you have your own label and studio, that's when you learn what's what.
That's right, and this particular album I made myself with the intention of putting it out on my own label, and as always, I send my stuff to Bruce. He's always helped me with my music whether I've been on the label or not. His reaction was so good to it; we made a deal. It went down very quickly, and he courted me like a gentleman. I didn't have many questions because I know what they do. Guess what? This interview is the first that they have set up, so you are kind of getting the scoop on the thing.
I am thrilled to have a chance to speak with you!
So it comes out January 12th [2018], and it's called 'Winning Hand,' which is a line from one of the songs. Also, a major tour is gonna start. We're gonna play everywhere in America in a three-month period; about seventy or eighty shows. That's something I haven't done in twenty years. I usually do a handful of shows somewhere and come back, but we're gonna do an actual old-school road tour.
The fans are gonna eat that up!
Yeah! I haven't done it in twenty years! I THINK I Can do it.
I'm sure that you can.
I don't know. I just hit that magic number of sixty years old. That's not normal behavior for a sixty-year-old man.
Maybe, but there are some people that if they stop doing what they love, it's not good for their health.
Ain't that the truth.
Well, your fans will be glad to see you out on the road again. I know I would be.
It's a really exciting time when you have a new album out. Right now, it feels like I'm seven months pregnant, months in advance of it and bustin' to get to the good stuff. I'm ready to do all the interviews and the accolades, touring, money, and the fruits of it. Right now, it's very much like I'm ready to pop.
Tell us more about the album. It's described as "powerful" and a "different direction."
On my own label [Heartfixer Music], half the albums I made were specially albums. The last album, 'Red Clay Soul,' did very well and was sort of a tribute to this region of the South, where the red clay is: soulful, Georgia kind of sounding record. That was a specialty album and then also on my own label, I did an album called 'Get It,' which was an instrumental album and a fan favorite.

This album I made with the intention of returning to the sound of some of the albums I made in the '90s that did very well like 'Storm Warning,' 'Fire It Up,' and 'Trouble Time.' It's a return to the guitar-driven rocking blues sound, and I think that that is what attracted the attention of Alligator records to the album. I was putting the guitar more in the forefront.

It's not really a departure; it's more of a return to a-rockin' sound. Not hard rock, but more guitar, guitar, guitar.
What I've enjoyed about your last few albums is that there's a bit of rock and jazz, and here and there, there's a bit of New Orleans in it. You'll drop these little motifs in there, and you blend it all so well.
Well, I hope so. I like to try and have a sound of my own. There's nothing worse than going to hear a band of any genre and having them sound like a copycat band that sounds just like the record — that's not very imaginative. There is an art to it, but, it's not very imaginative. It would be like 'blues by numbers.'
You are pretty popular for someone that thinks of themselves as "the best guitarist you may never have heard of." I read that, and I love it.
In a certain way, there's a need for blues artists work to remain confidential; it keeps the struggle alive. It really is interesting because I don't know who has heard of me or not, but obviously you had some cassettes thirty years ago. When we go overseas to Norway, people come out with actual vinyl albums for me to sign. So, you just don't know where it's going, and nowadays with the internet, you don't mail anything; it just goes through the airwaves and comes out sounding like a blues artist on the radio or something. So, it's a very amazing time.

It's never been better for the listener than it is right now.
This is true.
The store never closes, and the store never runs out.
Being born in the South, and growing up in the South, how has that shaped your life, your music, and your outlook?
We live in a time when there really aren't regional sounds anymore because of the internet. I think New Orleans is the last of the regional sounding places, or, Louisiana. So, it doesn't matter where you come from; you can have soul singers from Idaho or something like that. They don't have to be from Memphis anymore.

That wasn't the way it was when I started. I got into the Beatles and the Rolling Stones, and that led me to Cream and the Allman Brothers, and that's what led me to blues. So really, I came in through the British Invasion; I just didn't know what I was listening to was blues. I heard "Little Red Rooster" by the Rolling Stones. I heard that slide guitar and didn't know it was slide guitar trying to play it with my fingers and couldn't make it sound right. It's not like it is now where you have instructional videos or YouTube or something where people are teaching you how to do stuff. You had to ask someone who was older than you. The older guy would say 'He's using a slide. It's a bottleneck on his finger moving up and down the strings.' I said 'Really?' and they said, 'You know, like a Hawaiian guitar.'

So, it was a lot harder to find out about blues back then. A friend of mine's older brother told me about B.B. King when he heard us listening to Mike Bloomfield's 'Super Session' album. We loved it. Friend's older brother said we needed to see B.B. King.

B.B. King was playing in town doing a teen show. He'd play week-long engagements and Saturday he did a show for teenagers, and they shut down the bar. Next, I went to see Howlin' Wolf, then Muddy Waters, and that led me to Buddy Guy, Otis Rush, Albert Collins, Koko Taylor, and that's what led me to Alligator Records.

So, that's the short version of how I arrived. First as a fan, then as a player, then as a participant getting to jam onstage with Albert Collins and Otis Rush, Buddy Guy, Son Seals, Koko Taylor, and the Allman Brothers too. They were always good to me, asking me onstage to sit in. I wouldn't have believed that as a teenager but, they were always really nice to me. Gregg Allman was particularly nice to me. I don't think there was a time where he saw me where he didn't invite me to sit in. Dickey Betts as well, who's one of the great guitar players of all time.

I grew up in Florida, but I was born in Atlanta so I kind of claim dual citizenship.
Speaking of playing with some great people, you've shared stages with Stevie Ray Vaughan, Otis Rush, Willie Dixon, The Allman Brothers, Leon Russell, Son Seals, Koko Taylor, Albert Collins and so many others; What is your favorite memory of playing with these great artists?
I think my favorite memory was at a club in New York City in the '80s. The name of the club was Tramps, and Tramps had a show where they brought in Albert Collins as the headliner, and Johnny Copeland, who'd just made an album with Collins called 'Showdown,' and then a very young me, the unknown. At the end of the show, me and Albert Collins and Johnny Copeland jammed until none of us had all six strings on the guitar. Debbie Davies was there. It was just a great jam. That's my favorite time I've ever played… and you know, Albert Collins was something else.

Sweetest little guy you ever met. Onstage I thought he was a monster, but offstage he was a sweet little man.
Since you started out in the business on Alligator Records 30 years ago, what is the most significant difference you see in the industry? What do you like the most? What don't you like?
Well yes, record sales are down, but listenership is up. You have people streaming music. I said earlier; it's never been better for the listener because the store never closes, the store never runs out; the store being the internet. I'd like to think that what's good for the listener is gonna be good for the people making the music but there is an adjustment period right now where they're not sure what a stream is on Spotify or Apple Music. It's not a sale, not airplay either. They're trying to decide what a stream is, so they're trying to determine what it pays.

It doesn't pay much. My music is getting out there more now than it ever has. Am I selling as many CDs? No. The reason is that some people like to listen to CDs as they work at the computer, via Spotify. Some people want to listen to CDs the old way, which is what I do where ya pop a CD in and read the liner notes.

So, a lot more ways to listen to it, but we're in a period now where there's a certain amount of 'weeding out' going on. There seems to be less money in it, but I think in the long run its' gonna be better because it's never been better for the listener.
What do you like the least about it?
As I said, we don't know what a stream is supposed to pay. We think it should pay more and but it's not paying more. You can have a hundred thousand streams of a song on a royalty statement, and that doesn't pay very much. I'm not sure what it pays, but I think it pays the equivalent of selling a few CDs at a concert. People that are 'in-the-know' are working it out.
It doesn't pay very much.
No, it doesn't pay very much, and that's the downside to it, but you know what? In this industry, it's adapt or die.

Years ago I took a course in recording so I can work on my albums, at least the singing, guitar playing, and songwriting part of it. I can work on that in my studio. I don't have to pay $1000 a day to a big studio. It's gone back to kind of the way it was in the '50s with Sun Records when people huddled in little rooms making emotional music. So, that's cool.
Are you producing and working on other people's records?
That's what I'm going to do when I'm done with this, but right now, I found it very difficult to run a record company and tour and write songs. Something had to give and what gave was going back to being with a label which was a very positive thing. So regarding working with other artists, I see myself doing that down the line. I just don't know who those artists would be because there's record labels out there searching for them and they're gonna find them before I do and be able to offer them more time and money than I would.

Lord knows that I've made every mistake that you could make in the music business, so I could help some of these whippersnappers out.
Certainly your point is valid. I think you might be surprised how many up and coming artists or mid-career artists would think, 'You know, that's a good idea!' once the word is out that you are looking for artists to work with.
Well, they're gonna keep me on the road all year next year. I wouldn't want to commit to anything I couldn't give a lot of time to.
What is the best gig that you've ever played?
That's a tough one! An album release party that I had for the 'Trouble Time' album on Alligator in 1991, when Buddy Guy's was a new club in Chicago. We just packed the house and [and it was] all over the radio and the newspaper. It was a packed house, and I was doing it in the home of the blues there in Chicago. Buddy Guy was there, Otis Rush, and all the planets converged.

The show ended at three in the morning, and we all piled into cars and vans and went over to the Kingston Mines to hang out with Junior Wells and Son Seals. It was a magical time for music.

Unfortunately, a lot of these blues artists are gone but we have some good ones coming up. We've got Selwyn Birchwood, who is wonderful. And as we were saying before, Toronzo [Cannon], the new standard bearer for the Chicago blues. I never thought I would be one of the older guys — I was always the kid. Nowadays, I'm the closing act.
Thanks for spending time with us and it's a real thrill for me. Thanks so much
My pleasure.