The sixth annual She Rocks Awards, honoring women in the music industry will be held at the NAMM show in a new venue this year, the House of Blues Anaheim. This year's celebration will take place Friday, Jan. 26, 2018 kicking off at 6:30 p.m.
The She Rocks Awards Honorees for 2018 have been announced by the Women's International Music Network (the WiMN), and include performers and others from all corners of the music industry. The awards seek to acknowledge the achievements of women in the "women who display leadership and stand out within the music industry, and has become a standard at the NAMM Show."
Performers and industry leaders that have received awards in the past include Esperanza Spalding, Jennifer Batten, Chaka Khan, Colbie Caillat, Orianthi, and more.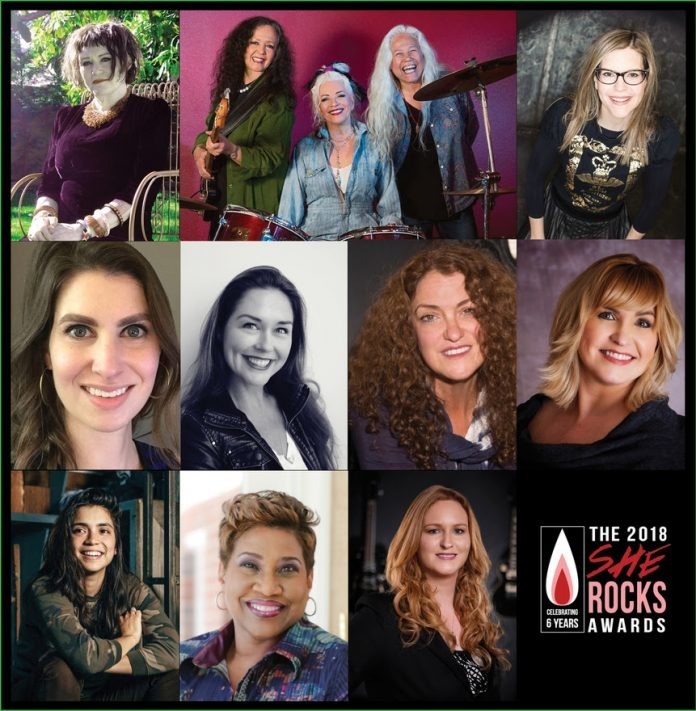 The 2018 She Rocks Awards recipients include:
Lisa Loeb, Platinum-selling singer-songwriter, touring artist, author, and philanthropist
Karla Redding-Andrews, Executive Director for The Otis Redding Foundation
Exene Cervenka, vocalist for the iconic punk band, X
Amberly Crouse-Knox, Senior Director of Creative and Business Development, BMG Production Music
Jean Millington Adamian, June Millington and Brie Darling, of the pioneering all-female American rock band, Fanny
Candace Stewart, Studio Manager, EastWest Studios in Hollywood
Dawn Birr, Channel Manager for the Americas, Sennheiser Business Solutions
Fabi Reyna, Founder and Editor of She Shreds Media
Vanessa Mering, Marketing Manager, HARMAN Professional
Kristy Porter, Guitar Center's Director of Merchandising, General Accessories & Media
In addition to bringing together fans, media, and women and professionals from across the industry, the awards celebration also features live performances, a silent auction, food and beverages, gift bags, and much more!
"We look forward to formally recognizing our 2018 honorees at the upcoming She Rocks Awards," said the WiMN founder, Laura B. Whitmore. "From manufacturers to musicians, our She Rocks honorees of 2018 span all corners of our industry, and we can't wait to join with them in this year's celebration of women in music."
Additional honoree announcements are forthcoming.
2018 SHE ROCKS AWARDS
When:         Friday, January 26, 2018
Where:        House of Blues Anaheim, Anaheim CA
Time:          6:30pm – 10:00pm
PLEASE NOTE:
A NAMM badge is NOT required to attend.
Tickets are nonrefundable.
All guests must print and show ticket at the door.
If you wish to reserve an entire GOLD or VIP table, please contact us at info@thewimn.com
Show program subject to change without notice.