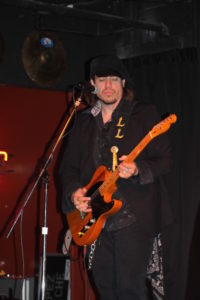 Mascot Label Group has announced Lance Lopez signed to their Provogue label. Provogue is home to several other modern blues artists including Joe Bonamassa, Beth Hart, Kenny Wayne Shepherd, Jonny Lang, Walter Trout, Eric Gales, Sonny Landreth, Gary Hoey and more.
Born in Shreveport, Louisiana, Lopez first held a guitar at the age of five. He owned his first axe at age eight. When he was 12 he moved with his family to Dallas, Texas where the local Deep Ellum influence took hold. The state of Texas is known for its fiery blues guitar players, and Lance Lopez's furious fretboard mastery encapsulates that sound.
When most young men were working their first jobs in fast food or gas stations to pay for prom, Lopez was touring with iconic blues and soul artists including Johnnie Taylor, Lucky Peterson, and Buddy Miles. Wherever he went, and with whomever he played, Lopez drew influence.
"The first show I saw when I moved to Dallas from Louisiana was Stevie Ray Vaughan and BB King. I never got to play with Stevie, but I've played with everyone in his circle. The common thread for me is Jimi Hendrix. I start with Hendrix as a base and then add the Delta influences of the 20s and 30s, the Chicago Blues of the 50s and 60s, the regional influences of where I'm from and there you have it."
Lopez has released 6 studio albums – First Things First (1998), Wall of Soul (2004), Simplify Your Vision (2006), Higher Ground (2007), Salvation From Sundown (2010) and Handmade Music (2011). Along the way he's drawn praise from some of the world's finest players, including B.B. King, Jeff Beck and ZZ Top's Billy F Gibbons.
In 2015 Lopez joined forces with bassist Fabrizio Grossi and drummer Kenny Aronoff to form Supersonic Blues Machine. The band has released two acclaimed albums to date – West of Flushing, South of Frisco (2016), and Californisoul (2017). Both albums feature collaborations with artists including Billy Gibbons, Steve Lukather, Eric Gales, Warren Haynes, Walter Trout, Robben Ford and Chris Duarte. The band has performed to thousands of people around the world, including performances in Holland, India, Russia, Norway and the UK.
Some new music from Lopez will appear on Provogue's Rockin' the Blues compilation album which drops on Friday, November 25th. Lopez will also be taking part in the Rockin' the Blues European tour in the Spring.
"We are looking forward to recording the best music of my career with Mascot/Provogue!" Lopez said. "Most of my favorite guitarists, artists and friends are on Mascot and it is truly an honor to be amongst them. We believe Mascot understands blues rock better than anyone else and most of all understands and believes in guitarists."