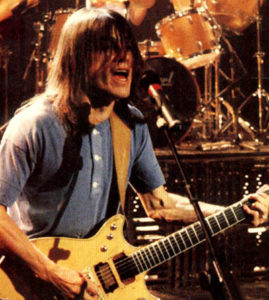 Malcolm Young, co-founder of AC/DC has died. He was 64 years old. A family statement on the AC/DC website reads: "It is with deepest sorrow that we inform you of the death of Malcolm Young, beloved husband, father, grandfather and brother. Malcolm had been suffering from Dementia for several years and passed away peacefully with his family by his bedside."
The page went on to say, "Renowned for his musical prowess Malcolm was a songwriter, guitarist, performer, producer and visionary who inspired many. From the outset, he knew what he wanted to achieve and, along with his younger brother, took to the world stage giving their all at every show. Nothing less would do for their fans. Malcolm is survived by his loving wife O'Linda, children Cara and Ross, son-in-law Josh, three grandchildren, sister and brother."
His brother Angus said on AC/DC's Facebook page, "As his brother it is hard to express in words what he has meant to me during my life, the bond we had was unique and very special. He leaves behind an enormous legacy that will live on forever. Malcolm, job well done."
The band had announced in 2014 that Malcolm would be stepping down form the band as he was suffering from dementia and would be receiving treatment. It was later announced that he would be retiring permanently from the band. His nephew Stevie stepped in to take his place.
It is a sad day in rock and roll. Malcolm Young was my friend and the heart and soul of AC/DC. I had some of the best times of my life with him on our 1984 European tour. He will be missed and my deepest condolences to his family, bandmates and friends.
— Eddie Van Halen (@eddievanhalen)  November 18, 2017
The Young brothers founded AC/DC in November of 1973 and by 1975 the lineup settled in with Malcolm on rhythm guitar, Angus on lead guitar, Bon Scott on vocals and Phil Rudd on drums. While Angus was the most visible member of the group, Malcolm was the band's leader and driving force. The band would go on to triumph even in the face of tragedy. In 1979 the band's Highway To Hell album was racing up the charts, but in February of 1980, Bon Scott died after an evening of heavy drinking and being left to sleep in a friend's automobile.
This is a monumentally sad day in Rock n Roll. RIP #MalcomYoung Take a moment of silence in his memory. https://t.co/cjXUzL2NJU
— Slash (@Slash) November 18, 2017
The band issued their next album, Back In Black in July of 1980 with newly minted vocalist Brain Johnson at the mic. The album would go on to become the second best-selling album in history. The follow-up album, For Those About to Rock We Salute You also did extremely well.
AC/DC would go through personnel changes and some generally panned albums before finding their way on the road back to success. Through it all, Malcolm and Angus were the core. There was a brief period in 1988 when Malcolm left the group to attend rehab for an alcohol abuse problem.
So sad to learn of the passing of yet another friend, Malcolm Young. He will be sadly missed. God Bless @ACDC pic.twitter.com/HuEp3kCuyQ
— Ozzy Osbourne (@OzzyOsbourne) November 18, 2017
AC/DC has earned numerous awards including a Grammy Award, Best Hard Rock Performance for "War Machine," six APRA Awards, four ARIA Music Awards, and a Rock On Request Award. In March of 2003 AC/DC were inducted into the Rock and Roll Hall of Fame.
On the AC/DC website, the family expressed the following: "While thanking all for their overwhelming support and heartfelt condolences, the family ask that you respect their privacy during this time of heartbreak and grief. For those wishing to send messages to the family please visit the Sydney Morning Herald Malcolm Young Memorial website which will be available next week. The family have asked instead of flowers to send donations to The Salvation Army."