On Saturday, December 2nd, Boehmian National Hall in New York City will host Guernsey's auction of iconic, and historic guitars.
Instruments to be auctioned include a 1963 Jimi Hendrix Fender Stratocaster, and a Guild guitar covered in stickers that he played at the 1968 Miami Pop Festival. A truly iconic instrument, Prince's custom gold "Love Symbol" guitar is also up for bids.
Also included at the auction is a 1962 gold sparkling Fender Stratocaster owned by none other than Bob Dylan. The guitar is only the third instrument know to be owned by Dylan to be auctioned. It is expected that the guitar will fetch at least $1 million dollars.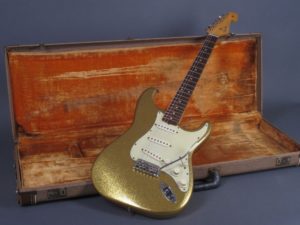 Several other instruments of note will be auctioned this day as well. There are guitars owned by the late Tom Petty including a Fender Stratocaster signed by Petty and the Heartbreakers. Another amazing group of guitars once belonged to the late Johnny Winter, among them Erlewine Lazer guitars and a 12-string Gibson Firebird.
A Jerry Garcia 1990 Alvarez-Yairi acoustic and a Guild Steve Miller 12-string acoustic should generate a good deal of excitement, and for jazz lovers there's a Gerry Mulligan Lacquered Conn Baritone Saxophone.
Legendary Guitars & Musical Treasures
Auction:  December 2, 1PM
Preview:  December 1, 1PM – 9PM and December 2, 10AM – 1PM
Bohemian National Hall
321 East 73rd Street
New York, NY
For more information, and to see all the items offered for auction in this check here.