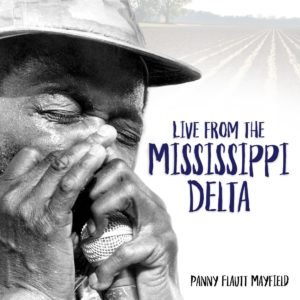 Once again the Turnrow Book Co, in Greenwood, Mississippi, will host a blues-related author event as Panny Flautt Mayfield launches her new book, Live From The Mississippi Delta.
The launch takes place on Thursday, November 16th, beginning at 5:30 PM. Mayfield is a lifelong resident of the Mississippi Delta, and an award-winning journalist. She has been photographing blues and gospel musicians in various venues for decades. Her collections have been exhibited in museums across the United States and Europe and have earned critical acclaim from Aperture magazine. She has been recognized with more than thirty awards of excellence from the Mississippi Press Association, the Associated Press, the Mississippi Film Commission, and the College Public Relations Association of Mississippi.
Live From The Mississippi Delta showcases a rare collection of photographs and stories about musicians from Robert Plant, B. B. King, and ZZ Top to local guitarists playing gigs on the weekend. It contains over 200 photographs and runs approximately 196 pages.
Don't miss this opportunity to meet this world reknon photographer as she shares her perspectives on the new book.
304 Howard Street, Greenwood, MS
(662) 453-5995
November 16th  5:30 – 6:30 PM
Panny Flautt Mayfield
Reserve your signed copy today!