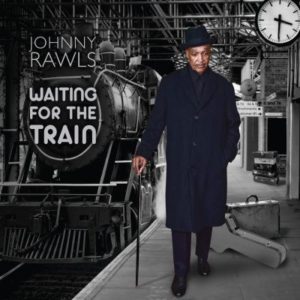 What's always been satisfying about Johnny Rawls is that he brings an old-school sense of panache to everything he does. His work is never overdone or overplayed dandyism, but an honest comfort and confidence that elevates any project he is a partner to. With experience comes an innate sense of knowing, so there's nothing forced or contrived here. No need for that because at this point, the music just flows.
Rawls' latest offering is Waiting for The Train, a ten-track dip into the soul treasure chest out on Catfood Records. Produced and mixed by Jim Gaines, and recorded by Manuel Calderon and Gabriel Esparza, the sound quality and production here are excellent, infusing the music with honesty and clarity that make it all the more inviting.
The band that joins Rawls is on the mark throughout. It is immediately apparent how much everyone is enjoying themselves here, and that comes through in the performances. Besides Rawls on vocals, Johnny McGhee coaxes a whole lot of love from his guitar, while Bob Trenchard on bass and Richy Puga on bass lay down one solid groove after another and keep them going. Dan Ferguson strokes the keys. The notoriously stirring horn section is Andy Roman on alto and tenor sax, Mike Middleton on trumpet, Joel Chavarria on the 'Bone,  and Nick Flood on baritone and tenor sax. These fellas are tighter than a clam with lockjaw.
It's quite easy to listen to this entire album all the way through and hit repeat three or four times after that. Waiting for The Train is a well-rounded affair with slow songs and very danceable tracks as well.
We especially enjoyed "Las Vegas," a Stax review style number with dynamite horn fills, and the title track which is unhurried and has a quality about it that recalls the great songs of Bobby Womack. "I'm In Love" has McGhee laying down some delicious guitar lines and the backing vocals are tasty as well.
"California Shake" showcases the rhythm section delivering a strong backbeat and keeping the solid groove going throughout. "Blackjack Was a Gambler" is silky smooth Memphis soul, and "Turning Point" recalls that great '70s soul that we all miss so much. "Stay With Me" closes out the album with its great atmospherics and vocals as deep as the metallic paint on a '67 Coupe De Ville.
On Waiting for The Train, Rawls gives fans old and new something to talk about and enjoy. His music is like a good story that we can't wait to share with a friend. Buy this album and enjoy it; then share it with someone.
Waiting for The Train by Johnny Rawls
Tracks:             10
Label:              Catfood Records
Runtime:         42:00