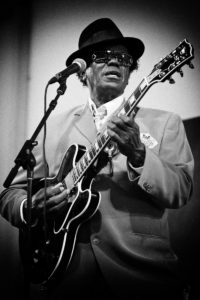 Rockie Charles was known as New Orleans' "President of Soul." In 1996, he released his first full album, Born For You. It was critically acclaimed by aficionados of both blues and southern soul. Thanks to Orleans Records it was re-released Friday, November 24th, on CD, digital download, and, for the first time, on vinyl.
Born Alfred Charles Merrick in Boothville, Louisiana, his family moved to the Big Easy when Rockie was just 13. He was taught guitar by his father, an itinerant bluesman, and began competing in talent contests against other NOLA youngsters including Ernie K-Doe, and Aaron Neville. Dropping out of high school to work on tugboats, he kept his his toes dipped in the music scene, recording a couple of singles, and working in the backing bands of southern soul stars like O.V. Wright, Percy Sledge, Otis Redding, and Little Johnny Taylor among others.
Returning to full-time work as a tugboat captain for decades, Charles took out an ad in a local entertainment magazine which caught the attention of Orleans Records' producer Carlo Ditta. The result was Born For You.
The title track leads off with some funk-filled guitar and a sweet Hammond B-3. Charles voice comes in and is as soulful as any of the Hi Studios or Stax masters. Vocally, he transitions from a sexy baritone to crystal clear falsetto at the drop of a dime. Ditta employed a crack team of local musicians to help bring Charles' original compositions to life.
"My style works off the blues, but it's not confining, and I don't mean that in a negative way," Charles said at the time of Born For You's original release. "I've had to play a lot of different types of music because of the situation I was in. I incorporated those styles into what I write. That means taking the blues a step further."
Born For You took two years to complete, and to our ears, the work was well worth it. There are slow draggers like "Don't Let Me Go," and "Something is Wrong With Our Love." More upbeat, and horn-infused tracks such as "I Like to Make Love When It's Pouring Down Rain," and "I Need Your Love So Bad I'm About to Lose My Mind," had us snapping our fingers and tapping our toes.
There are a couple of true blues tracks included as well. "Oh My Darling Look What You're Doing to Me" has a sad warbling harmonica. "There is a Rainbow Hangin' Over My Shoulder" showcases Charles' exceptional blues guitar skills, his haunting voice enough to bring tears to the eyes of the toughest listener.
The poppy "Festis Believe in Justice," pays tribute a man "working his heart out for the citizens of Cheyenne," while "Please Tell Me it Ain't So," brings out that O.V. Wright-ish falsetto that brings chills.
Just in time for the holiday season, "I Just Called to Wish You a Merry Christmas," is included in the mix.
Nearly every album we hear has one particular track that we deem as favorite. On Born For You that honor goes to "Old Black Joel." It's an autobiographical tune about Charles meeting up with an old friend on the street. Filled with minor chords, sad guitar and that evocative B-3, it's the haunting background vocals that put the cherry on top of this cake.
If you like blues, if you love soul, and you think the two combined are the best thing since sliced bread, you'll want to get yourself a copy of this album. Rockie Charles recorded other albums in his career including I Want First Class shortly before his death in 2010, but this re-release from the President of Soul is truly music to our ears. Hail to the Chief!