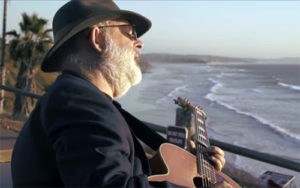 Jack Tempchin has written songs that we are all familiar with. They have been recorded by many artists including Glenn Frey, The Eagles, George Jones, and Johnny Rivers, just to name a few. His new album Peaceful Easy Feeling: The Songs of Jack Tempchin, out on Blue Élan records, showcases songs written with Frey or Frey recorded (with one exception).
Jack is joined by many guests on the album, including Janiva Magness. Magness has been nominated for 26 Blues Music Awards, winning seven, including the Blues Foundation's  B.B. King Entertainer of the Year in 2009. Only the second woman to receive that honor (Koko Taylor being the first), she sings with feeling and fervor.  Naturally, Jack was excited to have her be a part of this album. He told us:
Yeah, she's just a killer blues singer that somehow – she must have lived the life because when she starts singing it's authentic and it's real. She was signed to the Blue Elan Label, and I suggest we get together with her for these songs. She was in the booth and started singing, and I thought, 'Oh my God, this is the real thing.' Glenn would have really enjoyed the way I did that song because he was totally into blues and soul and all that kind of music. I was very happy to get her singing on there.