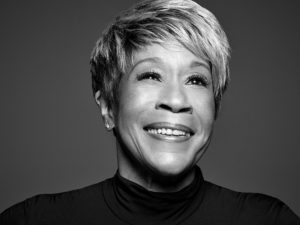 Born Betty Jo Haskins, Bettye LaVette will celebrate her 72nd birthday a few days from now on January 29th. She has been singing professionally since she was 16 years old. Up until relatively recently, she had achieved only moderate levels of success. Not counting compilations, she has released nine albums and numerous singles. Learning to tap dance, LaVette subsequently joined the touring company of the Toni Award-winning Broadway musical, "Bubbling Brown Sugar" playing the role of Sweet Georgia Brown. She was fortunate enough to work with Charles "Honi" Coles, and Cab Callaway while dancing in this role.
In 2006, LaVette received a "Pioneer Award" from The Rhythm and Blues Foundation. In 2008, she received a Blues Music Award (BMA) for Best Contemporary Female Blues Singer. When she performed a brilliant version of "Love Reign O'er Me" at the 2008 Kennedy Center Honors in a tribute to The Who, she left the entire hall breathless. She performed the classic "A Change Is Gonna Come" with Jon Bon Jovi for President elect Barack Obama at the Inaugural Celebratory concert, We Are One. 2016 saw LaVette nominated for a Best Blues Album Grammy Award for Worthy, and that same year she won a Blues Music Award as the Soul Blues Female Artist of the Year.
American Blues Scene was excited to spend time with Ms. LaVette discussing her "overnight" stardom that took decades to realize, her music, her work on the Strange Angels: In Flight with Elmore James project, and why she's happier than she has ever been.
Barry Kerzner for American Blues Scene:
This is such a thrill for me, so thank you.
Bettye LaVette:
Thank you, baby.
Honestly, I think of you as a modern-day, soulful, Billie Holiday.
That's quite a compliment. Thank you.
That's how I see you, and every time I listen to you… that's the first thought that goes through my head. If Billie Holiday was signing rock, this is what she would sound like.
How did you get involved with the Elmore James project?
The producer is a friend of my husband's. I met him when we got married 15 years ago. Marco [Giovino] used to live here in New Jersey, so he was a local musician before he went to Nashville.
He did a great job on the album. It is so varied in the styles; very eclectic. Your performance on "Person to Person" was infectious! The more you listen to it, the more you want to listen to it.
I love it! I haven't even heard it yet!
Wow!
I have just been signed to the Verve Records label, and we have just finished an album that I never thought I would make. That is all that I have been with.
That's the Dylan album [Things Have Changed], correct?
Yep.
Can't wait to hear that!
Oh honey, I can't wait for you to hear it!
Well that makes two of us 'cause I'm excited. That Elmore James track; the more we listened to it, the deeper we wanted to get into it. You remember that sensation?
I know it but, I haven't done that for a very long time. I think the more involved in music I become, the less I listen to it unless I'm doing it. I don't sit around and listen to music.

My husband is the music enthusiast in our family. Everything he thinks I might like, he lets me listen to it. When we're getting ready to record something, he listens to all the tunes. Same with the Elmore James. He knew that I was familiar with Elmore James because my family had a jukebox in our house. So, he gathered four or five tunes, and I listened to them, and I chose this one.
Excellent choice!
I haven't even had a chance to listen to it.
The band that backed you up were amazing musicians.
I'm glad to hear that. It's the first news I've heard on it. It's good news – that's great!
You'll like it. I know you have high standards for yourself.
Absolutely!
Speaking about that, your memoir talks about being discouraged, and that whole issue of once someone says, "Bettye's bad," you said that you take it completely personal and that it took you a long time to accept that you may never be a star. You finished that with, "But I have mastered my craft." When I read that I thought, "Yes. Yes, you have." What can you say about that?
It was a long time, as far as I'm concerned; it was a long time before I could sing. It was a long time before I mastered what I do. And now, I have. There isn't anything farther that I have to learn about the way I sing.

Singing the way that I sing now, I'm in complete control of that. I can apply it to anything I want to apply it to, from a Beatles tune to a Blood, Sweat and Tears tune; whoever. They're just words on a piece of paper. It's the voice that sings them that make them either country or blues, or rhythm and blues, or whatever.

But, I'm a pure rhythm and blues singer. I'm not a blues singer. I'm not a pop singer. I'm not a jazz singer. But my voice has elements of all those things; country and all the rest because I've completely mastered what I can do with my voice.
In another interview they were saying how you were singing for so long and hadn't broken through, and now, you're considered one of the greats. Your response was, "But I'm not a has been. I'm an old never was."
Oh yeah. Up till now, I never was. I've never stopped doing this. None of the efforts I made before really got me to where I wanted to go. So, I'm not a 'has been,' I'm a 'never was.'
There are those of us that have followed you for a long time. I spent about a minute making small talk with you while you signed my guitar a few years ago. Every time I think of that, I smile. I will remember that always.
I'm often stunned at how important things I think nothing of, how important they are to some people. I met some people 20, 30, 40 years ago and they said, 'You said this to me, and I'll never forget it.'

We do tend to think it doesn't mean anything, or 'I was just talking.' I've come to know that things can be very important to people. I met a lady a month or two ago, and when she met me… I remember her so distinctly.  She was dying of something, and she was telling me how frightened she was. I said, 'You know what's done happened, but you don't know what's gonna happen.'

When I saw her a month or two ago, she said she remembered that and she is in complete remission, whatever it is she had, and it just made me feel so good. I don't think I'm Mother Theresa or anything, but she remembers that and came to tell me that she was well and how much what I said meant to her. It made me feel so good.
You won a BMA, Blues Female Artist of the Year in 2016, and you are up for another Blues Female Artist of the Year this year.
Considering that Denise LaSalle died on the day that the announcements went out, she's more than likely going to get it.
Yes, that was so sad.
I was just with her at the Blues Music Awards last year and although she was in a wheelchair, she looked really good and I said, "Girl, you better fight!"
This new album you spoke of with Verve Records has all kinds of guests including Keith Richards and Trombone Shorty. Steve Jordan produced it, so it has to be incredible.
He's absolutely fantastic. I like it better than almost anything. I put more time into it than I have ever put into any music because I have to reconstruct and redesign the tunes. Bob Dylan writes in such a strange fashion. He doesn't really write poetry. They keep calling him a poet but, he writes prose.

He writes things that, they're not feelings, they're matter of fact, and he's complaining about them all of the time. I had to take the songs and change the gender in a lot of songs, and I had to change the words so that they would fit into my mouth.

I started working on it last November. We finished it in three days. I got them into my mouth; it's just like talking. It doesn't take me a week to finish a conversation with you. And, Dylan's songs are really conversations, complaints. He complains about everything; he didn't do any of it! None of it is his fault.
Interesting.
He's a very strange writer, and the more I looked into the songs, the more I knew about him. I was very surprised at two things. That he complains all the time and that he has a beef against… most women. The other thing is that he has a really soft and compassionate side which I found in "Emotionally Yours."

I really thought a lot about him in doing the songs and I never — I've usually just taken the songs, and just put them into my mouth. But, this required so much more: Every day I worked on it, it made me know him better. So, I think I know things now that people don't know about him, that I wish I didn't know.

Everybody knew exactly what they were doing. I don't like to record, and I don't like to rehearse. So, when I get there I know all my stuff, and I want you to know yours.

I'm gonna start rehearsal with my band next month, and I can't wait to hear them reproduce these sounds – there's so many sounds on the album. There's even a "squeezebox" on it; I said, 'Oh my goodness!' There's a Harpsichord; every instrument known to man!

I'm so, so pleased. They're gonna start streaming the single around my birthday, the 29th [January]; that week. The actual CD is gonna drop on March 30th.
So you won't start touring until after March, right?
Right. It's called 'Things Have Changed.' I'm going to look completely different, and the show is gonna be completely different. My music director of the last 15 years, played his last gig with me last night. So, I'm actually gonna have a reconstruction of the band.

Maybe I'll call this my sixth career.

This is the greatest opportunity I've ever had. I have a new manager, Danny Goldberg. I have a new agent, and of course, Verve Records is the biggest record company in the world. So, I'm encouraged.

If you read my book, it is dedicated to [my manager] Jim Louis, and he was a trombone player at one point. He would always let you know he was 'third trombone player' with the Jimmie Lunceford Orchestra. He was a music enthusiast. When he first met me, if you read the book, you'll know that the woman you speak to now is the woman that he created.

One of the first things he told me was, 'You may never become a big star, but you can sing for the rest of your life if you will learn all the correct songs.' He would lock me in his office and make me learn these songs. He just wanted me to be 'old.' He wanted me to sound like Sarah Vaughn.

If he knew how much I listened to what he said and how much I am who he was trying to make me be then… I told you he was trying to make me old, and I am old.
But you are enjoying it now.
I have no desire to be young again. Young is confusing. I have no confusion at all right now. I know exactly where to go and what to do. Just having the weight of youth lifted off my shoulders is good.
You don't have to scramble to figure things out all over again.
Oh no, no, no. Many things I can look at and know 'em immediately. I like that better than being young. And I'm well, and I look halfway decent, so I'm good! I'm actually happier than I've ever been.

I have everything that I've ever wanted. I wanted a beautiful home, a wonderful husband, and a big record contract!
Well, there you go! I want to thank you again for your patience, and it's been just a thrill speaking with you. Thank you so much.
It's been wonderful talking to you, and it's always wonderful when you're talking to someone you know appreciates your work, and they aren't just doing their work. I appreciate you talking to me, and I can't wait for you to hear the album. When you hear the whole album, get in touch with me. I can't wait to hear what you think.
I will definitely let you know.