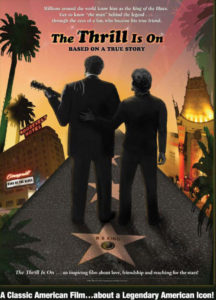 At a moment in time when brotherly love seems distant, if not forgotten, the feature film The Thrill Is On delivers a powerful message of unity and equality, based on a friendship that was driven by love, kindness and generosity.
The film is based on a true story and depicts the journey of a young musician, Michael Zanetis, who travels from the heartland of America to the dream laden streets of Hollywood in pursuit of his destiny. In 1980 he attends a B.B. King concert, and the two meet. Lightning strikes and they forge a lifelong friendship memorialized by B.B. King receiving his Star on the Hollywood Walk of Fame in 1990, a gift from his friend and devoted fan. As it should be, B.B. King was the first Blues Artist to receive this honor.
B.B. King will be portrayed by Award-winning Actor Wendell Pierce who claims, "this is the role I was born to play." The film's producer and co-writer Michael Zanetis says, "We're fortunate to have an actor of Wendell's caliber and reputation for dedication to his craft portraying one of America's most beloved icons." He promises movie goers a candid glimpse behind the scenes and into the life of the legendary bluesman.
The Thrill Is On is the true story of faith, friendship and reaching for the stars that will entertain and inspire! Filming is set to begin in April, 2018.
Set to film The Thrill Is On about B.B. King. It delivers a powerful message of friendship driven by love &kindness: the "King of the Blues"
– Wendell Pierce (@WendellPierce)  30 Oct 2017