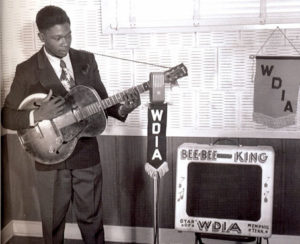 If world famous blues musician "B.B." King's real name is Riley B. King, then what does the B.B. stand for? The true story behind the bluesman's special moniker is filled with lore.
Born in extreme poverty in 1925 rural Mississippi, a teenaged Riley King fled to Memphis after breaking the smokestack on his employer's tractor — an accident which he later returned to pay for.
Following his cousin, bluesman Bukka White, King began playing blues guitar on Beale Street in Memphis, busking for change.
Performing on Sonny Boy Williamson's radio program KWEM in Memphis, the blooming bluesman soon gained a following for his unique voice and the way he played his guitar, named Lucille.
For the young Riley King, this was an auspicious place to be heard. Williamson brought many of his musician friends from his former radio show King Biscuit Time to perform, including Robert Nighthawk, Elmore James, and Arthur "Big Boy" Crudup.
His rising star resulted in a ten-minute show on the Memphis radio station WDIA that became B.B.'s show, the Sepia Swing Club.
It was as a guitarist and radio DJ that King adopted the nickname "Beale Street Blues Boy," which shortened to "Blues Boy" and finally, B.B.
King told Ebony magazine, "Memphis and Beale Street were for me the college of hard knocks, the college of learning. This is where I got my formal training."
By the time he died in May of 2015, B.B. King was Beale Street's most famous alumnus. He'd played over 15,000 tour dates, won 15 Grammys, dozens of awards including the Medal of Freedom, and several Blues Trail Markers.
His body was taken to back to Beale in Memphis, where tens of thousands gathered to mourn. The procession started at the corner to Beale and 2nd, at the B.B. King's Blues Club, the famed venue named for Beale's biggest star.
King's body traveled through the Mississippi Delta on Highway 61, and ultimately rested at the B.B. King Museum and Delta Interpretive Center, where they "see that his grave is kept clean."
King had once said, "I guess you can look at me, and tell I'm the old man. My name is BB King."