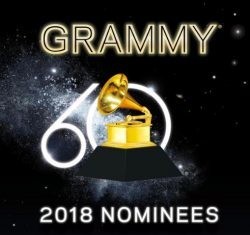 The Recording Academy has announced the nominations for the 2018 Grammy Awards and change is afoot in the way fans access their music.
The role that streaming plays in dispersing music has become glaringly apparent. Along with that, R&B and hip-hop are currently the accessed music of choice, even more so than rock, and pop (as stated in a published report by Nielsen this summer).
Drake has shown that streaming is not only viable but essential to gaining exposure.
According to the Nielsen Music Mid-Year 2017 Report, "Drake's More Life set a record for audio on-demand streams in one week, with 385 million streams earned for its collected songs, beating the record held by his previous album, Views (245 million)."
Note that On-Demand audio streams reached more than 184 billion by July 2017, representing a 62.4% increase versus same period last year.
Other examples of artists experiencing success in large part due to streaming are Childish Gambino's "Redbone" with over 338 million streams on Spotify, and Luis Fonsi & Daddy Yankee Featuring Justin Bieber with "Despacito," a YouTube sensation that saw over four billion (yes, billion with a "B") visits.
The BuzzAngle Music 2017 Mid-Year U.S. Reports states that album sales were down, streams were up, and "Vinyl album sales were up 20.4% over 2016 YTD while CD album sales were down 3.9%. Vinyl albums accounted for 4.9% of all physical album sales, up from 3.5% in 2016 YTD."
This year's nominee with the most nods are leader JAY-Z whose eight nominations include album of the year, record of the year, song of the year and best rap album. In second place is Kendrick Lamar with seven nods, and Bruno Mars follows with six.
If you are noting a dearth of rock, pop, or blues artists there, your eyes have not deceived you.
Recently departed Leonard Cohen and Chris Cornell are among the nominees for Best Rock Performance, while the Alabama Shakes, Blind Boys Of Alabama, Alison Krauss, the late Glen Campbell, and once again Leonard Cohen, are all in the running for Best American Roots Performance.
Gregg Allman heads a talented group of performers nominated for the Best American Roots Song that includes David Rawlings, Jason Isbell And The 400 Unit, The Mavericks, and Rodney Crowell Featuring Rosanne Cash & John Paul White.
Gregg Allman is also nominated for Best Americana Album for his final album, Southern Blood. Others nominated in this category are Beast Epic for Iron & Wine, Brent Cobb for Shine On Rainy Day, The Mavericks for Brand New Day, and Jason Isbell And The 400 Unit for The Nashville Sound.
The Rolling Stones have been nominated in the Best Traditional Blues Album category for their back-to-basics-Chicago-blues pièce de résistance Blue & Lonesome. Also nominated in this category are Eric Bibb for Migration Blues, Elvin Bishop for Elvin Bishop's Big Fun Trio, Guy Davis & Fabrizio Poggi for Sonny & Brownie's Last Train, and R.L. Boyce for Roll And Tumble.
In the Best Contemporary Blues Album category the nominees are Robert Cray & Hi Rhythm for Robert Cray & Hi Rhythm, Sonny Landreth for Recorded Live In Lafayette, Taj Mahal & Keb' Mo' for TajMo, Robert Randolph & The Family Band for Got Soul, and the Tedeschi Trucks Band for Live From The Fox Oakland.
Among the nominations in the Best Music Film category are Two Trains Running (Various artists), Long Strange Trip (The Grateful Dead), and One More Time With Feeling (Nick Cave & The Bad Seeds).
Bobby Rush, who won last year's Best Traditional Blues Album for Porcupine Meat discovered to his delight that a remix of his "Funk O' De Funk" by SMLE is nominated for an award in the Remixed Recording category.
You can see a complete list of all the nominees here.
The awards ceremony will take place on Sunday, January 28th at Madison Square Garden in New York City, and will be televised by CBS starting at 7:30 p.m. ET, 6:30 p.m. CT on CBS or CBS All Access.