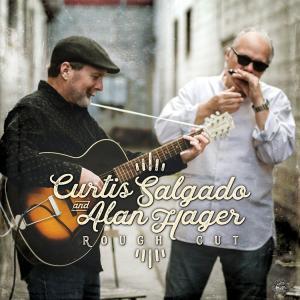 Memphis is known for the blues. Chicago, St. Louis, New Orleans, and more recently San Jose are Meccas for blues music. That said, whodathunk the best blues we've heard so far this year would come from the Pacific Northwest? That's just what happened with Rough Cut, the latest release from Curtis Salgado and Alan Hager.
Released via Alligator Records on January 12th, 2018 Rough Cut shot straight up the blues charts and has remained near the top since. The album opener, "I Will Not Surrender," is a prime example why. Recorded in one live, unrehearsed take, it has Salgado at his emotive best. Here is a man who has survived liver cancer, lung cancer (twice), addiction, and quadruple bypass surgery singing about not surrendering. Solely complimented by Hager's Delta-flavored guitar work, this song still haunts us.
An emotional one-two punch follows with "So Near to Nowhere." The second of six original compositions on Rough Cut, it gives us our first taste of Salgado's masterful harp playing. The pace picks up nicely on "One Night Only," adding some great honky-tonk piano via Jim Pugh. Light-hearted, fan favorite, "I Want My Dog to Live Longer (The Greatest Wish)," is a humorous look at our wants.
Long-time friends, Salgado and Hager have lived the blues, and nowhere is that more evident than on their cover of Muddy Waters' "I Can't Be Satisfied." The duo plays this classic so effortlessly that one would believe they wrote it themselves. Sonny Boy Williamson's "Too Young to Die," gets a fresh makeover, as does Son House's "Depot Blues."
Following that comes "Morning Train." With profoundly spectacular vocals from Salgado and LaRhonda Steele, and some sweet brush-work via Brian Foxworth, it touches on both the gospel and secular sides of the blues coin. Following the opening track, "Morning Train" has our vote for album favorite.
Hager's prolific slide work continues to shine on their cover of the Elmore James classic, "You Got to Move." Nowhere on the album is it more glorious however than on Hager's original instrumental, "The Gift of Robert Charles." If rapture could be bottled, then spread on vinyl, this would be it.
"Hell in a Handbasket," is another light-hearted offering, and the duo's cover of Robert Wilkins' "Long Train Blues," could be the best interpretation of the Delta classic ever.
Love should end with hope, and so it does on Rough Cut. Big Bill Broonzy's "I Want You By My Side," couldn't have been a better closer if the big man had sung it himself. No matter the burden, no matter the struggle, if hope survives, then so do we.
Rough Cut is an album about survival. In its contents we find some of America's greatest blues songs, performed by some of its greatest artists. If Rough Cut from Curtis Salgado and Alan Hager doesn't garner every award there is this year, then there is no justice in the world.
Artist: Curtis Salgado & Alan Hager
Title: Rough Cut
Label: Alligator Records
Release Date: January 12th, 2018
Running Time: 50:18
*Feature Image by Jessica Keaveny