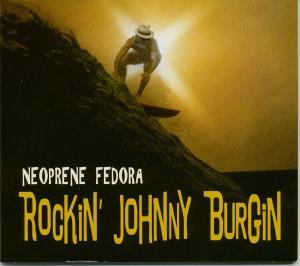 Master blues guitarist Rockin' Johnny Burgin has spent more than two decades on the road. After years of playing and touring with folks like Taildragger, Sam Lay, and Pinetop Perkins, he still plays over 250 shows a year. Since his move from the Windy City to the Golden State, Burgin has incorporated various sonic styles resulting in Neoprene Fedora.
Released in 2017, Neoprene Fedora is a musical epic. The 16-track album chronicles Burgin's move to California from Chicago and has more twists and turns than Route 66. His second project recorded at Greaseland Studios, Neoprene Fedora sees studio owner Christoffer "Kid" Andersen recording, mixing, mastering and playing all over it. But that's just the beginning.
Calling this most recent release eclectic is a disservice. Neoprene Fedora is encyclopedic. The seven-and-one-half-minute opening title track is worth the ticket price. A Herculean instrumental, the opener incorporates the swanky, ultra-reverbish, early surf sounds of the left coast, with all the grit and tenacity of Chicago's West Side. You can't miss Nancy Wright's slithering, sexy sax on this one as well.
"Guitar King," provides more of the traditional Chi-town sound to which we've become accustomed from Burgin. Indian-born harp blower Akarsha "Aki" Kumar lays down some sweet San Jose harmonica, and that's where the fun really begins. This mash of Chicago meets California has been the stuff of Burgin and Kumar's recent tours and has floored audiences wherever they've played.
Just when we thought we were starting to get into the vibe, along come three original Zydeco tracks, featuring Steve Willis on accordion, and Billy Wilson on rub board. "Kinda Wild Woman," is a Cajun-flavored foot stomper, while "Please Tell Me," and "Our Time is Short," are sultry, belly-rubbing waltzes. Maybe Burgin took the long way through Louisiana on his trip out West.
A stopover in Memphis may have been on the itinerary too, as Burgin and company deliver a soulful, saucy rendition of "(Let Me Be) Your Teddy Bear." "Smoke and Mirrors," brings some serious funk to the mix. Truck-driver turned blues man Alabama Mike lays down some deep soul vocals. Mike pulls out all the stops on "I Did the Best I Could." Originally from Talladega, Alabama Mike has that sound that is as much at home on Neoprene Fedora as it would in the studios of Stax, Hi, or Malaco.
Burgin wrote 11 of the 16 tracks, showcasing his talent as a songwriter as well as singer and guitar slinger. Our choice for favorite song is the closer, "Goodbye Chicago." Not only does Burgin bid farewell to his stomping grounds of over 25 years, but he does it with a sly, slinky slow-burner. He calls out a laundry list of Chicago greats in the lyrics and channels the falsetto-to-frenetic growl of Howlin' Wolf in the chorus. Pure bliss.
Fear not Chicago, Rockin' Johnny Burgin isn't gone for good. Although he now calls California home, he'll be back in Illinois in June. Along with three gigs in Springfield, Burgin will be spending a week as a master guitar instructor at the Chicago Blues Camp from June 3rd through the 8th. It's all part of his current world tour that includes the US, Japan, Italy, Finland, Denmark, and Russia.
If you're unfamiliar with Burgin's work, do yourself two favors. Get yourself a copy of Neoprene Fedora and then catch him live. You'll thank us later.
*Feature image by Bárbara Sánchez Palomero, courtesy of Rockin' Johnny Burgin