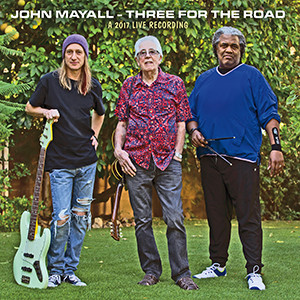 John Mayall has always been the master of the understated. The best aspect of Mayall is that understated doesn't mean underwhelming. Whether he's knee deep in rock, blues, jazz, or gospel-infused delights, Mayall never fails to surprise, nor satisfy.
For over five decades this Blues Hall of Famer has been a pioneering musician and entertainer. With any of a myriad of stellar guitarists that included Eric Clapton, Peter Green, Mick Taylor, Coco Montoya, Walter Trout, Buddy Whittington, and most recently, Rocky Athas, Mayall and company forged new paths of aural discovery and wonder.
Here on Three for the Road, out on Forty Below Records, there is no guitarist. Mayall says, "I've been using the trio format for our live shows for a year already, and the reason for that came about quite accidentally when my guitarist Rocky Athas wasn't able to make a festival gig due to airline cancellations. Since then, I found that the interplay and dynamics have created a more personal upfront sound in my live performances. I can't speak too highly of bass player Greg Rzab and drummer Jay Davenport, who have been my bandmates for the last ten years or more. Their Chicago roots are to the fore every time we get onstage together."
Produced by Eric Corne, Three for the Road features ten live tracks (the first being an Introduction) recorded in March of 2017 in Stuttgart and Dresden, Germany. Aside from the new trio format and the live presentation, what adds exponentially to this experience is the mix. It's ambient, raw, sparse, and immediate.
Throughout the album, the musicianship is inviting and steals our attention from the very first. Hearing this trio perform so movingly, creating a sonic palette that is so full will surprise many.
We enjoyed these performances immensely, and of course, we did have favorites. Sam Hopkins' "I Feel So Bad" sings as Mayall's bright, catchy piano steps on out, while Curtis Salgado's "The Sum of Something" woos us with a winning bass line and some deft keyboard magic from Mayall.
Mayall's own "Streamline" proclaims that the '70s are back with organ so smooth, so engaging, it gave us goosebumps. Henry Townsend's "Tears Came Rollin' Down" features a raw vocal, and Mayall's piano is glorious. The up-tempo "Congo Square" (Sonny Landreth/Dave Raonson/Mel Melton) closes out the album, recalling the early Bluesbreakers but with more urgency, and once again the piano stands tall, lifting the music up.
Don't miss out on experiencing a true master flourishing in a new format. Hit "Play" on your device of choice and see what the excitement is all about!
Three for the Road by John Mayall
Tracks:  10
Label: Forty Below Records
Running Time:  60 Minutes
Release date: 23 February 2018