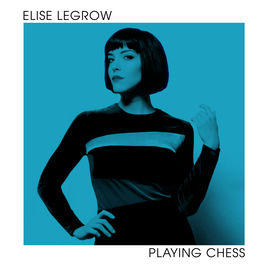 They say you should never take on institutions. Of course, the flipside to that argument is: What would have happened if Muddy Waters hadn't plugged in? What if Howlin' Wolf hadn't growled and Bo Diddley hadn't invented the "Bo Diddley Beat"? What if Eric Clapton hadn't updated Robert Johnson's "Crossroad Blues" to suit his own vision?
Chess Records long ago moved beyond being an American institution and is now the stuff of myth and legend. And we all remember that line from The Man Who Shot Liberty Valance: "This is the West, sir. When the legend becomes fact, print the legend."
Enter Elise Legrow, who as a child heard Chuck Berry's "You Never Can Tell" while John Travolta and Uma Thurman danced across the floor to it at Jack Rabbit Slim's in Pulp Fiction. Legrow is not intent on destroying the myth, nor upending the legend of Chess Records. No; Instead, she has reimagined past and given us a new future.
On her just-released Playing Chess, Legrow covers classics from Bo Diddley, Etta James, The Radiants, Sugar Pie DeSanto and more. The sheer audacity to envision these tracks as she has and then deliver them with the fearless and unabashed abandon she does speaks volumes. In much the same way Clapton gave his "Crossroads" to a new generation, Legrow gives this generation a new songbook, based on the gold standard of generations past.
Bo Diddley's "Who Do You Love" is stripped down, bare bones, more-is-less ecstasy. It simmers with a whole lot of restrained come-hither sultry sizzle and raises the temperature in the room considerably. Chuck Berry's "You Never Can Tell" is an other-worldly ballad, reaching deep inside you, pulling you in. On "Over The Mountain, Across The Sea" Legrow delivers a soulful vocal that tips the hat to the Johnnie & Joe original and the Stax soul of yesteryear in the same breath. It's hauntingly gorgeous.
Other brilliant transformations include the slow swing and almost Peggy Lee vibe of Sugar Pie DeSanto's "Going Back Where I Belong" and the slowed Sarah Vaughan inflected channeling of the Fontella Bass classic, "Rescue Me."
Besides the impassioned, pioneering performances here, Legrow will have new generations of listeners seeking out the original songs by the original artists and in doing so, those performances are again honored and preserved.

This is a remarkable album. Own it. Love it. Bring it home.

Elise Legrow – Playing Chess

Tracks:  11
Label: S-Curve Records/Awesome Music
Release Date: February 16th, 2018
Running Time: 36 Minutes