Everyone is familiar with Memphis and the music that flows from its beating heart. Its musical heritage is rich and steeped in history. One might even say that Memphis is the city where dreams are born and lived through that music. Not everyone is familiar with a Memphis Rent Party though.
Historian, author, film producer and director, and Memphis resident Robert Gordon has written a book about his journey of discovery as he was befriending various artists of the city. Among these newfound friends were Furry Lewis, Jim Dickerson, and Alex Chilton. He had known of Junior Kimbrough and had even seen him perform. Eventually, he would be invited to Kimbrough's home.
Now, a Memphis Rent Party is when people come together and share music, dance, and contribute what they can to help a friend in need who is the throes of rough times. Hence, the title of Gordon's book, Memphis Rent Party, due out on March 6th, 2018.
The companion Memphis Rent Party soundtrack will be released on March 9th, on Fat Possum Records. This compilation showcases artists among those featured in the book including Jerry McGill, Junior Kimbrough, Furry Lewis, Jerry Lee Lewis, Jim Dickinson, and more.
"All Night Long" was one of two tracks Gordon recorded onto cassette on location. It was recorded on a Sunday afternoon in the middle of a Mississippi cotton field in Kimbrough's living room in 1986. The cabin floor was churning with neighbors packed in and everyone high on the homemade white whiskey.
"I recorded this Junior Kimbrough track myself, a hand-held tape recorder propped across the living room in his house, a cabin surrounded by acres of cotton field. He'd moved out all the furniture so as many Sunday afternoon revelers as possible could fit while he churned the rhythms." —author Robert Gordon
The following is an excerpt from Robert Gordon's book, Memphis Rent Party, published by Bloomsbury on March 6th, 2018. "Adapted from Memphis Rent Party: The Blues, Rock & Soul in Music's Hometown. Copyright 2018 Robert Gordon. Reprinted by permission of Bloomsbury Publishing."
I'd heard of Junior Kimbrough from the High Water releases that were coming out under Dr. David Evans's auspices at the University of Memphis. I'd seen him perform too, at the Center for Southern Folklore's Memphis Music & Heritage Festivals. The key, however, was I knew never to decline a party invitation.
Junior Kimbrough and the whole of the droning north Mississippi sound have become such a part of me that it's hard to remember when I first became aware of it. But around 1988—within the first few months of my return to Memphis (following a decade of only visiting home)—I was riding around Holly Springs, Mississippi, and stumbled upon Aikei Pro's Records Shop, a store with overflowing shelves of blues 45s and LPs run by a storyteller named Mr. Caldwell. The Aikei (pronounced "Ike-ee") had old records in great shape from Chess and Stax and kept current releases from north Mississippi groups, few though the choices might be. And Mr. Caldwell told it like it was, stories that day were about being a black man with blue eyes and the mixed heritages that belie our skin tones. I returned there with a couple friends visiting from the cosmopolitan Northeast to show them how quaint and charming a small town in Mississippi could be. My Yankee friends finished inside the store before me, and when I came out, they were in casual discussion with one of the locals.
He was a big man, like a football player, with an air of quiet violence, simmering sexuality, and raucous good times. His eyes were big, like they'd seen things we wouldn't believe, and though he was welcoming, he also seemed to have a live 220 current running through him. He was Junior Kimbrough.
Junior invited us to his house party, to be held Sunday afternoon, the following day. Giving us directions, he said, would be pointless as his place was impossible to find; he instructed us to instead ask anyone who loitered at the Aikei to lead us. So the next day, we did just that, and then we stopped at the Sunflower grocery to pick up a case of beer, some of which we gave to the guides as payment. We followed several middleaged black men in a pickup truck, making turns on winding roads that had no visible names until the lead truck slowed in a wooded area, a hand coming out the passenger window and hooking over the truck's cab, pointing us to the woods on the left. The opening in the trees wasn't apparent until we'd almost passed it, and the turn in was a hairpin; they'd slowed dramatically, made sure we caught it. The drive ran down a hill, the curtain of trees thinning to our right, another hairpin turn at the bottom unfolding into the red dirt field where, floating in its middle, we saw the house where all the action was.
Junior's house was in the middle of a cotton field, the cabin a structure only slightly more handcrafted than the long rows into which the field had been furrowed. You could take a wide view and in all that you saw, the house was the only thing that wasn't a cotton plant, its wooden brown stood out against the crop, still green and bursting all around us. It was a home filled with humans, all seeking a state of exalted rapture.
The party at Junior's was in the large front room, and I only recall two other rooms. A few chairs and a sofa were pushed against the living room walls, creating as much dance and band space as possible. In the bedroom to the right, all the other tables, some chairs that didn't fit, lamps, and other furniture were stacked floor to ceiling, leaving only the bed untouched and ready for falling into. Back in the main room, a door at the rear led to the kitchen, but that door was split horizontally. The lower half stayed closed, and behind it was seated a woman, wide and stocky, massive in her density, like she was made from the missing upper door: the house lady.
She sold drinks, woke sleeping drunks, and maintained order. No one wanted to cross the house lady. I have a confession to make. When I first ordered a beer from her— we'd set down our case and all the cans had disappeared as if into a hole in the bottom of the sea, which pleased us (and it didn't bother the house lady, who never had enough beer anyway)—she offered me a choice of canned beer or Junior's homemade fruit beer. I can't imagine why I didn't leap at the opportunity to taste the fruit beer, except perhaps that the words fruit and beer together were so unexpected—sort of like the time at Mardi Gras in New Orleans when I stumbled upon a woman at a card table in front of a bar; she had a large, clear jug of something soaking in pinkish water, and so startled was I when she said, "Pickled pig lips, fifty cents," that I dug into my pocket, saved from the awful treat by the lack of a quarter (she wouldn't sell just the upper). Fruit beer—in all my visits to Junior's house and his later juke joints, I was never offered it again, and by the time that day I'd loosened my mind enough to go for it, she was sold out. "No fruit beer, just regular." I'm sure I answered, "Yes ma'am."
The band was a trio, with Junior seated on a folding chair, a guy named Cotton on the bass, and the drummer's kit always a hodgepodge, salvaged from the Salvation Army's bin of the unsalvageable; one time a drum was a cardboard box reinforced with duct tape. They had amplifiers for the guitars and a vocal mic, but everything was so close and intimate—the musicians repeatedly pushing revelers off them—that what they played was felt every bit as much as it was heard. Music filled the house like water in an aquarium.
And the music never stopped, the players handing off their instruments and joining the audience. Half the people there were musicians, and they all played all the instruments. Junior played only guitar, and he'd play whenever he felt like it, breaking into the song he was best known for, "All Night Long," as often as he liked. With its familiar opening wail, its gradual build, and then the funky gallop of the song's body, it was the crowd's favorite, and Junior never tired of giving them what they wanted. He could draw the song out for an easy quarter of an hour, and people danced the whole time, with partners or without, whether they were lingering from the last dance, rising at the song's first notes, or lunging up when overtaken by the spirit in midverse.
Everyone danced. This sea of people moved not as one, but like a riptide, and it was amazing how blindingly bright it was outside and how dark within. I once tried to shoot some Super 8 film at Junior's house, but even with the lens all the way open it was barely possible to capture a distinct image. As the afternoon wore on, people passed out in chairs, on the porch, in the bed, and in the field. Might've been the fruit beer.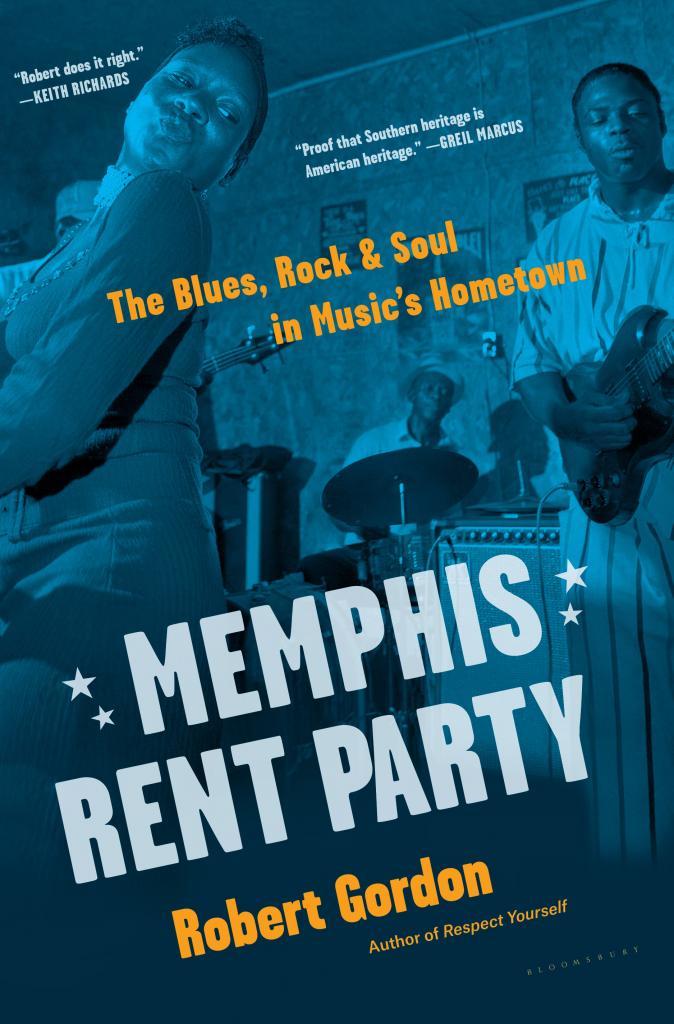 Junior Kimbrough's juke joint was an impossible experience, and available every Sunday. A musical nirvana. Rapturous. Plunk in the middle of a social and economic disaster zone. But there it gathered those seeking a stronger jolt, higher wattage, a more intense escape. Like a church, Junior's joint was a room pulsating as one. What a rave must be like but with older people on different stimulants.
I returned to Junior's several times, once with my longtime friend Belinda Killough. "When you told me about Junior's Sunday blues jam," she said after her first visit, "I thought it was going to be in somebody's small backyard with bowls of Fritos and stuff." Belinda continued, "We must have gotten there about one p.m. or so, after church service, because I remember ladies in dresses with church fans … The band was all young guys wearing Batman T-shirts even though they couldn't afford a movie ticket. We must have stayed there twelve hours."
Soon Junior moved the party into a former barbecue shack called the Chewalla Rib Shack, then to a final location in Chulahoma. A converted church, it was heated by a wood stove. It burned down not long after Junior Kimbrough's death in 1998.
R. L. Burnside lived next to that joint, and he played there often. R. L. and Junior became the heart and soul of Fat Possum Records; they recorded at the juke joint. Though fruit beer was never offered at the Chulahoma place, I did taste all kinds of white lightning, some of which was quite smooth and appealing. More memorable is the worst white whiskey I ever tasted. It was a full-moon night and a group of us were cooling off out front, a mixture of locals and visitors. Two white guys in hunting camouflage opened a jar and passed it around. They were leading a discussion about coon dicks, the penises of raccoons made into necklaces and worn for good luck. I was not interested in the coon dick they offered me, but I did taste their whiskey. I almost gagged, but my scientific impulse won out and I quickly tasted it again to confirm it was as bad as it had at first seemed, which it was. Its bouquet was of freshly mowed lawn clippings, and it went down like long thin shards of glass, with an aftertaste of rusted barbed wire. "Rusted" may be assigning it too much character.
I was there often enough for Junior to recognize me, and I got on a first-name basis and had a couple adventures with Cotton, the bass player. But I never got to really know my fellow revelers, nor my host. I didn't know their struggles or their loves, their lives, their particular strains of boredom or despair.
At Junior's, we all escaped into the blues, but our escapes out were not the same. At day's end, I would go home to my comfy bed in an insulated house, romanticizing the missed opportunities of fruit beer. And Junior and all his friends would go home to shacks where the wind blows through.
That first time at Junior's, when I opened that bedroom door and saw all the furniture stacked, I instantly recalled a description of a "rent party" from a college class on the Harlem Renaissance. Tenants who needed to make rent would throw a party where they lived, pushing all the furniture back to allow more room for dancing. Everyone paid at the door and bought food and drink inside, helping the residents raise the payment. Junior's party had its economic purpose too—the house lady sold those drinks (though I don't recall paying to enter). But the party also struck me as a way of reminding the worn and the weary of the reasons for living, a way to reinvigorate the spirit in the face of a week of otherwise abject poverty and grueling manual labor. The thin walls may be poor shelter from the cold winds, but they can still harbor the collective heart, like the blues.