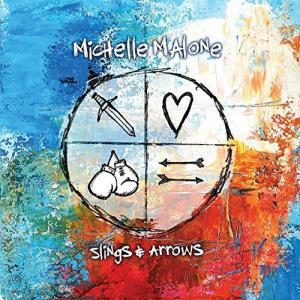 When describing Michelle Malone, one will need a notebook full of adjectives. Soulful, raucous, southern, proud, talented, and real-deal, are just a few of the descriptors that come to mind. Her 15th studio album, Slings & Arrows, is scheduled for release via her own SBS Records label on March 2nd.
Atlanta born and bred, Malone focused on making Slings & Arrows a "Georgia record." She succeeded in top form, producing the album herself, recording it in the Peach State, and employing a collection of fellow Georgians to make it happen. The result is true, unabashed Americana, served up southern style.
Backed by Doug Keys (electric guitar), Robbie Handley (bass), Christopher Burrows (drums), and Trish Land (percussion), Malone handles the duties of vocals, acoustic, electric, and slide guitars, harmonica, and mandolin. Guests on the album include Peter Stroud (Sheryl Crow, Stevie Nicks), Joey Huffman (Georgia Satellites, Hank Williams Jr), and the ever soulful Shawn Mullins. Slings & Arrows is a collection of 9 original compositions, and one absolutely killer cover.
It all begins with the aptly titled, "Just Getting Started." Performed with an uptempo beat and piercing slide guitar, it kicks ass right from the jump. The empowering "Love Yourself," follows nicely with a funky beat and Malone's slide enhancing her vocals. It almost feels like she's reigning her voice back a bit, but still makes a powerful political statement.
"Sugar on My Tongue," is a more subdued pop song, featuring Stroud's guitar and Huffman's keys in all the right places. Taking a hard left, "Beast's Boogie," is perhaps the most un-Georgia song on the album. This foot-stomper has the unmistakable sound of the Mississippi Hill Country. Malone provides some reverb-driven harp on this one to accentuate the point.
Boogie meets R&B on "Fox and the Hound," at least until the second verse. The boogie takes over completely from that point, and Malone unleashes her aggregate voice punctuating it with some fat, greasy slide work. "Civil War," is another sonic mixture. This time, old-timey, back porch, mandolin folk shakes hands with hard rock guitar and screaming harmonica. The extra sustain on Malone's vocals fill in what little gaps there are, and fatten this one up nicely.
"Matador," is a southern rock anthem leading, rather abruptly, into "The Flame." Flame is more country flavored, with some very emotive lyrics, and Malone's soft-spoken vocals match it hand in glove. The album finishes off with "Boxing Gloves." Another song of empowerment, this is what we think of when someone uses the word Americana. "Boxing Gloves," should get plenty of airplay.
While Malone's talents as a songwriter every bit match her musical expertise, our hands-down favorite on this release is the one cover song. "I've Been Loving You Too Long," was co-written and first recorded by Dawson, Georgia native, and soul legend, Otis Redding. Malone had previously performed the song live with Gregg Allman, and had every intention of Allman joining her in the studio to record this track. Sadly, that was not to be, but Atlanta-born Shawn Mullins more than fit the bill.
Mullins and Malone are both at their very best vocally on the Stax classic. Recorded in just a couple takes, with overly reverbed guitar, the emotions are so strong you can almost hear tears hit Malone's cheek near the song's end.
True, dyed-in-the-wool, southern Americana is hard to find. In a sea of "self-professed rootsy rebels," Michelle Malone stands as a beacon. She is the real-deal, and Slings & Arrows is her validation.
Artist: Michelle Malone
Title: Slings & Arrows
Label: SBS Records
Release Date: March 2nd, 2018
Running Time: 41:30
*Feature image by Harold Sellers