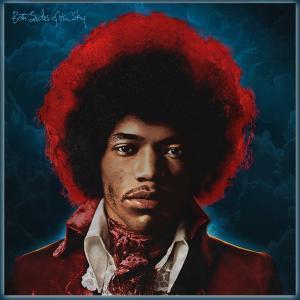 Excitement is building and the anticipation is palpable for the upcoming Jimi Hendrix album, Both Sides of the Sky, hitting the street March 9th. This release from Experience Hendrix L.L.C. and Legacy Recordings will be available on CD, digital, and as a numbered 180-gram audiophile vinyl 2LP.
Both Sides of the Sky is intended as the final installment in the recent album trilogy that includes 2010's Valleys of Neptune, and 2013's People, Hell and Angels. The trilogy is meant to showcase the best and most significant unreleased studio recordings that remain in the Jimi Hendrix archive.
Among the ten unreleased tracks here is the recently streamed reworking of Muddy Waters' "Manish Boy" played by Hendrix, Billy Cox, and Buddy Miles, later known as the Band of Gypsys. The album also features guest appearances by Stephen Stills, Johnny Winter, and Lonnie Youngblood. Recorded between January 1968 and February 1970, Both Sides of the Sky is produced by Eddie Kramer with Janie Hendrix and John McDermott.
Listen as Kramer discusses Jimi Hendrix and Both Sides of The Sky with Shaun Keaveny.
Both Sides of the Sky track-listing:
1. Mannish Boy*
2. Lover Man*
3. Hear My Train A Comin'*
4. Stepping Stone*
5. $20 Fine* (ft. Stephen Stills)
6.  Power Of Soul
7. Jungle*
8. Things I Used to Do (ft. Johnny Winter)
9. Georgia Blues (ft. Lonnie Youngblood)
10. Sweet Angel*
11. Woodstock* (ft. Stephen Stills)
12. Send My Love To Linda*
13. Cherokee Mist*
* previously unreleased