November 25th was not just another Thanksgiving Day in 1976. It was a day that would forever live in the annals of rock and roll history. Most of you probably already know what I'm talking about. Why, The Last Waltz, of course. Joining the pantheon of special guests that day would be Bob Margolin, who at that time had already been playing guitar for Muddy Waters for a few years. Surely, you recall Muddy's white-hot performance of "Mannish Boy" in The Last Waltz. Bob channeled Muddy, as if possessed by the spirit of his late great friend, on 2017's The Last Waltz 40 Tour. We talk a little about that in our interview.
We also get into backstage moments, what it was like working with certain artists, and what Bob is up to these days. I was delighted to learn that he continues to write columns, teach various masterclass workshops, record, and tour worldwide. Bob has won two Blues Music Awards for Guitar, Best Male Traditional Artist Award in 2017, and Keeping the Blues Alive Award for journalism in 2013.
Lauren for American Blues Scene:
You were a staple sideman for Muddy Waters from 1973 to 1980, and he thought enough of you to tote you to San Francisco to back him up at The Last Waltz. I'm curious as to how you and Muddy first met.
Bob Margolin:
I first heard Muddy's music on a college radio Blues show when I was still in high school in 1965. I loved his music. By the early 1970s, blues bands I was in opened shows for Muddy. He could see that I was trying to play what he called "Old School" Chicago Blues. We did songs by Elmore James, Jimmy Rogers, Little Walter, Jimmy Reed… Chicago Blues legends from the same scene as Muddy. Of course, we did not perform Muddy songs on a show with him.

Muddy was nice to me; I'd sit in his dressing room and talk with him while his band was playing their warm-up numbers. It was amazing to listen to his stories and incisive observations. In August 1973, Muddy was beginning a week in a club in Boston where I lived. On the first night of the first gig, I was the first person to arrive. I saw his harp player, Mojo Buford, who told me Muddy had fired a guitar player the night before and "Wait here." Muddy came out of the dressing room and said, "Oh good, come to my hotel tomorrow and bring a guitar." I sure did. He said, "Play it," and I knew to play his style of slow Blues. Muddy started singing along with it, which was certainly the biggest musical thrill of my life at that time. He gave me a chance, and I was in his band almost seven years.
What a great story. I love Boston, too. Lived there for a bit.
I went and saw you on the first leg of "The Last Waltz 40 Tour" — magnificent, by the way. I like the story behind how that show promptly developed into a full-blown tour. Did you ever dream that you would be singing the part of Muddy in The Last Waltz 40, as you did in "Mannish Boy"? How surreal, no?
During the time I was in Muddy's band, even when I did gigs with or sat in with other bands, I never did that song until after I started my own band in 1980. Good question! I had not imagined it. A big step for me in the performance of that song was realizing I should not just stand there and sing and play it. I should entertain, and "Mannish Boy" is a great vehicle for getting crazy onstage, audience participation, and trading phrases with the other musicians, especially guitar players.

I saw Muddy be much more entertaining with that song than he was in 'The Last Waltz.' And I heard he used to really get wild when he did that song in the 1950s. He even had a wardrobe malfunction in the 1950s which he claims he didn't mean to do.
Did you play with the same ES-150 that you played in the original Last Waltz?
I had the ES-150 on the road with Muddy in late 1975, I good guitar for playing in small clubs. I normally would have had a Stratocaster, a more versatile guitar. 'The Last Waltz' gig came up suddenly so, the ES-150 is what I brought to it. Turned out the blues-loving rock stars at the 'Last Waltz' dug it.

I sold the ES-150 in 2015. I wasn't playing it much, a Telecaster owns me now, and the money helped me make a no-compromise album, my most recent called 'My Road.' But on "The Last Waltz 40 Tour," the nice musician who bought the ES-150, Cameron Williams from New York, brought the guitar to the Count Basie Theatre in Red Bank New Jersey for me to play. It was a surreal and time-scrambling moment.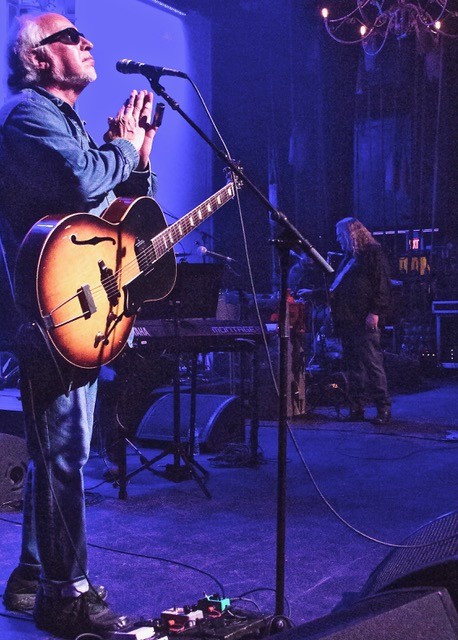 Some things are just meant to be. Aside from playing in The Last Waltz, would you say that also being backstage with preternatural talents such as Neil Young, Bob Dylan, Ringo, Eric Clapton, Joni Mitchell, etc. was among some of the most memorable times in your life? Jamming with Bob Dylan, as one example.
Lauren, it is a fact of life that interviewers want to ask about who I know that's much more famous than I am. Some very fine blues musicians who were associated with Muddy really resented being asked about Muddy most of the time, not themselves. I've come to terms with that and couldn't fight it if I didn't. But I WANT to honor Muddy and give his fans all I can about him musically and historically, even as I make my own music. So I do both, and the world will make what it will of it.
To answer your question, 'The Last Waltz' was like being in a living Rolling Stone magazine to be around, and sometimes jam with, those fine musicians. You asked about jamming with Bob Dylan. That was a 7 am acoustic jam the morning after the 'Last Waltz' and Dylan recruited me, Eric Clapton, Dr. John, Ron Wood, Paul Butterfield, and Levon Helm. I fully realized in the moment that it was unlikely anything like that would happen to me again. So while Bob Dylan was singing Robert Johnson songs, I looked up from my guitar at the other musicians, and the memory still gives me a smile.
That makes me smile as well.
During "The Last Waltz 40 Tour," my Blues songs, "Mannish Boy" and "Caledonia," which Muddy played at the concert were going over well with the audiences and the tour promoter asked if I had more. I thought of the Dylan jam, and we recreated a stripped-down blues jam on "Kind-Hearted Woman" on some of the shows. Musical director/bass player Don Was would sit on the drum riser, not play, and just listen. It's amazing to me how well blues music goes over with an Americana audience. Yet they are mostly separate worlds. Maybe that's changing. I hope so.
I know what you mean! And it's not something I've given much thought to. But now that you mention it, I am starting to see the crossover more. I myself am big into "Americana." And sometimes I wonder if I should even call it that. Roots is roots is roots.
Did you cultivate any special bonds, music and otherwise, with anyone in particular?
I met Eric Clapton, and we did jam together after the show. Then two years later I spent much more time with him when Muddy did tours with him in Winter 1978 in Europe and Summer 1979 in the U.S. Levon Helm always treated everyone like they were his best friend, one of the most charismatic and genuinely gracious people I ever met. So in the many times I worked with or was around Levon in the years since, every second of it was special and meaningful.
Levon really did seem like such an angel and pure joy to be around. Not to mention the musical chemistry you must have shared with him. How magical an opportunity.
Were there any noteworthy moments behind the stage that still cross your mind from time to time?
Many of the famous musicians introduced themselves to Muddy and thanked him for his music. Mostly, Muddy had no idea who they were. He was from another generation and another music world. Joni Mitchell approached Muddy backstage. He didn't know who she was and that she was much more famous than he was. But in the moment, she was an impossibly beautiful young woman smiling at him. So he tried to hit on her, which she backed out of gracefully.
Good Ol' Muddy. I find it somewhat endearing that he didn't know a Beatle from a Monkee.
Could you explain how Levon Helm held his ground to keeping Muddy and you in The Last Waltz despite time/budget constraints and certain band politics?
I did not know about that until I read Levon's book in 1993, 'This Wheel's On Fire.' Recently, on Facebook, Robbie Robertson denied that Muddy was ever going to be cut. According to Levon, he was ready to go all Southern Kick-Ass to keep Muddy in the show. Anything I can tell you is only second-hand, what I've read or was told.
What was your initial reaction to much later learning you'd been so humbly respected by Levon of all people — that he solely prevented you and Muddy from being bumped?
I was surprised because while we were at 'the Last Waltz,' we were treated like honored guests on- and off-stage.
I understand you performed in the White House for Jimmy Carter in 1978. For some reason, that's just as fascinating to me as you being in The Last Waltz. How did that come about, and what was that experience like?
At the time I joined Muddy's band, Nixon was still in the White House. In 1973 and '74, we used to play regularly at the Cellar Door club in DC, about three times a year for a week each. We had to pass the White House. One of the band members would say, "Hey, pull over and wait for me. I'm going to… do something disrespectful… on Nixon's desk."

By the time we were invited to play at a White House Staff Picnic for President Jimmy Carter in 1978, we were proud to do it. President and Mrs. Carter introduced themselves to each of us individually. When President Carter shook my hand, I took the opportunity to say, "You've got the hardest job in the world. God help you." He smiled and went on. And I've never written this before but: the rest is history.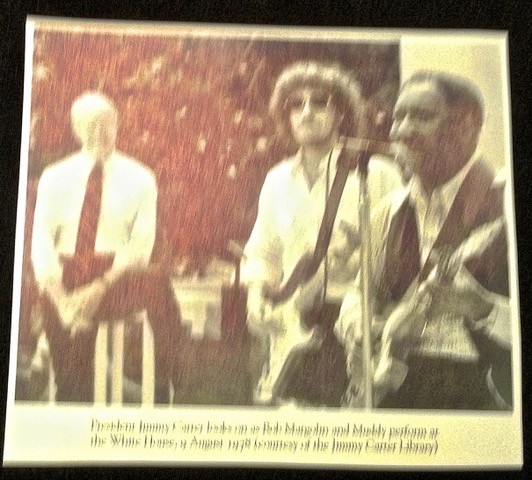 Love it. Thank you for sharing that with me.
What is presently occupying your time? Anything of predominant focus at the moment? Active touring, collaboration projects, studio recording… Have you got anything in the works for us?
Thank you for asking. I am conceiving, composing and recording my next album. I'm about ¼ done, and it's going well. I hope to release something later this year. I am also touring, but not in the standard way. Along with the usual clubs, concerts, and festivals, worldwide, I am doing more shows called "An Evening with Bob Margolin." Friends from Blues Societies arrange it so far, but I'm just getting started. I tell stories, about Muddy and those I've lived myself in the 38 years I've had my own band. I take questions from the audience, I play some songs that go with the stories, and jam with local musicians, most of whom are very accomplished.

I do workshops, more of them than those I do at Jorma Kaukonen's Fur Peace Ranch and being musical director of the Pinetop Perkins Foundation Masterclass Workshops. Just since the  International Blues Challenge a couple of weeks ago, I set up one gig where a young prodigy David Julia is a guest with my band in Tallahassee, another where I'm the guest with another 17-year-old prodigy, pianist Ben Levin in Cincinnati, and a show at the Blues Note in Durham, NC with the band of young Nathan Pope opening and I hope he'll jam with my band on our set too. Again, these are not standard concerts.

I can't wait to play at a library — for real — in Carleton, Michigan with a harmonica master I met in the 1970s, Peter Madcat Ruth. Peter can play traditionally, but he's known for his versatility with other styles of music too. I also hope to collaborate with other musicians on the circuit like Watermelon Slim, Mike Zito, and Walter Trout. And I play with harp master Bob Corritore from Phoenix whenever we can.
I was hoping you were going to say you were working on an album. I'm also glad you're still touring and telling those epic stories to those who don't know. Between workshops, touring, writing, and recording you are kept pretty busy. Refreshing to hear you are working with younger generations inculcating your knowledge.
I know music writing is one of your many hats, and I think your publications are very compelling. Do you have any imparting words of wisdom for journalists who are just cutting their teeth?
Yeah, do what I do, and your editor will send you home. I write conversationally, as though we were hanging out socially and telling stories. I ignore the common practices of journalism. I write in the first person if I'm talking about something that happened to me. I refer to people in my stories by their first name instead of last name after I've stated their full name, if they are a friend of mine. I will ask a rhetorical question of the reader. I don't take on journalistic assignments, I just write a column, and it works only because of that. So don't break rules, but be friendly and real with people, especially those soulful people who love music.