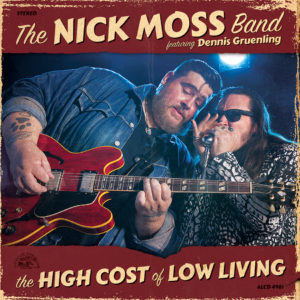 Chicago guitarist, vocalist, and songwriter Nick Moss has had a busy few months. His group, the Nick Moss Band were nominated in three categories at the 38th Blues Music Awards. They are currently nominated in the Band of the Year category for 2018. But that's only the beginning.
A 30-year blues veteran, Moss is now switching gears without a clutch. Just over a year ago, he brought long time friend, and harmonica wizard, Dennis Gruenling into the band. In November, after 12 albums on his own Blue Bella imprint, the Nick Moss Band signed with Alligator Records. On March 9th, their album The High Cost of Low Living hits the streets, marking the return of Moss to traditional, Chicago and jump blues, and old school rock and roll after his recent explorations into bluesy rock and jam band stylings.
With the new release, Moss changed up further, bringing ace guitarist, and Greaseland Studios owner, Christoffer "Kid" Andersen on board as co-producer. "I loved working with Kid in the studio," Moss said. "He knows the traditional style and slant on this music, and understands where we want to go with it. We weren't looking to recreate the old sounds. We want to sound like a real band, playing this music now. Very few people know enough to be able to push those boundaries like Kid."
Of his return to deep blues, Moss says, "It feels awesome, man. It's in my nature. It
really is the music I love the most." We couldn't agree more and are proud to present the World Premiere of "The High Cost of Low Living," the title track from the upcoming Alligator Records release.
*Feature Image: Nick Moss and Dennis Gruenling Photo: Chris Monagham