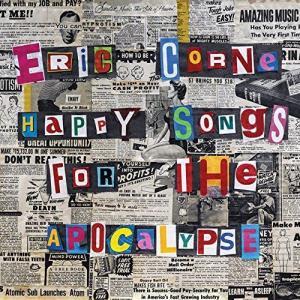 Eric Corne is a very busy man. Besides being an award winning engineer, producer, and songwriter, he's also a talented artist. Corne's latest release, Happy Songs For The Apocalypse, has a street date of April 20th, via his own Forty Below Records label.
If producing albums for artists including Walter Trout and John Mayall weren't time consuming enough, Corne pays close attention to what is going on in the world. Then he calls to task the politicians, techno-gurus, and materialists sending us spiraling into another "Gilded Age." His pulpit resides in a recording studio, and his bible is the Americana songbook.
Taking roots-rock, blues, alt country, and folk, Corne blends the twelve tracks on Happy Songs For The Apocalypse into a sonically engaging offering. His use of instruments from harmonica to pedal-steel to Theremin are captivating. Lyrically, we were given a ride from heartbreak to hope and back.
Corne wrote all twelve songs, as well as providing lead vocals, and playing a fistful of instruments. He produced, engineered, and mixed the album, but it's far from a one-man show. Corne also gathered a posse of ace sidemen from some of the top acts in the business. Members and former members of My Morning Jacket, the Tantrums, Iron & Wine, and many more added their respective strains.
The opening track, "Mad World," is an acoustic, folksy tune with a hint of cosmic Beatlesishness. But "Happy Songs?" With lyrics like "If we stumble, if we fall/find our backs against the wall/revolution of the world begins to stall," we weren't feeling too happy. Maybe this is the "Apocalypse" part of the title.
Indeed it is. "Ridin' With Lady Luck," came on like a blues rocking barnstormer. The unmistakable guitar of Walter Trout trading licks with Corne's distorted harmonica is the stuff of late night, jam session lore.
"Locomotion" offers an even more optimistic outlook. Even if the livin' ain't easy, we can overcome whatever is thrown at us. One thing that really struck us on "Locomotion" was the horn section. The word section, may be a bit misleading as the baritone, alto, and tenor sax, along with trumpet were all provided by David Ralicke (Dengue Fever/Beck). Outstanding.
Cautionary tales abound on Happy Songs For The Apocalypse. "The Gilded Age," "Pull String to Inflate," "History Repeats," and "The Distance You Run," seem to warn of being imprudent. Furthermore, they do it in myriad styles from folk, to rock n roll, to country, with nary an awkward moment.
Another fascinating aspect of this recording is Corne's vocal ability. While not impersonating any particular artists, he seems to channel the sound of various vocal styles, depending on the genre of the song. Shades of John Lennon, Tom Waits, Robbie Robertson, Tom Petty and others appear, all in the most remarkable ways.
Closing out the record is "Sing, Little Darlin' Sing." A song of hope, in its most simplistic form, Corne tackles this one with just his voice and ukulele. Clocking in at just over two minutes, the music is replaced at the end with the cherubic voice of Lilly Rae Corne giggling and announcing the album's title.
Like any good tale, even those of modern day trepidation, Happy Songs For The Apocalypse led us down a path of angst and anxiety. Then it left us with the happy ending we all deserve. We're sure you'll feel the same way.
Artist: Eric Corne
Title: Happy Songs For The Apocalypse
Label: Forty Below Records
Release Date: April 20th, 2018
Running Time: 41:30
*Feature Image Courtesy of REKRoomMedia