What was supposed to be a record by a drummer and a bassist/guitarist turned into The Mutual Admiration Society, an unintended celebration of up to forty years of friends making music together. Sterling Ball and John Ferraro have known each other since junior high and have been making music together almost as long. Keyboardist Jim Cox came into the picture when he met Ferraro in college.
The history of this recording is long, and storied. A condensed version is that through a series of birthday parties, barbecues, jam sessions, and shared shows, guitar shredders from around the world got involved in the trio's little project. The result is The Mutual Admiration Society, released via Mascot Records on January 19th.
Certainly there has been a host of guest appearance albums of late. Some contain cover songs, others original compositions. What sets this record apart is two-fold. First it is a completely instrumental project. Secondly, all the songs are from the respective artists' youth.
It all begins with "Payday Song," a Jesse Winchester tune. It seems Ball, Ferraro, and Rodney Crowell were sitting around jamming one afternoon at Ball's house and this was one of the songs they played. The next day, the idea was formed for Ferraro and Ball to record an album, just the two of them. As you'll see, it went a lot further than that.
Ferraro is the group's drummer, and plays rhythm guitar on the first track. Ball plays everything but the kitchen sink, most mostly various basses and guitars, while Cox tickles the 88s in fine style.
The first guest arrives on "The In-Crowd." Steve Morse of Dixie Dregs, Kansas, and Deep Purple fame is well known for being an artist adept in several genres. On this cover of the Dobie Gray hit, he shows them off in fine style. A long-time friend, Morse heard a cut of the the track and asked if he could lay down some guitar on it. Recorded as if playing live in a Hollywood club, it's a very fun piece.
Remember that Ferraro and Ball have played together for decades, and one of the songs they played a lot was Sonny Boy Williamson's "Checkin' Up on My Baby." The switching of guitar tones throughout the song as well as Cox' funky 60s keyboard had us up and dancing.
Several of the songs on this album showcase the trio. "Treat Her Right," really shows off Ball's talent on both guitar and bass. Cox playing both organ and piano backed by Ferraro's tight as a tick drumming is spectacular.
They pull off a stellar version of Chuck Berry's "Memphis," as well, but what really threw us for a loop was their treatment of the Jackson 5's "I Want You Back." Somehow, someway, they made it sound both Motown and Nashville simultaneously. No easy feat, it sure made for a riveting cover. Imagine the Jackson's with a mandolin in the band. Strike that. Buy the record. You've got to hear this for yourselves.
Toto founding member Steve Lukather joins in on "Baby, Please Don't Go." The song has been a blues standard since shortly after Big Joe Williams recorded it in 1935. Lukather gives it a greasy, blues rock treatment that evolves into a post-psychedelic, eargasm inducing jam.
Guitar virtuoso Steve Vai heard some of the tracks and asked if he could join in on one of the favorite tracks from his youth. The result was "Sugar Shack," the garage rock hit from 1963. Vai wahs it up in his usual style, and Cox absolutely nails the distinctive keyboard sound of the original song.
Speaking of expert axemen, John Petrucci, the metal master from Dream Theater, wasn't sure what song to do. What else would you suggest for seven-string shredder but a "Disney Medley?" Four classic Disney tunes from the movies and the theme parks.
British born, country guitar master Albert Lee makes appearances on "Cryin' Time," and "Hey Good Lookin'." While the first keeps Lee rather reserved, the second one really gets his fingers flying, which after all, is what he's best known for. There is also some sweet, traditional country steel guitar on both tracks provided by Jeremy Moyers.
Award winning songwriter, arranger, and musician Jay Graydon adds to the Ball/Ferraro penned "Strip Mall Gourmet." It's a nice, jazzy offering for the most part, and Graydon described the experience of participating as "the most fun musicians can have with their pants on."
Although the song choices may not have been the best to showcase each of these maestros' talents, that's not really the point. The idea was for a group of close musical friends to have fun recording an album. Nailed it!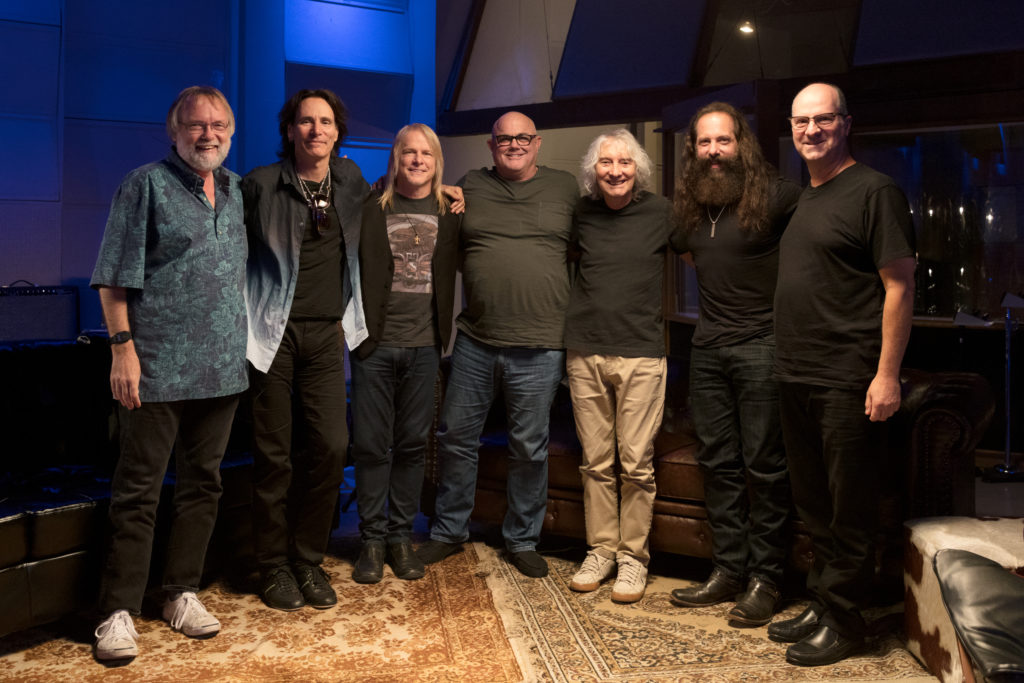 Artist: Sterling Ball, John Ferraro, & Jim Cox
Title: The Mutual Admiration Society
Label: Mascot Records
Release Date: January 19th, 2018
Running Time: 47:48
*Feature image by William Ray Lynch, III