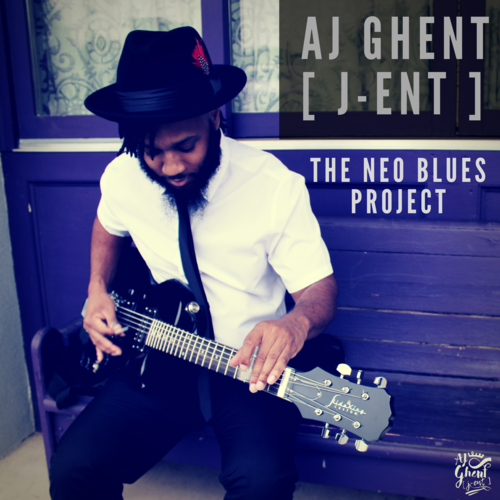 Guitarist/steel player/singer AJ Ghent [J-ent] came up through Col. Bruce Hampton's band, which could be pretty jam-oriented. Ghent's 2015 solo debut, Live at Terminal West, was, as the title implies, a live album. A high-energy one at that, with lots of incredible guitar and steel playing at its forefront.
But The Neo Blues Project, Ghent's studio debut, is a step away from that more technique-centered work. Instead, he's created a song-driven EP, with lots of great playing, but all of it in service of his songs. It's a wonderful effort, with the essence of Ghent clearly visible in tracks that while not minimalist, are sparse enough to allow Ghent's voice, both singing and instrumental, to be clearly heard and appreciated.
The six-song album begins with a cover of Junior Kimbrough's "Do the Rump." Ghent gives it a sexy, rhythm and blues swagger over a complex beat, that immediately knocks the Black Keys cover of that same song down a rung in the rankings. The flashy steel break is exactly what one expects from Ghent, but it's not what's driving the song. "Wash Ya Hair," is a mellow, funky slow-jam that spotlights Ghent's vocal abilities. His voice veers between sweet and powerful, taking the lead over a sparse drum beat and simple guitar riff. The song is compact, without a wasted lick or beat.
Where his previous work could be sprawling, here he's whittled things down to their essentials. On "Power," Ghent channels Jimi Hendrix, with loud, distorted guitars and plodding drums. The melody is even reminiscent of Hendrix's "If Six Was Nine," but the guitar solo ride-out is pure Ghent, though almost a song within the song.
The EP also has some of the poppier, more upbeat types of songs that were on Live at Terminal West. "Mercy" puts some of Ghent's steel over a fast rhythm and blues beat, and layers sweet vocals from Ghent and his backup singers over the whole thing, making for a surprisingly danceable four minutes. And the album closes with "Gonna Rock," the strongest song of the EP. Here Ghent sings and howls over a hand-clapping beat. While there's a perfect, short steel solo, the ridiculously catchy song is about the beat and the vocals.
The Neo Blues Project shows a talented artist transitioning into an equally talented songwriter. The instrumental firepower is still present within the album but is used strategically, as Ghent is taking full advantage of the subtleties made possible by a studio recording. This EP is about strong songs that are supported by fantastic, tasteful playing. One cannot help but look forward to his next, full-length studio album.
The Neo Blues Project by AJ Ghent
Tracks:         6
Label:          Ropeadope Records
Released:     March 16th, 2018
*Featured Image photo by Marla Ghent