Billy Gibbons of ZZ Top told Blackberry Smoke in 2008, "Stop trying to be so good. Just let the music go where it's gonna go."
Do a blindfold test on the band's just-released sixth full-length album Find a Light, and you might think most of the cuts are outtakes from Led Zeppelin III. Look at their exhausting tour schedule, and you see they're playing the storied King Biscuit Blues Festival, but they're also appearing on separate dates of their current tour with Lynyrd Skynyrd, the Marshall Tucker Band, The Outlaws and even Big Head Todd & The Monsters. On their previous Number one country albums Holding All The Roses and Like An Arrow, Gregg Allman sang on "Free on The Wind," and George Jones sat in on "Yesterday's Wine."
The best musicians today play to their fans first and foremost, but they also expose those fans to styles of music that they may otherwise never listen to, especially when that fan base is in the millions as it is with Blackberry Smoke.
Singer/songwriter and guitarist Charlie Starr doesn't even think about reconciling all the different styles of music that influence their sound. "It's my job to make sure we continue to push outwards with our music and continue to grow where we don't feel stifled or bored or stagnant, but at the same time I do want our fans to love whatever we do 'cause they keep us going.
"Obviously, we're not trying to alienate anyone or anger anyone, and there are some people who wish we would make the same record over and over and over again because it's what made them love us. But I always got into bands and was willing to follow wherever they would go, you know?
"Not to say I wouldn't have been pissed off if Zeppelin made a disco record in 1975. I would have been furious, but they didn't.  They always pushed the envelope. We loved them for that reason because you never knew what was going to happen."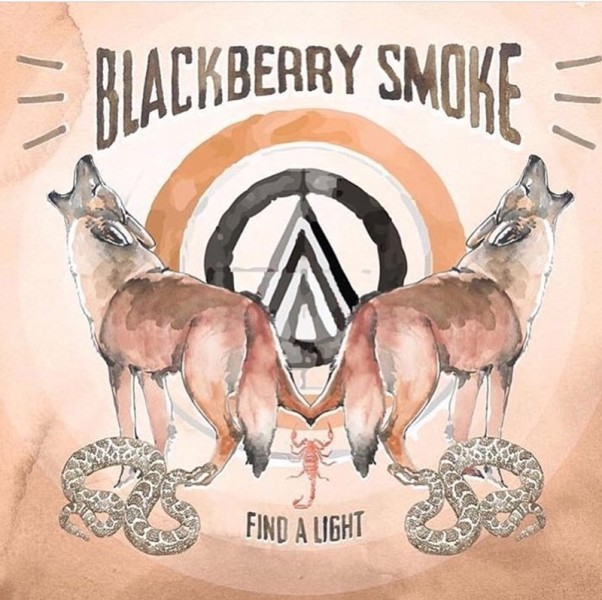 Together with the same lineup for 18 years, the 5-piece band self-produced all the songs on Find A Light. All 13 new songs were written or co-written by lead-singer and guitarist Charlie Starr.  Roots music heavyweights The Wood Brothers sing on "Mother Mountain," and Robert Randolph's pedal steel guitar sends sparks on the first single off the album, "I'll Keep Ramblin'." "It was a really high energy situation that he brings to everything he touches. I mean, he's just jaw-on-the-floor amazing. He just brought his amazing self to the proceedings with that song."
"I'll Keep on Ramblin'" was recorded live in few takes in the studio. And that's the way most of the cuts were done. "Yeah, that's the beauty of recording as a band is what we're trying to capture is the interplay between five musicians. Anybody can make a record and just overdub everything. And as we got older, we've learned we're not necessarily looking for perfection, but the passion."
Starr didn't realize how close to dying Gregg Allman was when he came in to cut the vocals on "Free On The Wing" for Like An Arrow in 2016. "We had already recorded the songs, and he came in later. We didn't know at the time that he was as ill as he was. So, the schedule didn't permit for him to be there with us. We actually were in Spain, but he came in with our engineer and put his vocal on, and I found out after he passed away. The fact that he came and did that for us just breaks my heart. Just unbelievable to me.
"It's funny to think now that on those first few records they made they were so young, but they were so together, and they knew what they wanted to do, and they did it. They opened the door for all of the other bands that came after obviously, the Marshall Tucker Band and Lynyrd Skynyrd, and the Charlie Daniels Band and all of those bands from the south. They were free thinkers and forward thinkers, and they didn't want to be tied down by any genre or put in any box, and bands like ours are the direct result of that because we've learned over the years that, ok, we want to operate this way, (not with) the Spandex pants or leather suits, get haircuts and sound this way because some record company guy thinks we'll be successful. So, yeah, definitely their thinking is the way."
Starr's dad was in The Johnson Mountain Boys, a bluegrass band in the '70s and '80s. He hates rock and roll. "He would not stand for the electric guitars and all that nonsense." He has only seen his son's band perform once at the Grand Ole Opry along with Little Jimmy Dickens and Bill Anderson. "My dad was so excited to be there. I was looking out at 4000 people in front of us. It wasn't our audience. It was a Grand Ole Opry audience which was pretty stiff. I was more nervous about my dad sitting behind us than I was about the 4000 people in front of us."
Music by any name is still music. "We're just gonna do what we love, and I think people react more to that than if you're trying to placate them somehow."
Blackberry Smoke's current tour includes stops at Charlotte's The Fillmore, Boston's House of Blues, Raleigh's The Ritz and Rochester's Anthology, and they headline King Biscuit Blues Festival Friday, October 5th.