Warren Haynes is a rock and roll chameleon. Whether he's playing a solo acoustic tour, jamming with The Allman Brothers or performing a mind-altering, psychedelic set with Gov't Mule, the front man isn't afraid of change, crossing all stylistic territories with extraordinary skill, and pure unadulterated passion.
Chris Dornan and I sat down with the guitar great backstage at Bluesfest Byron Bay to discuss, among many other things, the loss of Tom Petty, and Brian Farmer, his dreams of playing with Neil Young, and his love for blues newcomer and fellow Carolina native Marcus King. We also put him to the test with a Speed Round where he opens up about his knack for comedy, the Cyndi Lauper song that gets him emotional, and the story of "naked guy."
Chloe Kay Richardson for American Blues Scene:
Welcome back to Bluesfest, how are you enjoying the festival? You guys play all over the world, how does Bluesfest and it's crowds compare?
Warren Haynes:
It's been wonderful, we're having a great time. Being in Australia is very special, very different for us, this is my fourth time being here and just that alone makes it very different, but like a lot of our favourite festivals we're able to catch up with a lot of old friends, and it turns into a bit of a reunion. The crowds are very enthusiastic, and I love the diversity of the line-up, I think that's really cool. It seems Australian music fans like a lot of different types of music, which is what I like.
Definitely. Now on Revolution Come, Revolution Go, "Stone Cold Rage" is quite a political statement, what're your views on America's current political climate?
My views are we better do something, or we're going to destroy ourselves *laughs*, and I'm joking but not.
Yeah, it's very serious. So, how do you and the band deal with the long tour schedules? Do you ever bring family on the road?
Sometimes. I have one son who is six and a half so he can come out some but not a whole lot. Basically what it means for me these days is that it's work, and family and nothing else. I go back and forth between work and family, and I'm ok with that; I enjoy it.
Great. Watching you guys on stage there's tonnes of intensity and enjoyment. You and Jorgan seem to play off that intensity. Do you find that the way you guys perform differs between shows and crowds?
Yeah, we thrive on the energy coming from the crowd so the different energy coming from the audience makes us play differently, makes us respond to each other differently, and makes us interpret the songs differently from night to night which is kind of our mission anyway, we don't want to play just a scripted, rehearsed show, we want to be spontaneous.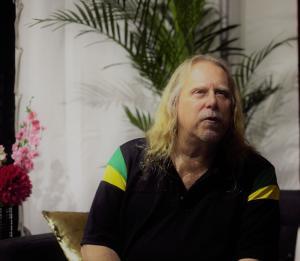 Speaking of spontaneous, when Tom Petty passed you performed "Breakdown" in tribute to him during your show at The House of Blues in Houston, any chance you'll play that track again?
We were all big fans and I was lucky enough to know Tom a little, and we'd played together a few times, with the Allman Brothers we did a handful of shows together and I'm friends with a lot of the guys in The Heartbreakers, and it was just such a loss. I've been a Tom Petty fan since I was a teenager, you know and I said after he died that he's one of the few songwriters who continued to get better and better and better, and that's such an amazing statement so it's an honour to play songs by artists that you love.
Talking of artists that you love, I read that you were a singer before you were a guitarist, who inspired you early on?
My earliest influences came from Soul music, my first heroes were James Brown, Four Tops and The Temptations, Wilson Pickett, and Otis Redding, and that's how I learnt to sing by listening to that music, and then when I discovered Rock and Roll music it made me want to play guitar and discover all the blues guitar players as well. But the Rock singers that I loved in their own way were singing Soul music because Soul was such an inspiration on that generation of rock music. So, I think the fact I started singing before I started playing affected the way I listen to music because I always listened to the singer first when I was a kid, and then when I heard guitar it was like "oh, now I have two things to love!"
Awesome. Buddy Guy once said that you've got to have the blues to play the blues, so what gives you the blues?
Well I think that's true what Buddy said. I think life gives everybody the blues, I don't think anybody escapes the blues, I think that those of us who are lucky enough to be able tap into that from a musical standpoint are very lucky, but nobody escapes.
Very true. You often invite special guests on stage, like Lukas Nelson last night. Is there anyone you haven't jammed with who you would love to bring up on stage and play with? – Will you be bringing anyone on stage tonight?
Well, oddly enough we played a Neil Young song last night [Southern Man], I've never played with Neil, I've met Neil but he's one of the few people on my list, so to speak, who I haven't been lucky enough to play with. Or someone like Mark Knopfler. But I've been so fortunate that so many of my heroes growing up I've been able to play with on some level or another, and I don't take that for granted, it's an opportunity that I cherish.
Tonight we're going to bring Lukas up again, and Jackson Browne as well, I played with Jackson when I was with The Allman Brothers, but this will be the first time he plays with Gov't Mule, an exclusive! We're going to play a two hour set so we'll give it a full Gov't Mule frontal assault, and then bring those folks up.
Well that sounds like a must see! You recently lost your long time guitar tech Brian Farmer, who have you got teching for you now? Those are some big shoes to fill.
My tech Eric Hanson was someone who studied under Farmer, he taught him a lot of tricks of the trade, it was a big loss, Farmer and I were very close and we shared the same birthday so that means something in the great scheme of things too I think. We've lost a lot of people recently but you keep moving forward.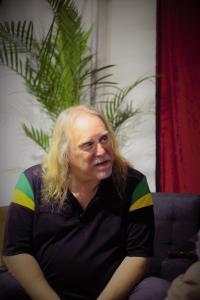 Yeah, that's all you can do. So, are there any new solo projects in the works?
I've been writing a lot of music that doesn't seem like Gov't Mule music so that's usually a good sign that there's a good solo project in the works but we've got a lot of work ahead of us before I get to that point.
I know that you're a mentor to a few great young players like Marcus King, so which up and coming blues artists have been on your radar?
Well Marcus I love, I think he's taking the world by storm. I love his voice, I love his songs, and he's a great guitar player, he and I are from an hour apart, so we have a lot in common. He's my current favourite, but there are a lot of young artists these days that I'm really enjoying and I think it's a great sign that music is on an upswing right now because for a while I was pretty unimpressed with what was going on with young music, and now I'm starting to feel some excitement.
Yeah, me too and I think Marcus is at the forefront of that for sure. Ok, now we've prepared a little speed round, just a few random questions that require short answers! You ready?
Ok!
What's a hidden talent that no one knows you have?
Comedy, but I'm too scared to do stand-up. When Allen Woody was alive he and I would sometimes turn into a comedy duo, and we joked about it but I don't think either one of us had the balls to actually do it.
Your guilty pleasure song?
Guilty Pleasure song… The Cyndi Lauper track "All Through The Night," every time I hear it I think "Wow, what a beautiful song."
Last album you bought?
Oh wow, that's a good question. It was probably some sort of Frank Zappa compilation *laughs*
That's a good one! Favourite sports team?
I wish I could say the Knicks because I live in New York and I go to see the Knicks play but they're not playing very well.
Funniest thing you've seen in the crowd at one of your shows?
Bonnaroo, a person we lovingly referred to as "naked guy" running through the crowd. He was running from security and every time they would catch him they would realise "I don't want to touch naked guy" and so he would keep running, and they would catch him, and nobody would touch him, and then there was this vision of him climbing a fence, and people grabbing at him but still not touching him, that was pretty funny.