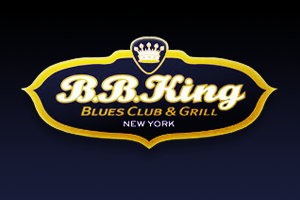 New York, NY — A blues institution will pass into history as the Times Square B.B. King Blues Club & Grill closes its doors on April 29th. Since opening in June of 2000, this venerated blues venue located at 237 W 42nd St. has showcased the biggest and boldest names in music for over 18 years.
The club has announced that none other than Buddy Guy will perform the final show here on April 29th. Music lovers can enjoy a closing week celebration that will include performances by Buddy Guy, Rick Ross, Slick Rick & Doug E. Fresh + Special Guests, El Gran Combo, George Clinton & Parliament Funkadelic and William Bell's Memphis Soul Revue.
Please note that all shows that had been scheduled at the club beyond April 29th are being moved to other venues throughout New York City. The popular Lucille's Grill located inside the club will be open until April 29th and will host sets by B.B. King Blues Club All-Stars, Jon Paris, A Decade of Soul, and more.
The weekly Sunday Gospel Brunch featuring The Harlem Gospel Choir will give their two final performances at B.B. King's on April 22nd & 29th. BB King's is currently working with the group to find a new home for their weekly residency which will be announced shortly.
Over the years the Times Square location has played host to such legendary performers as Etta James, The Allman Brothers, ZZ Top, Jay-Z, Mary J. Blige, Jerry Lee Lewis, Little Richard, Chuck Berry, Wilson Pickett, Bo Diddley, and of course B.B. King.
The venue is closing due to escalating rent at the current location and the process is ongoing to select a new Manhattan location for the club. Tsion Bensusan, Chief Operating Officer said:
It is with an extremely heavy heart that we share the news about B.B. King Blues Club's closing. Despite many sold out shows, the location's rent escalated to an unsustainable level, leaving us no choice but to close our doors. Unfortunately, this has become a growing trend in New York City, with other iconic music venues and businesses falling victim to opportunistic property owners.

This venue's legacy extends much further than the stage, playing a role in Times Square's revitalization two decades ago. It is a shame that wasn't taken into consideration regarding its future in the area. Nevertheless, we feel extremely grateful for the overwhelming support we have received from both fans and artists over the years to create some truly historic and incredible memories in this space. We hope that we can find a new place to call home very soon so we can continue bringing live music to you all.
Closing Week Celebration Show Schedule:
April 17 & 18                         Buddy Guy
April 22                                 William Bell's Memphis Soul Revue
April 23                                 Rick Ross
April 25                                 Slick Rick & Doug E. Fresh + Special Guests
April 26                                 El Gran Combo
April 28                                 George Clinton & Parliament Funkadelic + Special Guests
April 29                                 Buddy Guy
Stay tuned for more shows to be announced here in the next few days.