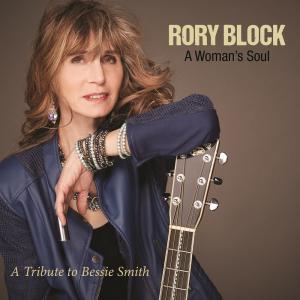 The thing that sets Rory Block apart from other players is that she is a walking, breathing, knowing and playing encyclopedia of the acoustic masters of yesteryear. From Robert Johnson and Mississippi Fred McDowell to Rev. Gary Davis, Son House, Skip James, and Mississippi John Hurt, Block can bring out the best in their music every time she brings that music to an audience.
Can we even imagine a girl from New York City not yet 16, being taught by the great Reverend Gary Davis in his home? Or, sitting and playing Willie Brown's "Future Blues" for Son House as he asks Stefan Grossman and Dick Waterman  "Where did she learn to play like this?" And then, having him explain that he taught Robert Johnson how to play guitar.
With her Tribute series, Block brought the music of these great players to life for new generations to discover even as others rediscovered it. That is her gift: She brings the music to life.
Now Block has set to work on a new project, her Power Women of the Blues album series beginning with the Bessie Smith tribute album A Woman's Soul. Produced by Rory Block and Rob Davis and recorded at Aurora Studios in Chatham, New York, the album contains ten potent tracks and hits the street on July 6th.
Join us now as we premiere "Gimme a Pigfoot and a Bottle of Beer" from this exciting new album.
Rory says, "Recording 'Gimme a Pigfoot' was an out-of-body experience. I sang the vocals with a glass of boiling water and cayenne pepper in one hand and the mic stand in the other. It seemed like everything, from guitar parts, bass, percussion, solos, just played themselves. When it was over I was dizzy and could barely walk out of the studio. I thank Bessie Smith for supplying a super-powered blast of inspiration."
*Featured Image photo by Sergio Kurhajec