What if you grew up in a country on the other side of the world — like the fabled land of Australia? Growing up there you come to admire the music of the finest women songwriters including Joni Mitchell, and Joan Baez. Later your brother and his friends expose you to blues and funk. You discover the wonder that is Muddy Waters, Jimmy Reed, and of course Stevie Ray Vaughan. Later still as with all guitarists, you are informed by the work of Eric Clapton.
Naturally  you begin to perform and tour across your beloved Australia. Then one day, you are given the opportunity to record in Los Angeles, California, and that's when the adventure really begins. I recently spoke with Aussie transplant and now Los Angeles resident Kara Grainger about her ongoing musical journey. We spoke of New Orleans, The Meters, warming up to Los Angeles, touring with the Swampers, making an album with Anders Osborne, and why Austin, Texas is SO together. And then some.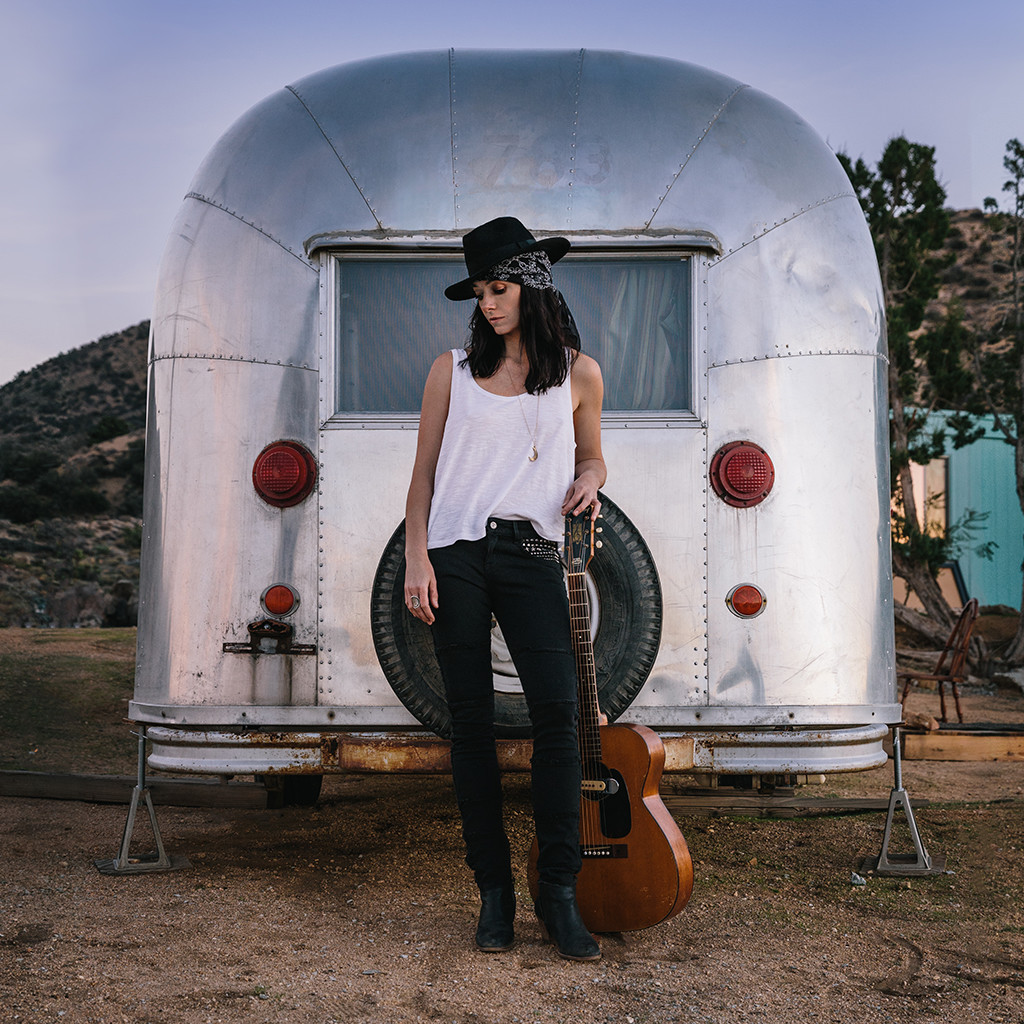 Barry Kerzner for American Blues Scene:
Who were your biggest influences when you started playing?
Kara Grainger:
Well I started playing on the acoustic guitar so I was listening to a lot of folk and I was inspired by a lot of female songwriters. I was a 12-year-old girl listening to my parent's record collection. Joni Mitchel, Joan Baez, and Emmylou Harris… Then my brother started learning guitar a couple of years after me and he started playing lead. He was learning harmonic as well. He brought a lot of blues music into the house. He started seriously collecting vinyl amongst his friends.

Then I was introduced to blues guitar and all the fantastic blues singers as well from Stax recordings he was listening to, and Memphis and New Orleans. It went from listening to folk and country to listening to some real soulful blues. The earliest influences he was listening to were Muddy Waters Jimmy Reed, and who else was in that fold. And then Stevie Ray Vaughan, was quite a big one when I was first learning blues guitar, who I still love. Eric Clapton is a pretty major influence on my style of guitar playing. Then I started getting into the voices of the South like Etta James, Irma Thomas, and a bunch of other people.
I hear a lot of those people in your playing. I hear Joni Mitchell and Stevie Ray in your music, so it's still an influence.
Right! I also think that I didn't originally get into blues until I was 16 or 17. My first influences were songwriters. So, when I write my own music, I have some elements of folk, Americana songwriters and also put it in kind of a little blues twist on it. My blues is my music, not so much straight-ahead blues; it usually has a lot of those other influences in there: country, folk, and Americana.
Your music features echoes of Joni Mitchell and even nods to Neil Young here and there. You allude to it with a tip of the hat as you pass. It's just a part of you now.
Thank you. I've developed my own style over the years for sure. My lyrics end up being straightforward because I'll start with a more involved story and whittle it down and edit out the fluff. I find that if I want to simplify the lyrics, it can give me a deeper meaning of what I want to express. When I'm singing those lyrics, I can put so much more into those few words than I can a whole two sentences — fewer words become more powerful.
I wanted to ask you about the Papa Lips group if I may? The funky soul of New Orleans really influenced it.
The rhythm section in Papa Lips was Declan Kelly on drums from Australia and Rowan Lane on bass. These were my brother's best friends and they were in heavily collecting vinyl. Zigaboo [Modeliste] from the Meters and Albert Jackson they were their favorite people.

These guys in Papa Lips who were a couple of years older than me taught me how to put funk into my blues playing. The drummer would tell me, "Hey, play it simple, play in the pocket." As we started experimenting with all those riffs over the of our music, I was designated a lot of the "wah-wah" parts. I became good at that, and my brother was fantastic at harp and a brilliant rhythm player.

Those guys were my teachers. We toured Australia — that was my institute of music, touring with those guys. They studied and really knew the styles of blues, funk, and soul.
So glad you mentioned the Meters. Them not being in Rock and Roll Hall of Fame is a crime!
Oh, I completely agree. I think they're the forefathers of funk.

I was lucky enough to play with Ivan Neville. He's the keyboard player in "Living with Your Ghost" on the album. He's Aaron's son and he has his own band now, Dumpstafunk. That was a real treat for me. He's a really joyful musician. He was a real joy to work with.

And of course Anders Osborne produced and also played guitar on most of the tracks. He's lived in New Orleans for 20 years. It's so great to have that flavor in there.
When your label said, "Why don't you go to Los Angeles," and you went there in 2008, you had said it was a culture shock for you. What did you mean by that?
I think I read that somewhere online. I think that that's a little bit…
Overdone?
Yes. I don't know if I would say that it was a culture shock. I would put it a different way. I was sent over here with a record label as you mentioned, from Australia. I worked with Dave Kalish Craving Records to do my first album.

I knew nobody. I landed in the middle of the concrete jungle in Los Angeles. It takes a few years in Los Angeles to really figure out where it's at. It's such a massive place; It's like a whole country in itself. Now I find myself… There's so much nature in Los Angeles that you would never even know, and I go for hikes every couple of days with my dog up in the mountains. It can be beautiful here, you know?

When I first arrived, I didn't know anybody. I tried to get this album off the ground and found myself missing my Australia, which is such a beautiful, organic, natural place; where I grew up anyway.
You toured Japan with The Swampers and Donnie Fritts. Being from the other side of the world and them having the reputation that they do, how big of a thrill was it for you to play with them?
It was amazing on two levels. I had spent some time in Japan, playing a couple of shows there before, but The Swampers had a significant following over there. I think we were playing to 1000 people at the shows and we did maybe a dozen of them.

Also, I found out that one of the guitar players… I can't think of his name right now. I used to play this song called "Please Be with Me" that Eric Clapton did a cover of too, at all my gigs for a long time. Here I am on stage 15 years later with the guy that wrote it. [Scott Boyer]

As you would imagine, [they were] real soulful live. Yeah: It was funky as hell!
I'll bet! I know you spent some time in Austin.
I did.
What did you like most about Austin?
That's a good question! I went there when I first arrived in the states also, [in] 2008. At that time, it just felt like a real friendly country town, but you have all the city comforts. It was easy to get around and the quality of music there is brilliant.

From the small amount of population there, the talent and the soulfulness are incredible. I like that dichotomy. I really love hot weather so… I love the heat; call me crazy. The whole culture there: Going and jumping in Barton Springs in the middle of summer, and going and seeing a fantastic group at night. It's a great place.
They don't call it "The Live Music Capital of the World" for nothing.
There's a bunch of musicians that I've worked with that I love from there. Also, that's where we recorded the album for the week at Wire Recording Studios with Stuart Sullivan, who was just an incredibly patient, brilliant engineer.
One thing I look for when I listen to an album is the mix, because to me, the mix may as well be an instrument. In your case, it made the music so much more immediate. It's not as though you are trying to fluff it up and make it flashy. You are saying, "This is my music. It sounds great. I hope you like it; here it is!" The best aspect of the mix is the texture of your music that shines through.
Well, yeah. That was a conscious decision, by everybody involved. We wanted to capture what was happening live for that week in the studio. I redid a couple of vocals, and there were some guitar overdubs. The overdub section was really only about another week of dealing with that. We wanted to capture what happened in the studio, and therefore to present a more raw sound.
That's how it came across: It's sparse and very immediate.
Good, good. That's what we were going for. I'll often find that I'm over critical of myself on vocals, guitar solos, what have you in the moment. Then you listen back to it later, and it could be your favorite moment on the album. That happens to me all the time.
You and Stuart did the actual mixing?
Yeah. Anders was in the loop and also Don Ritter from Category 5 (amplifiers) had some input.
To me, "Living With Your Ghost" has an '80s Texas feel about it. You know how the '80s was hair bands and the other side of the '80s was excellent guitar when they weren't doing the glam, hair band thing or the rock hero thing, and they would settle down and play guitar? Especially in Texas.
Well you know, we're bringing that back. They're bringing guitar music back.
I don't know if you did that consciously, but the album has that Saturday-night-at-the-dance Texas feel to it.
It's really NOT overly effected guitars. Also, thanks to Category 5, we used all their amps as well. Just turn the amps up and let them do the work.
Their amps are fantastic.
Yeah, they're great. Anders Osborne who as you know, played guitar on most of the stuff and co-produced the album. "Living With Your Ghost" sounds pretty straight. Occasionally Anders would put fuzz on something here or there, or use the mic on a lot of stuff, and a little bit of delay. That was it.
I don't know if you are familiar with Matt Bianco. They were a group in the '80s – '90s. You can check them out on YouTube – they're kind of campy. I think you'll like them. When I listened to "You're In New Orleans," the first thing that hit me was "Wow. This is well crafted." Then it just brought back memories of that group, Matt Bianco. So, I enjoyed the song.
I had a couple of days writing with Anders. I met him in New Orleans – that's where that song came about. Anders knew Andrew Duhon who I'd been to Europe with a few times; a brilliant songwriter who happens to live in New Orleans. So, we got together, the three of us, and that just started out of it.

I think Andrew ended up getting out of his Uber or Taxi. He was talking to the taxi driver who'd been up all night and who'd just recently moved to New Orleans and how he loved it, but it was tiring because he's out all night enjoying it so much. He felt so tired he felt like he was in a dream.
Another song I wanted to ask about is "Broken Record." Earlier you had mentioned Joni Mitchell. This song brings back memories of her for sure.
That's one of the covers on the album, which was written by Jackie Bristow and Mark Punch. Those guys are longtime friends of mine from Australia, both brilliant songwriters. I've toured around the world with Jackie so I'm a fan of her music and she's one of my best friends. It felt right to do that song on the album, and sometimes I like doing one or two covers, to mix it up from my songwriting.
"Groove Train" also captured my attention. When I listen to albums, I take notes. The note I made for this song was "West Coast funk." I could see you dancing to it with your guitar, having a truckload of attitude while you were playing it.
Thanks. That song came together in the studio. I had a couple of chords and I worked on it with Anders. Dave Monsey on bass and JJ Johnson on drums were a huge part of that song. They just started laying down that groove, which went on in the studio for 20 minutes. I worked on the lyrics when I got back here to LA, and I went back down to record 'em. Plus we have the Texas Horns on that one too! That really makes that track.

It's meant to be a "whole album experience." When you buy it, put on the headphones and let it take you on a journey. Some people are releasing song by song, but I still like to do an album of work because it does sum up a little more where you were in a particular place in time. I like doing that as an artist.
So, what's next for Kara Grainger? What have you left undone? What do you want to do?
You know I'm touring a lot this summer. I decided to release this [album] through my own label.
I noticed that.
I'm setting up a new [label]. It's called Station House Records. The idea is to build that up and also release some other artists. I'll be releasing a guy, Dany Franchi on that. The team will be doing that; actually, May 18th that one's coming out. He's a brilliant blues artist.

Besides that new label? I love being in the studio; probably one of my favorite places. I love recording, so I'll be working on some new material. I hope to record some more music at the beginning of next year.
What's the one thing that you want everyone to know about you and your music that they don't know?
Hmmm… Wow. The one thing I want people to know about me I suppose is that I love making music. I love doing what I do; performing, being in the studio. It gives me a lot of joy, probably the most in my life. That's why I've been doing it so long.

I want to make music that makes me feel good, to do the same for other people hopefully. Making good music to make other people feel good is what I'm trying to do.
*Featured image photo by Tony Boyd