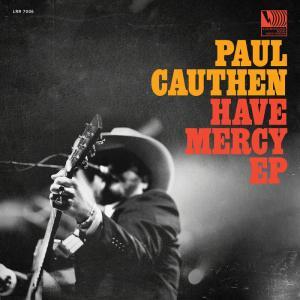 "I'm a singer not a preacher, but these songs are my sermon," says Texas troubadour Paul Cauthen. "We're ripping each other apart out there, and forgiveness and mercy are what's going to get us through. I want to use my voice the best I can to spread that message while I'm here on this Earth."
Cauthen is describing his latest EP, Have Mercy, scheduled for release on June 22nd, via Lightning Rod Records. Building off the success his breakout debut My Gospel, the new record pushes Cauthen's songwriting as he searches for common ground and peace of mind in an increasingly polarized world.
Containing seven original tracks, Have Mercy kicks off with "Everybody Walkin' This Land." Over the top of a chain gang rhythm, Cauthen's baritone vocals thunder with authority. "This song needed to be heard," Cauthen shared. "I felt the spirit with this one."
Feeling the spirit is something to which Cauthen has become accustomed of late. A rather wild youth filled with expulsions, drugs, and jail time led to him to finally throw down the gauntlet – at God. "I dared Him," Cauthen says, recalling his desperate challenge to the Almighty. "I said, 'Use me. I'll be a rag doll. Just put me out there, let's go. I dare you'."
No, Cauthen isn't a preacher, but his grandfather was. He was also the man who put a '58 Gibson acoustic into a young boy's hands. Although Paul put the guitar away at age 10, when his grandfather died, his grandmother insisted that the young man pick it back up, and learn from the best. Recordings of Willie, Waylon, Roy Orbison, and Elvis were his teachers, and Paul learned well.
Paul brings a little funk, and learns to appreciate the present on "Resignation." The title track lands like a secular hymn for a country still coming to terms with the deep wounds of its bloody past and divided present. "Lil Son" lifts straight from generations of family teachings.
Produced and co written with Beau Bedford, the album was recorded live at Modern Electric in Dallas, Texas. Have Mercy is fortified by contributions from The Texas Gentlemen, a 21st century Wrecking Crew of all-star musicians. Bedford (guitar, keyboards, percussion), Nik Lee (guitar), Daniel Creamer (piano), McKenzie Smith (drums), and Scott Edgar Lee, Jr (bass) make up the core quintet, and have backed artists including Kris Kristofferson, Leon Bridges, Nikki Hill, and more.
Not all the songs are deep, but they're all meaningful in their own ways. The playful shuffle, "My Cadillac," for example, finds pure bliss in the simplicity of joy riding with friends.
The closing track, "In Love With A Fool," pays tribute to those left behind, while musicians go out on the road to chase their dreams. It includes some stellar sax work from Jeff Dazey.
Cauthen was recently voted "Best of SXSW 2018" by several outlets including Rolling Stone, CMT, the Dallas Observer, and Austin Chronicle.
On tour this summer, including five opening nights for Shakey Graves, Paul Cauthen is a don't miss act, and Have Mercy is a must have EP. Beat the rush and pre-order it on CD or translucent red vinyl now.
Artist: Paul Cauthen
Title: Have Mercy
Label: Lightning Rod Records
Release Date: June 22nd, 2018
*Feature image Jody Domingue courtesy of Shorefire Media