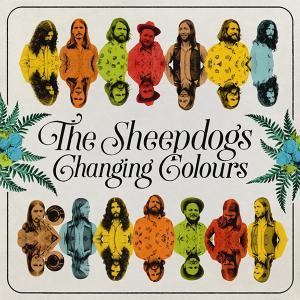 The Sheepdogs are the band you know intimately but probably have never heard. They produce a sound that is full of contradictions: it's old yet fresh, loud yet welcoming, easy going yet ass kicking. They're a band that isn't really like anything else around right now, and yet a band that feels like they could have been in your dad's hi-fi record system – when it was the ONLY way to play music (only because it was actually the only way, not only like a hipster talking about how he ONLY listens to indie bands on his new tube amp).
It's always easiest to describe a band by their influences and contemporaries, and seeing as this is a blues site, let's start with the blues. All good rock music is rooted in the blues, and these guys produce great rock music – think The Allmans, Zepp, Little Feat, Traffic, James Gang, T. Rex, Bad Company, Zappa, Steve Miller Band, Steely Dan, Big Star, Gov't Mule, and the multi-guitar attack of a band whose name is Lynyrd Skynyrd. Soulful, layered vocals over similarly rich guitar playing that is pure American riff-driven, foot stomping, occasionally face melting, and always ass kicking rock and roll.
And much like another clear influence of theirs, The Band, these guys hail from North of the border. Since I am NOT a rock historian, I shall reference their Wikipedia page to get their background. What matters first and foremost is their sound – and on their recent release Changing Colours, their 6th full length release, sound is at its most realized. Full, fun, robust, and ready to blast out of your windows this summer.
As I will often do, I tend to pour big, frothy pitchers of derision all over most music reviews. The overwrought language, the talk of the artists self-reflection, the quasi/phony ambivalent "will he or she mature, or will their darker forces hold them back" sentiments which often end with a "who cares so long as the music is good" sort of statement. The ONLY truth is that if the music is good, the music is good. Good music can make you feel bad. Bad music can make you feel good. But when good music makes you feel good, you've got something to hold onto. And that, dear friends, is what you get with Changing Colours. Clocking in at 17 songs over 49 minutes, the goods get delivered.
The album opens with "Nobody," featuring a mid-70's, Some Girls-Stones type riff. It's a bar song about "nobody is gonna bring me down, nobody is gonna turn me around." James Brown on the radio, a pretty mama sitting shotgun on a ride with the windows down, I mean…COME ON! Not everything in this dark world needs to be foreboding, and when these guys come flying in with an Allman-esque guitar bridge, it sounds like home. Plus, the machine gun guitar work as the song closes leaves us begging to hear this thing live.
Second Song – "I Got A Hole Where My Heart Should Be." If there was ever a song that defined The Sheepdogs, it's this one. Fuzzed out guitars with some nice interplay, lyrics about late night features and perpetual highs, and a chorus that, well, KICKS MOTHER F**KING ASS. Look, I can pretend to be all critical about whatever the hell makes a critic a critic, but I'm too busy picking up everything off the floor that I knocked over when I jumped up to dance!
Third Song – "Saturday Night." I told you this was a party band turned into a bar band turned into a powerhouse. "Saturday Night" is…alright for fighting, it's when the boys are back in town, it's when we get high before Sunday Morning Coming Down. And this song nails it, plus they throw in a great little reference to the Bay City Rollers. It's both homage to and entrant into great Saturday night drinking songs at the same time.
Fourth Song – "Let It Roll." Sometimes the parties start before the sun goes down. That late afternoon sky, sunset and twilight on the horizon, the warm air just begging for a cool beer…that's what "Let It Roll" is all about. It's a Byrds-esque, CSNY-flavored acoustic, pretty song with some really great, soulful, sunshine-filled organ work.
Fifth Song – "The Big Nowhere." Forgive yourself if you hear this song and think "Oh, is this a Traffic song?", followed immediately by "Oh no, it's Santana." But it's not; still The Sheepdogs bringing a nice sax & organ driven slow burner to the table.
Sixth Song – "I Ain't Cool." "I ain't cool, I never was, I just faked it till it felt good enough.." sums up how a lot of us feel about far too many things in our lives. But somehow that honest admission, when set to a cloak of Blues Image/Steely Dan-infused pianos, harmonies, trumpets, and nimble fret work, grooves enough to overcome any self pity. It works because you can sing "I Ain't Cool" while still feeling cool enough to be listening to The Sheepdogs.
Seventh through Eleventh Song – "You've Got To Be A Man." This song kicks off a string of half songs. It's 4 songs that are not quite a medley but no song lasts longer than 2:37. It's a decent tune but doesn't stand out from the pack in any way. The next song is "Cool Down," which again features seemingly recognizable chord work but doesn't stand out in any way. However, it bleeds into "Kiss The Brass Ring," which is Frankenstein-esque (Edgar Winter Group's monster, not Mary Shelly's). At under two minutes, however, it fails to offer more than one run through what could be a nice prog rock build. It sort of trails off into "Cherries Jubilee," a tune with a riff that is pulled straight from "Jessica," or "Blue Sky." The second half of the song offers amazing harmonies that are uniquely Sheepdogs (full, rich, and soulful), but the song just kind of peters off.
I have to be honest – I think this section is just filler. There's nothing cohesive about putting these songs together, the medley doesn't really work, and hopefully when I see them in concert some of these songs get to have their legs stretched. It's not bad music, just seven minutes of half songs.
Next comes "I'm Just Waiting For My Time," a FULL song. By full I mean that it's dense, features some great drum & rhythm work, and has a break that really grooves. It's patient, plaintive, clear, and has the potential live to really sit back into something that grabs you. Lots of potential for this song.
We then get another single song (seemingly) broken into two – "Born A Restless Man," and "The Bailieboro Turnaround." Now, be it the Dead doing Scarlet-Fire or Help/Slip/Franklins, or Phish doing Horse/Silent, I'm not against combining songs. These two are definitely a Dead-tinged western ditty that even features some great fiddle work. It's an interesting departure insofar as sound and they do pull it off.
You hear the celebration come through with the next song – "Up In Canada." It's classic big sky rock, wide open and combining the roots of Americana with the roots of Canada. It's a road song, windows down watching the pine trees sail on by. Great guitar work on this one and it's a sing along by the end. You WILL like this song. The song itself bleeds right into "H.M.S. Buffalo," which considering its proximity to our Northern border, seems a quite apropos placement. It's a one minute long instrumental piece that acts as a nice coda to its sister. The song slips easily into the penultimate slot, "Esprit Des Corps." A song whose title means spirit of the troops seems like fair place to let the troops have some fun. The piano work is FANTASTIC here and the band locks into a groove that might be the best on the album. It segues into a little boogie romper that lets EVERYONE in on the act, fiddles, slide guitar, et al, and ends with everyone listening to the crickets under those great northern lights.
The final song on the album is "Run Baby Run," which pays obvious homage to CSNY with a little doo-doo-doo action (I had to add the last doo, otherwise it takes on an entirely different meaning). "Run Baby Run" adds a nice, smooth finish to this Canadian brew and will leave you wanting to explore more of their catalogue.
It's easy to dismiss The Sheepdogs as "the guys that sound like….", but in life we compare what is new to what is familiar so as to categorize it for others and ourselves. What makes this band so much fun is that they are HARD to categorize, precisely because they have taken the familiar, blended it into something new and fresh, and are clearly still evolving. The Sheepdogs cross a lot of lines, and in doing so open a lot of doors. And behind those doors is a great Canadian band that's coming to your town to help you party down.
Artist: The Sheepdogs
Title: Changing Colours
Label: Dine Alone
Release Date: February 2nd, 2018
Running Time: 49:38
*Feature image courtesy of the artist.