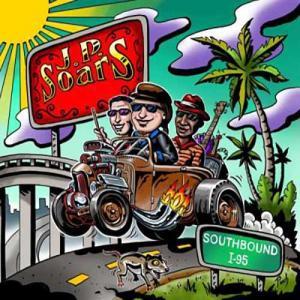 J.P. Soars is a guitar guy, with guitar-centric influences ranging from jazz to metal. That's why it's such a pleasant surprise Southbound I-95, his latest is a vocally-driven album, showing off his strong, textured voice; like a smoother, tighter, more melodic Wolfman Jack. The album has plenty of great guitar, but the vocals are what make Southbound I-95 unique.
As one might gather from Soars' diverse set of influences, the album covers a lot of ground stylistically. It kicks off with "Ain't No Dania Beach," which is a modern country tune. Chris Peet's steady drums keep the song on-track, but Soars' voice drives this outing. Sure, when the guitar comes in for authentic-sounding country slide and straight picking, you might begin to forget about his voice, but he's back into the song before that can happen.
The title track is a tremolo-drenched surf rock masterpiece, featuring one-time Metallica bassist Jason Newsted on bass. "Go With the Flow" is big band jazz without the big band. Think "Sing Sing Sing" with Middle Eastern-style guitar riff. A clarinet comes in, giving the instrumental track a Dixie/hot jazz bent and for just a moment, you might wonder if someone left a Woody Allen movie on in the background. Soars does a great job exploring different genres while sounding like himself while also sounding reasonably authentic.
Soars also takes some interesting chances on the album. "Troubled Waters" is a straight-ahead rock song that you might not even stop over if you were flipping around your car radio. That is until it morphs into a setar (a kind of Persian sitar) break you'll never see coming. Soars takes over with his guitar and then it's right back into the song, now with backing vocals. It's a cool, surprising moment that shows how Soars is all about the song and is less concerned with impressing the listener with flashy guitar work. One has the sense he knows his guitar-playing is impressive and feels no need to belabor the point to the listener.
Southbound I-95 is well-executed music. The production is excellent, from the drums to the piano to the horns, to the rotating cast of bassists. The songwriting is also solid, with enough stylistic variety so the listener doesn't get bored, but not so much variety that the listener might forget who they're listening to. However, Soars' voice and guitar are the glue that holds the album together. Both are the common thread through the various songs, and both inject all of the tracks with a warmth and humanity. J.P. Soars is much more than just a gun-slinger.