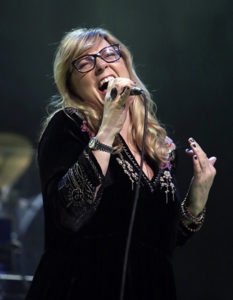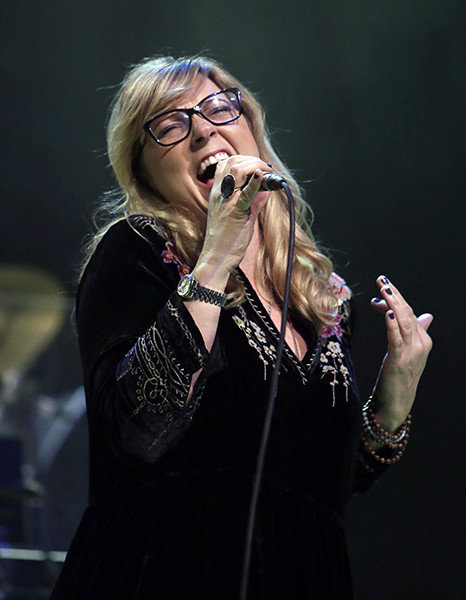 The stars have finally aligned for Derek Trucks as he hits the road with wife Susan  Tedeschi Friday, June 29th, on their ninth "Wheels of Soul" summer tour with the 12-piece behemoth The Tedeschi Trucks Band.
Derek was obviously so glad to have his keyboardist Kofi Burbridge back on the road with the band. "Kofi's good, man. Yesterday we played in Telluride, and it was a year to the day from his heart surgery. We are really grateful to have Kofi, one, alive and breathing, and two, playing music with us. The world needs Kofi in it. We certainly need him on stage. He's in a lot of ways better than ever. He came out of that with a little white on his beard, and he looks like a wizard now, and he's even better now. I don't know what he saw when he was under, but he's a changed man."
Not only did Kofi suffer a heart attack five days before last summer's tour began, but the band was reeling from the deaths of both Allman Brothers leader Gregg Allman and Allman Brothers drummer and Derek Truck's uncle, Butch Trucks.
"Losing friends and heroes, you feel like you're coming out of a fog a little bit: Col. Bruce Hampton, Gregg, Butch, and Kofi and a few others we were close with, Sharon Jones. Everyone deals with those things, and you just have to breathe the way you do, and you go through it. Sometimes it's writing music. Sometimes, it's playing music. Sometimes, it's just taking some time to take a walk, whatever you gotta do.
"But, yeah, this year does feel different, and I think finishing the record (a new studio LP due early next year) in a lotta ways is helping that, too, 'cause a lot of that record we started writing right in the middle of all that. So, a lot of those wounds are very fresh when we were making the album, and so until that was done, I feel like we were still kinda wearing it. When you're mixing it, you're listening to those things over and over, and you can feel that emotion in the way Susan's singing a tune or in the way you're playing a tune. So, yeah, the band feels like it's in really good place right now, and in some ways stronger for the year or two we went through."
Derek Trucks is no neophyte when it comes to rough times. He was one of two guitarists in the Allman Brothers for the band's last 15 years, first with Dickey Betts and then Warren Haynes. He says he learned a lot of lessons playing in that group. "I think most of the things I learned around that group and a lot of other groups from that era were really things to avoid. There was a lot of broken families. They were human experiments in a lot of ways. Anything and everything was there for you. That's not always the best thing to handle for people in their 20s and 30s.You know, you learn how to navigate those things, but I learned a lot of lessons that are positive, too.
"My uncle would always tell this story about playing in the early days with Duane (Allman). He was having one of those shows where he just didn't have it. He kinda backed off. He kinda threw in the towel a little bit, and he said as soon as the song was over, Duane put his guitar down, and came behind the drum set and got in his face and said, 'If you ever give me less than everything you've got, I will butt kick your ass off stage.' And my uncle said, 'Never again.' And he never did."
Jaimoe, the other drummer in the Allman Brothers, told me earlier this year that things didn't get any easier after Duane died in 1971. "Anything and everything was there for you. We were f***ed up on wine, pot, and what the f*** else. If we were that good and what we had been putting in our bodies, I say, what would it have sounded like if it hadn't have had been that situation? I finally came to the conclusion it's just about even because we damn sure didn't not try."
The Tedeschi Trucks Band is far more stable. All of the 12 members are crack musicians who put on a breathtaking show that maneuvers through an ever-changing repertoire of more than 70 songs that cover originals and classics ranging from rock to blues, jazz and R&B.
Derek and Susan started this band while Derek was still in the Allman Brothers more than 10 years ago. To mount a group that large in an economy still reeling from the great recession was a ballsy move. I asked Derek what in the world made him think they could get away with it, and is he shocked that they did. He laughed.
"Those are great questions. When we talked about putting this band together, me and Sue, we had been watching The Mad Dogs and Englishmen thing, and we had been on tour with B. B.  and hanging with Jaimoe, talking about the days when he was the second drummer in Otis Redding's band. You think about Sly & The Family Stone and a lot of different things that groove, and we started talking about putting the band together. You know, we wanted a horn section, and we wanted (lead vocalist) Mike Mattison to be part of it, and we wanted singers, and we thought that we'd been at this long enough that we could pull it off. But at the same time, I think we were young and dumb enough to try and pull it off.
"We knew if we waited five or 10 years, we probably wouldn't want to give that a whirl, so we were feeling like rolling the dice, and we did. So, yeah, I had a feeling there'd be a few really good years, and it would be as fun as hell, and who knows what happens, but we have 10 years into it now, close to 11 years. I think the band is playing better than it ever has, and I feel like a lot of the songs we played on this last record are the best tunes we made and the most honest. For it to be in the place it is right now is very surprising and humbling. Yeah. We realize how fortunate we are to be doing it."
I couldn't have said it better myself. Tedeschi Trucks is an American legacy reflecting all that is best about our musical heritage.
Tedeschi Trucks Band Itinerary – Wheels of Soul Summer Tour 2018 All dates with special guest Drive-By Truckers and opener The Marcus King Band
June 29:  Jacksonville, FL  Daily's Place Amphitheatre
June 30: Tuscaloosa, AL  Tuscaloosa Amphitheater
July 1:  Charleston, SC  Volvo Car Stadium
July 3:  Saratoga, NY   Saratoga Performing Arts Center
July 6:  Hartford, CT   The Xfinity Theatre
July 7:   Gilford, NH  Bank of NH Pavilion
July 8:  Mansfield, MA  Xfinity Center
July 10:  Canandaigua, NY  Constellation Brands – Marvin Sands PAC
July 11:  Vienna, VA   Wolf Trap
July 13:  Raleigh, NC   Coastal Credit Union Music Park @ Walnut Creek
July 14:  Atlanta, GA   Fox Theatre
July 15:  Charlotte, NC  Charlotte Metro Credit Union Amphitheatre
July 17:  Lewiston, NY   Artpark
July 18:  Burgettstown, PA KeyBank Pavilion
July 20:  Indianapolis, IN  Farm Bureau Insurance Lawn @White River State Park  July 21:  Sterling Heights, MI  Michigan Lottery Amphiteatre @ Freedom Hill
July 22:  Cincinnati, OH  PNC Pavilion @ Riverbend Music Center
July 25:  Southaven, MS   BankPlus Amphiteatre at Snowden Grove
July 26:  St. Louis, MO  Fox Theatre
July 28 & 29:  Morrison, CO   Red Rocks Amphitheatre
*Featured Image by Rick Scuteri