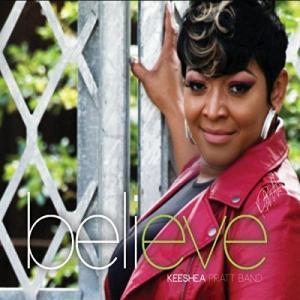 The Keeshea Pratt Band took home the "Best Band" honors at the 2018 International Blues Challenge in January, and they had only been together eight months. That's saying a lot when competing against some of the hottest acts on the planet. What's saying even more is that four months later, their album Believe hit the streets, destined to be one of the top soul blues albums of the year.
The self-released Believe is a dozen tracks that conjure a profusion of musical genres. Traditional blues leads into contemporary blues and what the blues may yet hold in store. Memphis soul and Southern Gospel walk hand-in-hand all glazed in Pratt's honey-dipped, Mississippi vocals.
While many groups are paring down into duos and trios, the Keeshea Pratt Band expands across the stage seven members deep. A phenomenal three-piece horn division provides the highlight to a rhythm section that is tight as a hipster's jeans.
Believe starts off with uber-soulful "Make it Good." It's got a 50s sock hop swagger with an ever changing tempo that had us paying attention from the very first. The horn section is made up differently than most. There are two trumpets (Misaki Nishidate and James Williams III) and one saxophone (Dan Carpenter). If you think this doesn't present a completely unique sound, you'd be dead wrong.
"Have a Good Time Y'all" follows. The Chicago/Koko Taylor vibe is unmistakable. It's a party anthem and couldn't be more of an invitation if Pratt had licked the stamp and hand-delivered it. Some other blues party starters include the double-and-a-half shuffle of "Out of My Mind," the bluesy warning of "Easily Replaced," and the New Orleans flavored "Shake Off These Blues." "Shake" has more tempo changes throughout, feeling like the Neville Brothers one minute, and Fats Domino the next.
"In the Mood," is as sultry as its title. Pratt's moaning vocals prove that the blues can be as sexy as you want 'em to be. "It's Too Late," is a powerhouse slow-drag. Anyone who has occupied a Windy City club at 3 am will instantly relate.
Then there's "Monkey See, Monkey Do." This tune is absolutely greasy. You know what we're talking about. Holding on to a dance partner for dear life, late night juke joint, sweat dripping off glistening bodies kind of greasy. There hasn't been baby making music like this since the days of Johnnie Taylor and Sam Cooke.
The title track starts out with some smoldering slide guitar that holds its own throughout the song, even with the addition of those fabulous horns and some really sexy organ. "Believe," as its title affirms, is a stand out, make you feel better track, no matter your mood. An upgraded Little Engine That Could story, we felt like taking on the world after a couple plays.
We tip our collective hats to "Home to Mississippi" for several reasons. First of all, it begins with that familiar sound of a needle dropping on vinyl, then some vintage Delta slide guitar and Mississippi lickin' stick. Pratt herself is Jackson, Mississippi born and bred, and we believe her when she describes her home state and all its graces. Nobody could sing about home like this unless it actually is their home.
Believe winds out with a nearly eight-and-one-half minute live cut of "So Bad Blues." She warns the crowd that she gets caught up in the song every time she sings it. Sure enough, she does, in the best possible way. Brian Sowell provides some absolutely incredible guitar on this closer.
Pratt began singing at age six, and started winning awards in 2011. She dropped out of the music scene for seven years, but has come back with a vengeance.
Mad props to musical director and bassist Shawn Allen for writing an incredible album, and for the combined genius of the Keeshea Pratt Band for creating it. It's blues covered in soul. It's soul wrapped in blues. It's brand spanking new music with an ingenious old school feel. Believe is musical craftsmanship taken to the nth degree. If it's not in your musical library, you're missing out.
Artist: Keeshea Pratt Band
Title: Believe
Label: Self-released
Release Date: May 29th, 2018
Running Time: 53:01
*Feature image Ron Fontenot