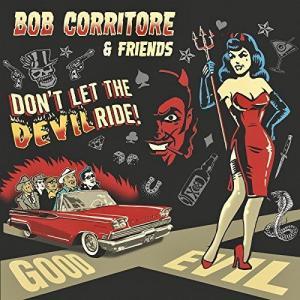 The new release from Bob Corritore & Friends, Don't Let the Devil Ride, will be released via Southwest Musical Arts Foundation Records in conjunction with VizzTone Label Group on June 22nd.
Bob Corritore is one of the most active and highly regarded blues harmonica players on the scene today. His style passionately carries forward the old school style of playing that Corritore learned as a young man directly from many of original pioneers of Chicago Blues.
Born in Chicago, Bob began playing harmonica at age 13, cutting his teeth by sitting in with John Henry Davis on Maxwell Street until he was old enough to sneak into blues clubs. He hung around great harp players such as Big Walter Horton, Little Mack Simmons, Louis Myers, Junior Wells, Big John Wrencher, and Carey Bell, and received harmonica tips and encouragement from many of them.
In 1981, Bob ventured southwest to live in Phoenix, Arizona and 10 years later opened the now famous blues and roots concert club, The Rhythm Room.
Don't Let The Devil Ride features Corritore's stellar harmonica interacting with killer vocalists and an array of all-star bands. Highlighting 9 different recording sessions between 2014 to 2017, the Friends on this release include Alabama Mike, Sugaray Rayford, Oscar Wilson, Willie Buck, Tail Dragger, Henry Gray, Bob Stoger, George Bowman, Junior Watson, Big Jon Atkinson, Jimi "Primetime" Smith, Rockin' Johnny, Bob Welch, Mojo Mark, Illinois Slim, Fred Kaplan, The Rhythm Room All-Stars and more.
"Willie Mae" features the rich Mississippi vocals and guitar of Bill "Howl-N-Madd" Perry supported by Corritore's playful harmonica dance and the nimble drumming of Malachi Johnson. This stripped down trio delivers a taste of some back-porch, good-rocking, Deep South blues soul! It's an infectiously fun offering from Bob's latest on VizzTone, Don't Let The Devil Ride!
*Feature image courtesy of Brat Girl Media